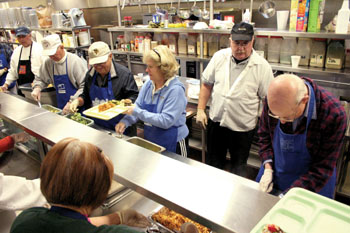 Photograph by Felipe Buitrago

Three Squares and Then Some: Since its expansion last year, which made it one of the best-equipped soup kitchens in Silicon Valley, Martha's Kitchen is on track to serve 100,000 people a year.

Inside Silicon Valley's Hunger Problem

Martha's Kitchen

By Stett Holbrook

SOUP KITCHENS provide hot meals in cafeterialike settings, a help for those who can't make their own food. In addition to a meal, soup kitchens offer something of a social scene for those who often live on the fringes of Silicon Valley society.

Martha's Kitchen, located just south of Highway 280 on Willow Street next to Sacred Heart of Jesus Christ church, just underwent a major remodel complete with a gleaming new kitchen outfitted with top-notch equipment. While it's one of the best-equipped soup kitchens in Silicon Valley, it didn't start out that way.

Forty years ago, Louise Benson began serving free meals to the poor and hungry from the garage of her San Jose home. Because of the need, the number of people swelled, and in time her neighbors complained of the sometimes ragged crowds that came to her door. So in 1981, she and several friends relocated her makeshift soup kitchen to the grounds of Sacred Heart of Jesus church, which still retains the looks of its origins as a mission that dates back to 1900.

Since the expansion was completed in June, Martha's Kitchen now serves more than 100,000 people a year in the big dining room and at other facilities in the area.

Martha's Kitchen, which takes its name from the biblical figure Martha who fed Jesus and his followers, opens for dinner at 4pm Tuesday and Wednesday. Well before then, however, the crowds queue up outside. They arrive on foot, in cars, on bikes and on the No. 25 bus that rolls down Willow Street.

"It's like a dam breaking when we open the doors," says Edita Cruz, the soup kitchen's ebullient executive director.

Martha's Kitchen doesn't require its clients to register or provide identification. They just have to be sober and fully clothed.

"We just feed the hungry with no questions asked," says Cruz, a former tech industry worker who was laid off and started a second career with the soup kitchen. She had already been volunteering with the church and the career change appealed to her.

The dining room is divided into long rectangular tables for single diners and round tables for families. The tables are set with plastic knife and fork, paper napkin and Styrofoam cup. On the menu recently was turkey cacciatore, mixed vegetables, green salad, canned fruit, a roll, cake or cupcakes and a fruit pie. There's also a soup station serving a good pozole.

Because of the large number of donated turkeys, the meat turns up a lot on the menu.

"They get kind of tired of turkey, but what are you going to do?" says head cook Denis Leyva. "I've learned to be very creative."

The plates of food are set onto trays and stacked onto shelves for people to serve themselves. In addition to the hot meals, there are tables filled with bags of bread and boxes of pastries. Regulars make a beeline for the first-come, first-served table before getting in line for dinner.

To serve the nearly 300 people lined up outside, the volunteer staff opens the doors about 10 minutes early. The crowd files in quickly but orderly. The seasoned diners head right for the bread and pastries where volunteers make sure no one takes more than their share.

Latinos approach the soup line and smile when they learn it's pozole, a Mexican soup made with pork and hominy. White and Asian diners look a little puzzled with the soup du jour but take it anyway. In just a few minutes the entire group is sitting down and eating. While there is some conversation most of the diners are focused on the food.

A 29-year-old woman by the name of T.C. was dining with her 16-month-old son Blake. She's been coming to Martha's Kitchen for three years. She and her boyfriend work, but like so many of the people who depend on food assistance, their income doesn't leave enough for food, and eating at Martha's Kitchen frees up money for other things.

"We're just low-income," she says.
---
Send a letter to the editor about this story to letters@metronews.com.
---
[ Silicon Valley | Metroactive Home | Archives ]