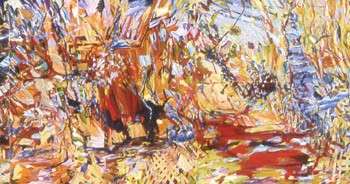 Field of Pigment: A detail of Naomie Kremer's 1999 triptych 'Trilogy' dances with energetic brushstrokes.

Pigment Pleasures

The abstractions of Naomie Kremer shimmer in full flux at SJICA

By Michael S. Gant

NAOMIE KREMER'S large abstract canvases, now on display at the San Jose Institute of Contemporary Art, work equally well whether you stand up close, peering at the details of her brushstrokes, or step back and take in the dense, swirling compositions all at once. Her paintings are completely scalable. The smallest patch of pigment can be taken as a whole complete unto itself and yet it functions within the full field.

Bay Area artist Kremer has a degree in art history, and her influences—Monet's Waterlilies in the grass-blade strokes of First Sighting (1993) and Jackson Pollock in the fleshy reds and pinks of The Myth of Creation (2004)—are clearly displayed but never pedantic. Her uninhibited touch, using a wide variety of brush sizes, strokes, daubs and scrapings, conjures up dancing images in full flux, like witnessing some wildly colored electromagnetic phenomenon at the subatomic level.

I prefer the paintings from the early '90s, in which Kremer has saturated her unframed canvases (which are mostly in the 6-by-8-foot range) with an overall dynamic of energized color. Some of her triptychs can even be "read" left to right as if they were narrative abstracts. Later paintings, such as Element and Instant Recall (both from 2002), allow the snowy linen background to gleam through the colors. Kremer has even let recognizable (if distorted) images taken from old family photos creep into the realm of the nonobjective.

Kremer's paintings are already in motion, so it is a natural step for her to animate them on the computer. In a darkened room, a looped projection deconstructs and reassembles chunks of Blue Streak, creating fanciful stained-glass-like creatures that take on lives of their own before being subsumed into the larger composition.

The exhibit is complemented by a display in the gallery's rear window of neon sculpture by artist Terry Thompson. Best known for his meticulous paintings of local neon signs and movie marquees, Thompson has progressed to creating his own neon sculptures using familiar advertising tropes (like a sharply angled arrow) to create glowing abstractions in pure light.

Kremer's "Keeping Time" exhibit runs through May 21; Thompson's neon lasts until July 9. The Institute is located at 451 S. First St., San Jose.

Can't-Miss List

1.) GEORGE LAKOFF. There are as many theories about why Kerry got shellacked as there are Michael Jackson accusers. UC-Berkeley linguistics professor Lakoff (author of Don't Think of an Elephant!) has caught the ear of party bigwigs with his theory that the Dems need to learn some Republican tricks about framing their messages in short, punchy memes that voters can absorb viscerally. For instance, when the Republicans attack "trial lawyers," Democrats should counter with "public-protection attorneys." Lakoff speaks Friday at 7:30pm at the San Jose Wyndham Hotel; the event is sponsored by the Reclaim the Debate Committee and the Roosevelt Institution. (See www.ReclaimTheDebate.com for details.)

2.) AN EVENING WITH COLIN MOCHRIE AND BRAD SHERWOOD. Drew Carey's cheeky improv show Whose Line Is It Anyway? is consistently funnier than his sitcom. Two vets of the program—Colin Mochrie and Brad Sherwood—show how unscripted comedy is done, Friday at 8pm at Flint Center.

3.) DRAWN WEST. Author and curator Jack von Euw talks about his sumptuous new coffee-table book, Drawn West (Heyday Books), which pulls together some signal examples of high- (Albert Bierstadt's landscapes) and low- (19th-century advertising posters) art images of California and the West from the Bancroft Library. He appears Saturday at 2pm at the Museum of Art and History in Santa Cruz.
---
Send a letter to the editor about this story to letters@metronews.com.
---
[ Silicon Valley | Metroactive Home | Archives ]