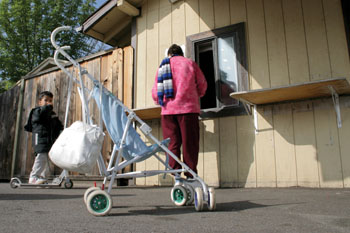 Photograph by Felipe Buitrago

Net Worth: The Lord's Pantry may not be much to look at, but for many in east San Jose, it's what remains of the social safety net. The pantry is supplied by Second Harvest Food Bank.

Inside Silicon Valley's Hunger Problem

The Lord's Pantry

By Stett Holbrook

THE LORD'S PANTRY isn't much to look at. The stout, pale yellow building sits at the back of property owned by the Gloria Dei Lutheran Church on South White Road. It's in a gritty, mainly Latino Alum Rock neighborhood in east San Jose. The building is flanked on one side by a chain-link fence and fronts a large parking lot. Countless hands have smudged the door.

But, for the thousands of people who come here each year, the building and the people who volunteer here are a welcome sight. Monday through Friday, the Lord's Pantry provides bags of food free of charge to the hungry.

Papered over a window outside are signs written in English, Spanish and Vietnamese explaining how to register for the free food. Clients are typically referred by Second Harvest Food Bank and need only provide proof of residency and ID to qualify. They get one bag of food a month packed according to the size of their family.

Josephine Valdez lines up at the window early. As she waits, the 50-ish woman carps to a volunteer about another woman in line who had pointed disapprovingly to Valdez's van and questioned why she was here if she was wealthy enough to own a van. But she's far from rich.

She lives on $400 a month and is raising her three grandchildren. Money is especially tight because her husband recently got out of jail but is now in rehab. She's out of work on disability and can't work. A bureaucratic mix-up means her husband cannot collect his Social Security benefits. She spoke of her difficulties in the calm, resigned tone of someone who has endured her share of hardships. These were just the latest.

"The food really does make a difference," she says as she loads a bag of food into her van filled with frozen salmon, yogurt, orange juice, bread, dried beans, tortillas and canned vegetables. "I don't know what I'd do without it."

Without food pantries to help them get through the day, many Silicon Valley residents would subsist on liquor-store-bought junk food, fast food or nothing at all. In low-income areas like East Palo Alto and south and east San Jose and even in more affluent cities, food pantries are the de facto grocery stores for the poor.

During last year's presidential campaign, both candidates talked about reforming health care and prescription drug benefits to end the choice many elderly Americans have to make between buying food or medication. They might have been talking about Renate. Renate, an elderly woman who didn't want to reveal her last name, choose to spend her meager income on medicine. As a result, she too comes to the Lord's Pantry to help make ends meet.

"My medication costs a lot and insurance doesn't cover it," she says matter-of-factly in her native German accent. "That's why I have to cut down on groceries. I don't want to ask my kids. They struggle enough."

The Lord's Pantry began as a service for needy Latino residents, but has expanded over the years to reflect the changing face of hunger in Silicon Valley. Most of the agency's clients are families and are a mix of white, Latino and Asian. Many are elderly while some are very young, says pantry director Martha Perez, who has been volunteering here for nearly 20 years. Before her work at the food pantry, she worked as a teacher's aide in a nearby elementary school district where she saw hungry children coming to school on a daily basis.

"Silicon Valley is a rich valley, but many people are being pushed out for housing," she says. "This is their last resort."

As the face of Alum Rock's population changed, so has the food the Lord's Pantry serves. Perez says she tries to offer culturally appropriate bags of food for Latino and Asian clients. Latinos can expect tortillas, rice, beans, lard (for making tamales), masa and hot sauce. The specially prepared "Asian bags" contain fish sauce, soy sauce, canned sardines, rice, dried noodles and chile sauce.

Fresh fruit and vegetables are scarce because they're hard to come by and are perishable, but Perez says she makes an effort to provide food that is as balanced and nutritious as possible. But with donated food, you make due with what you've got. A lot of food comes from local supermarkets that can't sell damaged or mislabeled food. Some of the food comes from the federal government. The Stalinist-looking cans of peanut butter, cereal, powdered milk and vegetables are emblazoned with the seal of the U.S. Department of Agriculture.

Last year, the Lord's Pantry served nearly 27,000 people. Many people can't keep up with housing and living expenses and food is often the first place where they cut, says Perez.

"Rent goes up but your check don't," she says. "People don't know what it's like out here. You have to see it. To see a child or an elderly person grab a piece of bread because they're hungry and shaking, it makes you want to cry."
---
Send a letter to the editor about this story to letters@metronews.com.
---
[ Silicon Valley | Metroactive Home | Archives ]