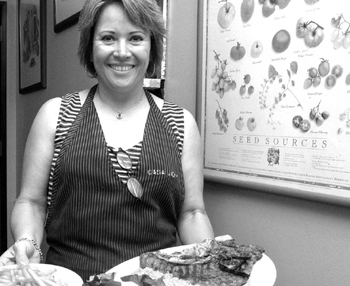 Photograph by Charlie Nucci

Tray Chic: Weekends are the best time to take advantage of Casa Vicky's huge portions and friendly environs.

In the Pink

Casa Vicky's homey feel sets an appropriate mood for its home-cooked food

By Joseph Izzo Jr.

A FLOOD of memories washed over me as soon as I inhaled the aroma from the pink cardboard box of freshly baked Mexican pastries from Casa Vicky, brought over by a friend for a potluck meal a few weeks ago. Instantly, I was taken back to those late breakfasts when we'd file into the Casa dining room in big groups. With little to do on those youthful weekends, we'd linger for hours consuming chorizo and eggs, pan dulce (still warm from the oven) and numerous mugs of Mexican hot chocolate, stirred to order and steaming with fragrance. Vicky's always provided the perfect venue in which to eat big, heal the mild Saturday-morning hangover and find a great view of the sun as it cast curious patterns on the trees across the street.

Morning remains an optimum time to visit Vicky's house. The warm scents of the bakery--so much a part of this place--already imbue the rooms at 7am, when the doors are unlocked. I've enjoyed chilaquiles ($5.95), corn tortillas simmered soft in a mild red-chile sauce; chorizo con huevos ($5.95) served with beans and rice and warm tortillas; and nopales (cactus) and eggs ($5.95), full of simple delicious flavors. Sometimes a cup of coffee and a warm pastry work just as well. Takeout enthusiasts still find the bakery or the deli a convenient pit stop for reliably tasty takeout. My wife insisted on bringing home their Mexican cheesecake on her first visit.

Casa Vicky occupies two converted Spanish-style houses at the corner of Julian and 17th, offering clean, comfortable seating in a series of connecting rooms painted in warm tones of coral pink. Patrons select items from menus anchored to the wall over the partially open kitchen, where certain entrees are kept warm in trays along a steam table. Orders are taken at the counter and, once ready, they are delivered to the tables by one of the staff, sometimes in a leisurely fashion. Occasionally staff have been known to grow irritated with impatient customers.

As with most Mexican restaurants of this category, the food is more wholesome than delicate. Recipes are based on family know-how handed down through generations of hard-working people who required the kind of food that fuels the body and puts iron in the will. Both the chile verde ($8.75) and chile colorado ($8.75) are customarily slow simmered until the meat (both pork and beef) turns stew-tender in juices thickened and gravy rich. We all agreed that the chile verde lacked seasoning and came to the palate with a whisper, not a yodel. Opinion was the same for the chile colorado, waxing red and earthy to the eye, but falling flat on the tongue.

Vicky's version of chicken en mole ($8.75) reminded me of a special mole I once tasted at a family function at a park in Union City. Both had that deep ruddy, rich sauce laced with chocolate and spices that coated the chicken like a velvet blanket. The flavors of the mole sank through the skin, penetrating the meat, especially the breast portion, with an essence of smoke and earth.

We ordered two soups that evening, menudo ($8), full of strangely chewy pieces of tripe in a listless broth, and an excellent rendition of albondigas ($7.95), meatballs seasoned with mint and served in a nutritious broth floating chunks of squash, carrot and potato.

From the a la carte menu, we teamed a homemade tamale in a thick jacket of corn masa ($2.75) on a plate with a chile relleno ($4.25) stuffed with cheese and prepared in the traditional egg batter. More than these items, I enjoyed the crispy tacos ($7.95) stuffed to bursting with fresh chopped beef and finished with a splash of salsa.

Although not everything. We sampled this visit earned outstanding marks, we left Casa Vicky feeling positive about our meal. We took a stroll along the sidewalk outside discussing Vicky's long history, the great breakfasts and the cheesecake.
---
Casa Vicky Mexican Bakery and Cafe
Address: 792 E. Julian St., San Jose
Phone: 408.995.5488
Hours: 7am-10pm
Cuisine: Mexican
Price Range: $4.25-$8.50
---
---
Send a letter to the editor about this story to letters@metronews.com.
---
[ Silicon Valley | Metroactive Home | Archives ]