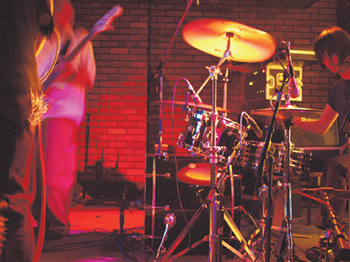 Photograph by Frank Kolodziej

Some Heads Are Gonna Prole: When From Monument to Masses isn't making music, it's sticking it to the Man.

Manifesto Destiny

From Monument to Masses makes music for the people

By Nate Seltenrich

IN A DALY CITY basement, three men gather around a glowing Powerbook. Sergio Robledo-Maderazo (bass) is at the mouse, working on a new From Monument to Masses T-shirt design that his band will take on its first European tour this summer. He experiments with different quotes on the front and a star-shaped logo on the back while band mates Matthew Solberg (guitar) and Francis Chuong (drums) look on, offering suggestions.

While the Oakland-based band works collectively on tasks ranging from merchandise design to songwriting, its nonmusical commitments are decidedly individual. What these activities have in common are politics and creativity, two driving forces behind the band. A third impulse is found in the group's name itself--a desire to shift historical attention away from prominent figureheads and toward social movements and community.

Abolishing traditional vocals in favor of nonamplified screams and audio clips over a sampled and looped pseudohypnotic collision, the group's music is as forward thinking as its anti-imperialist message. With influences like Don Caballero, Fugazi and Godspeed You Black Emperor! and contemporaries like June of 44, Mogwai and Tristeza, From Monument to Masses borders on the inaccessible. However, FMTM crafts highly humanized, digestible post-rock/post-punk tunes mixed with the manifesto.

The band's philosophy extends directly to its members' daily extramusical efforts. In this sense, they connect with other artists who fuse activism with music like Billy Bragg, Bikini Kill and Ani DiFranco. Matthew is involved with the San Francisco-based Challenging White Supremacy workshop. This connection led him to a number of different local organizations, one of which seeks to provide free child care for women of color who are doing radical organizing in the Bay Area.

"FMTM is what got me involved in doing grassroots political work," he says. "Prior to that, I wanted to be a political thinker, but I didn't really get involved or engaged."

Francis has also been inspired by FMTM's message. He worked on documentary films about Asian Pacific Islander deportation issues that arose after 9/11 and recently joined a local group called the Korean Solidarity Committee, whose agenda includes demystifying North Korea as a threat and examining the potential reunification of Korea. "The band has helped to get us more motivated toward doing actual work. I'm always growing and learning new things, so it's definitely been a process, and the band has helped with that," he says.

Sergio has been interested in community organizing well before he joined FMTM. Just prior to Francis' reply to a posting by Matthew on Craigslist that resulted in the coalescence of the band, Sergio was almost ready to give up on music entirely and focus on his graphic design and social work. Francis, a fellow student, friend and occasional musical collaborator at UC-Santa Barbara, was holding Sergio's equipment at his house, and all it took was Matthew's introduction to spawn the group. Today, Sergio is active in a Filipino students' association that opposes U.S. imperialism and organizes community solidarity.

"A lot of my understanding and perspective that comes into the band comes from that work," he explains.

In retrospect, the notion that three people of different ethnic backgrounds with nontraditional yet congruent musical and political mind-sets could find each other seems far-fetched. "It's miraculous that the three of us got together and were able to do this and be like-minded," asserts Francis. "If one of us left or if we brought somebody in, it wouldn't be the same."

And in accordance the group's mission plan to make their unified message heard, the public has shared in that miracle. Since August 2001, when FMTM signed to Los Angeles-based Dim Mak Records and performed its first official show, it has been converting fans and critics to its groove-inspired, uncommonly accessible sound and progressive message. Recognition came in 2003 when the group received a Goldie Award from the San Francisco Bay Guardian as an outstanding local discovery in music.

Despite all it has achieved, FMTM has always operated with a restricted time commitment. All three members are so deeply rooted in their activities that it's hard to find time for shows. Since they formed more than 3 1/2 years ago, they've played only 79 concerts. Their performance at the Los Gatos Outhouse this Friday will be their second ever in the South Bay.

"For a band that's toured as little as they have, they've been able to expand to a lot of different places," says Dim Mak label owner and Francis and Sergio's college buddy Steve Aoki. "I've taken orders on my site from people all over. People are somehow getting a hold of their music."

From Monument to Masses' name and sound have been coursing the globe almost since the band's inception. Positive reviews of FMTM's records--2002's self-titled, and 2003's The Impossible Leap in 100 Simple Steps--are smeared across the web. And while FMTM's debut has nearly sold out its initial pressing of 1,000, The Impossible Leap continues to spread and this summer will be officially introduced to both Europe and Japan.

Just like the group's community work, its live performances are informed by a deeply felt passion for change. But because FMTM's songs are "super highly structured," Matthew and Sergio must carry the prescribed melody while Francis is usually the only member with the opportunity to improvise--and even that involves only altering drum fills.

The songwriting process in such obsessive, tightly wound compositions is painstaking. "What we try to do is keep the person constantly moving and not bored, but entertained," says Francis. "We have that in the back of our mind and that dictates what we feel the changes should be and when we should move on or not." After putting together a song and assessing its feel, the members begin to patch in thematically linked audio clips from a variety of sources. The end result is a song with enough riffs, melodies and individual sections to supply at least 10 traditional rock songs.

FMTM pushes the classic rock & roll "call for change" into a dub-infused post-rock format. It also refreshes the connection between punk rock and political action. Revolution of the medium as well as the message: that is From Monument to Masses. "At the heart of it," says Sergio, "what drives this band is trying to work through the idea of using music as a tool for change."
---
From Monument to Masses, the Rum Diary, the Plot to Blow Up the Eiffel Tower, Shinobu and Inventing Edward play April 23 at the Outhouse, 4 New York Ave., Los Gatos. Tickets are $6. (408.395.5553)
---
---
Send a letter to the editor about this story to letters@metronews.com.
---
[ Silicon Valley | Metroactive Home | Archives ]