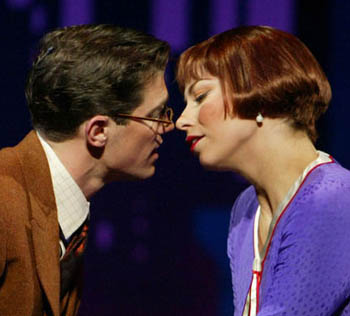 Pucker Up: Darcie Roberts and Sean Allan Krill get personal in 'Thoroughly Modern Millie.'

'Millie' Not Vanilla

American Musical Theatre delivers a tasty revamping of 'Thoroughly Modern Millie'

By Rob Pratt

BROADWAY HAS GONE retro in a big way during the past few years. Revival productions have turned spruced-up warhorses like Oklahoma! and Gypsy into blockbuster hits again. Even original productions play like old musical-theater favorites created decades ago. If the retro chic now popular on the Great White Way continues to inspire charming shows like Thoroughly Modern Millie, now being presented by American Musical Theatre of San Jose at the Center for the Performing Arts, then bring it on.

Like The Producers (which won the best-musical Tony in 2001) and Hairspray (which won the award last year), Thoroughly Modern Millie (2002's best musical) is an adaptation of the film of the same name. The 1967 screen version of Millie was a vehicle for Julie Andrews that told the comic tale of a Jazz Age flapper and crackerjack stenographer who moves to New York from Kansas to stalk and wed a wealthy husband. Richard Morris' and Dick Scanlan's book for the musical hews close to the original but adds a few twists and gags for the stage. The score by Jeanine Tesori and Scanlan likewise lifts from the original, as well as from period pop tunes, including a showstopping rendition of "Mammy" done in Chinese. The result is a winning new musical with an old-school feel: a lush orchestral score with jazzy textures, plenty of razzle-dazzle song-and-dance numbers and a snappy story loaded with wit and even a sinister-comic subplot.

The cast is phenomenal. Darcie Roberts plays Millie Dillmount with freshness and sincerity. Her voice, while not powerful, is clear and bighearted. Roberts has a gift for movement, whether a simple glide across stage, a complex dance step or a precisely timed bit of physical comedy. As Trevor Graydon, Millie's boss and the object of her marriage plans, Sean Allan Krill earns the show's biggest laughs. While dictating a letter during Millie's job interview, Krill leads a typing-and-tapping steno pool in a number that ranks as one of the best moments of the current AMTSJ season.

With such a strong show and cast, director Michael Mayer wisely applies a light touch to technical parts of the production. Sets are minimal but always reaching up to the sky. The color palette used by both lighting designer Donald Holder and costume designer Martin Parkledinaz also reaches skyward. Splashes of orange, pink and yellow look like the dawn of a spring day--a perfect complement to the warm and optimistic spirit of the show.
---
Thoroughly Modern Millie, an American Musical Theatre of San Jose production, plays Tuesday-Friday at 8pm, Saturday at 2 and 8pm, Sunday at 1 and 6:30pm (May 2 at 1pm only), with an extra show April 29 at 2pm. The show closes May 2. San Jose Center for Performing Arts, 255 Almaden Blvd., San Jose, Tickets are $45-$72. (888.455.74690)
---
---
Send a letter to the editor about this story to letters@metronews.com.
---
[ Silicon Valley | Metroactive Home | Archives ]