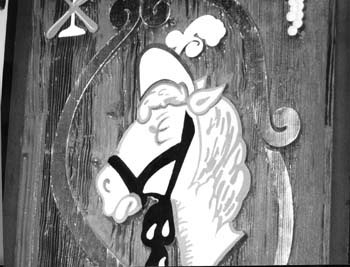 Photograph by Chris Revell

Neigh Well a Landmark: The Plumed Horse holds its head aloft in the realm of continental dining.

Keeping Stride

Saratoga's Plumed Horse is a venerable institution. If you haven't been there, it's time to head for the hills.

By Joe Izzo Jr.

"HOW'S business?" I asked the waitress one recent Saturday afternoon while waiting in the swanky watering hole at the Plumed Horse. As I asked the question, my eyes wandered past the silent drum set and dance floor, through tall alpine windows to the noble trees of Saratoga. I thought back to the early '80s when I began reporting on this continental gemstone, back in the days when flambé pans ignited at nearly every table.

"Business is up and down," she answered. "The economy has nailed us, too, but landmarks like us will weather all storms."

The Plumed Horse has certainly earned the right to call itself a landmark. It's done so by maintaining its excellence in continental dining. If excellence had a scent, it would waft in great bouquets here. Owner Klaus Pache and his family have worked hard, and their unflagging consistency has turned a vision of first-class dining into a sparkling reality that has so far endured even in time of economic hardship. A walk to the restroom reveals a plethora of dining awards, past and present, mostly honors from Wine Spectator.

Sitting down to a table at the Plumed Horse is like slipping into bed with new silk sheets. A warm, intimate interior full of rich dark woods and fine fabric panels indulges diners. A stately aura hangs over the luxurious digs, where the walls dance orange and bright from the flambé pans, and waiters always work in tuxedos.

In addition to a menu of signature classics, specials are constantly being created in honor of the seasons. Head chef Ron Cohen cooks with rhythm in an uncompromising style that underscores visual presentation and bold, forthright flavors.

We began our most recent experience with a duo of appetizers served to us while we sipped cocktails in the Plumed Horse's wonderful Crazy Horse Saloon. Succulent Prawns Bordelaise ($12.50) kept company with jumbo shrimp cooked so that they squeaked against the teeth, anointed in bold garlic butter laced with white wine. Thumbs up to the inventive Homemade Duck Ravioli ($12), which arrived floating in a steamy consommé perfumed with wild mushrooms and drizzled with black truffle oil.

From the winter menu, my guest could not resist the Double-Cut Berkshire Pork Chop ($24.50) stuffed with broccoli rabe, frisée and brie and finished in a pork reduction that rang like bells with fresh thyme. Though the rich meat had not been overcooked, and stuffing did contribute some moisture, we still found the pork farthest from the bone slightly dry. Several passes through the sauce helped to restore moistness.

Our Roast Long Island Duckling ($28.50), carved and flamed tableside, hit the plate clad in crispy skin with lush dark meat below. Fat over the breast had been rendered to a pearly veneer. Around the bird glimmered a dark, ruddy bigarade sauce suffused with the flavor of blood oranges.

Our North Atlantic Salmon Fillet ($24) was adeptly pan-seared and served with saffron risotto and sweet confit of red onions. Dismayed by the slightly small portion, my guest, nonetheless, enjoyed the fresh, subtle flavors of this beloved swimmer.

Favorable service has been my experience at the Plumed Horse, but not this visit. "Our waiter looks down his nose at us," commented my guest after three unsuccessful requests for coffee with dessert. The first time, he said it was being brewed but never checked or remembered to let us know the progress. I watched. He never asked if I wanted a glass of wine, appeared aloof and visibly uninterested throughout our meal. I do praise the busboy who finally heard our request and brought us our coffee.

Service aside, the Plumed Horse holds its head aloft in the realm of continental dining. Owner Klaus Pache remains on station like a true stalwart, patrolling the dining rooms, greeting his guests and offering a warm welcome. On departure, Pache sends guests off assured that they will come again. The years have proved him right.
---
The Plumed Horse
14555 Big Basin Way, Saratoga
Phone: 408.867.4711
Hours: 5:30-9pm Mon-Thu, until 10pm Fri-Sat
Cuisine: Continental
Price Range: $12-36
---
---
Send a letter to the editor about this story to letters@metronews.com.
---
[ Silicon Valley | Metroactive Home | Archives ]