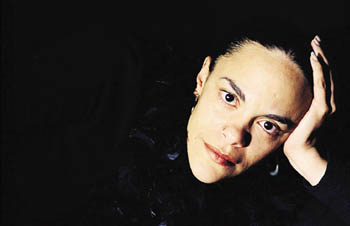 I Know She Can: Ursula Rucker says she would love to collaborate with Nas.

Poetic Justice

Slam trophies and Russell Simmons don't define poet and musician Ursula Rucker

By Todd Inoue

ONE OF THE MOST important senses a poet can possess is outrage, and Ursula Rucker has it. The outspoken word artist and musician describes herself as a bleeding heart. Last week, she was flipping channels and saw a news story about a teenage Iraqi boy whose house got bombed by American forces. He lost his home, his brother, his parents and both his arms.

For the next five minutes, she rails about the death of innocence. When I hint that a new piece could be culled from this phone call, she telegraphs a nod and says her songs and poems are borne from stressful situations. "It's how I roll," Rucker says. "That's how it is. When I'm happy-go-lucky, I don't write that much."

For Ursula Rucker, turbulent times produce much food for thought. The Philly-born poet uses words and verbs as mental Krylon. She has tagged her airbrushed phrasings on songs by King Britt, Josh Wink, 4HERO and, most popularly, the Roots (the amazing "Return to Innocence Lost" on Things Fall Apart). Her 2001 solo album, Supa Sista, was her full-train piece.

Rucker's thoughts fall effortlessly from her lips, adding dimension and sinew to a whisper-thin voice that is like capoeira--graceful as ballet in form but deadly in function. "What???" is a painful excoriation of sexism in hip-hop and rap music. She channels wise spirits of old and new on "Womansong" and "Letter to a Sister Friend." Robert Yancey's jazz and Middle Eastern-inflected beats are like a natural spring: hot, bubbling and relaxing. Rucker's topics are like frayed, sparking nerves, but she remains collected and hopeful throughout.

Words are Rucker's livelihood. She respects the powers inherent in words--so much so, she doesn't dig on poetry slams. Two years ago, she took her opinion public in a Straight No Chaser cover story: "I don't want to stand up and bear my soul and have someone give me a 1 to 10. That's bullshit."

In 2003, her opinion stands. "That particular air of competition is strange," Rucker says. "I know that a lot of people write poems, and they write them for that reason. I can't get with that. That's like, 'How many people we can wow the most, shock the most and be the ultimate shit.' It's not for the love. That happens in regular open-mics, too. People know they're going to have a captive audience and get crazy."

The increasing pop-cultural acceptance of spoken-word and slam poetry is a phenomenon that Rucker is watching closely. "Doing something for the love" becomes a dilemma when that something blows up--look at hip-hop. Slam poetry became a major motion picture starring Saul Williams and a Broadway show. Rucker recently performed on the current big show, Russell Simmons' Def Poetry on HBO, an experience that left her with mixed feelings.

"I'm glad that I went and had the experience and can see what they're telling me they're trying to do," she says. "The thing that I don't exactly dig about it is, when the episode ran this week, people from my neighborhood were coming up to me. Older women on the block are like, 'My son told me that once you're on HBO and Def Poetry you made it!'"

She lets out a huge chuckle. "Let me tell you something," she begins. "I've been doing this for nine years from my heart, because this is my life. Just because Russell Simmons does a show on HBO doesn't do anything for me. It doesn't make me any bigger, better or more 'improved,' you know what I'm saying? I do this for me."
---
Ursula Rucker headlines an evening of music and poetry with Ishle Yi Park, Jocelyn De Leon and Bonafide Rojas at 8pm on Friday (April 25), as part of the San Jose Art & Resistance Summit. There will be a special late show at 9:30pm with Rucker, guitarist Tim Motzer, Supercaliflowlinguistics and DJs Fuze One and Philthy. Tickets are $14 general/$10 students and $5 for 17 and under. (408.938.3594)
---
---
Send a letter to the editor about this story to letters@metronews.com.
---
[ Silicon Valley | Metroactive Home | Archives ]