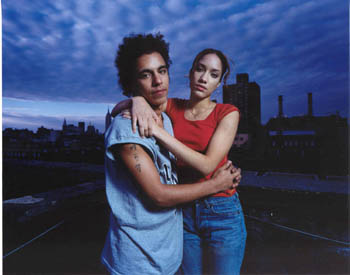 To the Victor: Victor Rasuk wins over Judy Marte in 'Raising Victor Vargas.'

Grandma's Boy

'Raising Victor Vargas' cruises the streets of the Lower East Side with unfaked charm

By Richard von Busack

THE BANTAM-SIZED MACHO of the Lower East Side, Victor Vargas (Victor Rasuk) is about to make an easy sexual conquest. Easy, as long as his friends don't hear about it. Fat Donna (Donna Maldonado) is raring to go, but Victor doesn't want anyone to know about the tryst to come. ("I'm a very private person.") Victor will lose status by sleeping with someone too ugly to squire down the street. Naturally, he is found out and gets neither Fat Donna nor the respect he seeks.

In its opening scenes, Raising Victor Vargas, a winning independent film by Peter Sollett, immediately makes a comedy out of one unfunny aspect of ghetto life: the lack of privacy. It's rare to see a movie about poor people who aren't killing one another. It's also rare to see the very aspects that sociologists fret over the most--the street culture that puts such a high esteem on sexual prowess--turned around for humor. Victor's real problem is that he has a crush on the far-away-eyed Judy (Judy Marte, basically the kind of person Jennifer Lopez wants you to think she was, when she was Jenny from the block). On the streets, Judy is hit on as regularly as a "Pedestrian Crossing" button--and with about the same results. Judy is disgusted by Victor's attempts to be a Don Juan (the way he wriggles and licks his lips, which is supposed to make the women weak, just makes her want to laugh). Still, she agrees to hang out with the kid, mostly to get the other neighborhood boys to leave her alone.

Victor's first romance is crossed--not just by Judy's indifference but also by his grandmother (Altagracia Guzman). Guzman, as an ex-seamstress who has become an entrepreneur, serves as the solid bones in this comedy. Grandma's superstitions and memories of her youth in the Dominican Republic sound like Martian-talk to her grandchildren. However, she is a grandmother of nine, and when she lapses into a stony silence or makes a show of her iron will, no one laughs. Raising Victor Vargas overcomes that constant movie problem of ethnic comedy, which turns old-country parents into outrageously accented vaudevillians. When Grandma turns on Victor, accusing him of debauching his little brother, Raising Victor Vargas rises to the level of serious drama.

Sollett, who extended this film from his short Five Feet High and Rising, and writer Eva Vives originally conceived of this movie taking place in the working-class suburb of Bensonhurst. Circumstances transferred it to the Caribbean neighborhoods near the Lower East Side. Vives and Sollett's bet that the dick-wielding culture was the same in the city as it was in the boroughs pays off. Tim Orr, who shot All the Real Girls and George Washington, made the poor parts of the American South look like the Garden of Eden; here, he makes summer in the city look appealing. Even before the film lingers for a time in a small private yard with chickens and plants, Manhattan looks vivid and floral, the way it's seen by someone in first love.
---
Raising Victor Vargas (R; 88 min.), directed by Peter Sollett, written by Sollett and Eva Vives, photographed by Tim Orr and starring Victor Rasuk and Judy Marte, opens Friday at the Camera 3 in San Jose and CinéArts in Palo Alto.
---
---
Send a letter to the editor about this story to letters@metronews.com.
---
[ Silicon Valley | Metroactive Home | Archives ]