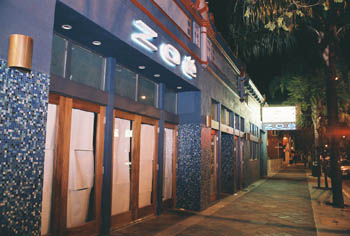 Photograph by Raymond R. Rodriguez Jr.

Sign Up Here: The newest addition to South First Street's nightclub scene is Zoë, the creation of Jacek Rosicki. The name means 'life' in Greek.

Rearranging the SoFA

Swanky renovations in downtown's venerable nightclub district stand to reinvent the area known as SoFA. But this time, it's closer to Italian leather than to scratchy plaid.

By Najeeb Hasan

WEARING JEANS and a black sweatshirt, Jacek Rosicki braves the gusty breeze as he stands on the corner of South First and San Salvador streets conferring with his chef, Brad Kraten. The opening-night party for Zoë (pronounced Zo-ee), his new club, is days away, and some loose ends remain untied.

The two discuss what's needed--wine glasses, coffee cups and saucers, salt and pepper shakers, sugar bowls, silverware and steak knives--before Kraten heads back to Rosicki's other club and restaurant, Agenda, just across the street.

Situated directly one door to the right of a downtown auto paint and body shop, Zoë, which means "life" in Greek, looks distinctly Mediterranean from the outside, primarily because of the glossy mosaic of blue and white tiles on its facade. But once inside, the look transforms from soothing seaside blues to sleek burgundy, maroon, mahogany, purple and silver.

The floor is lined with acid-washed, multitinted tile, and the bar and the dining area meet patrons from right and left, respectively, as they enter. The $90,000 bar gleams with polished African mahogany, and the beer taps are imported from Italy. The club sports a $150,000 EAW Avalon Series sound system ("the best in the Silicon Valley," Rosicki boasts) and a full-time chef. Just around the bar, in the far right corner, is a 33-foot-wide stage, a dance floor, a seating area and a DJ booth. Rosicki envisions using the stage not only for live bands but also for theater, comedy shows and other events.

Also, on June 15, Rosicki will open the Back Bar, an extension to the Zoë property on Market Street that will feature an outdoor patio, a barbecue pit, another stage and DJ booth, and two more bars. The two connected establishments will allow club-goers to be introduced to different styles of nighttime activity: B-boys and girls coming to Zoë, predicts Rosicki, could wander into the Back Bar and stumble upon some salsa.

Rosicki likes the name Zoë, not only because it's his daughter's name, but also because it's short and powerful. Its definition, "life," provides a foreshadowing to a downtown entertainment district that, in the past, has been shuffling from one identity to another.

Sound Event

Zoë, of course, occupies the same space as the old Cactus Club, the downtown, SoFA district (for "South First Area," a moniker coined in 1989 by promoter Gary Walker and club operator Fil Maresca) landmark that closed down last summer after 16 years of providing refuge and stage space for up-and-coming bands. Rosicki, meanwhile, is unconcerned about following the Cactus Club act, which was, in a sense, everything that Zoë isn't. While Zoë has its tasteful décor and comfort dining, the Cactus Club was raw and basic.

"The Cactus Club booked heavy music; we are not going to be heavy," Rosicki says. He shifts in the couch and points toward the far wall, which is perpendicular to the stage. "For example, that wall was covered in this blue, awful paint. It was covering up that beautiful brick. I had four guys for three weeks chipping off that paint by hand, piece by piece."

The SoFA district has, by all accounts, gone through a similar transformation. On the corners
of South First and San Salvador streets, there are now four recently refurbished nightclubs, including Agenda, with its outdoor patio; spy, which underwent a renaming and renovation eight months ago; Cabana, the former site of Polly Esthers, which has been remade into a swank new club with gauzy cabana tents, a sushi bar and ground-lit dance floors; and now, Zoë.

"I have a whole campaign with the other club owners to get the area labeled as a whole, something like the Four Corners Dance Mecca," says Bobby Darwin, part-owner and general manager of spy. "Zoë opening up puts that extra corner there. It's the only district where there are all dance clubs. We want to promote the area as a whole as opposed to everybody individually. Eventually, I see a Mardi Gras-type scene, where everybody goes from club to club to club."

In the same four-block radius, there are the enduring South First Billiards, B-Hive, Camera One, Original Joe's Restaurant, Eulipia Restaurant, d.p. Fong Galleries and Wine Bar and Cafe Matisse. Just a block north of the new Zoë, the historic Fox Theatre is in the midst of an extensive renovation and is slated to open in spring 2004 as a performing-arts venue.

Maresca, an event producer and one-time owner of F/X (which, under subsequent ownership, evolved into the Usual, now spy), has followed the district's evolution from its earliest days. He arrived on the scene when the still-gritty SoFA, helped by a red-light abatement ordinance shepherded by then downtown Councilmember Susan Hammer and some real estate purchases by SoFA property owner Richard Berg and Dennis Fong, had begun its transformation from a porn district to an entertainment destination.

The Cactus Club had just opened; Marsugi's nightclub sat on the other corner; the Studio Theater screened Mexican family films; the Pussycat Theater had closed its doors; and nearby sex shops were in their twilight. Maresca and his associates converted the former Pussycat into the nightclub F/X and launced a celebration of fringe culture known as the SoFA Street Fair. The district on South First Street, between San Carlos and 280, had become San Jose's primary entertainment area, with nightclubs, restaurants and coffee shops. "We were the little neighborhood that could," Maresca recalls. "We were doing things on our own."

But because downtown San Jose is unlike other downtowns in major cities--not enough foot traffic, not enough urban residents, not enough lasting retail establishments, scant daytime life, little interaction between the university and downtown and a less-than-subtle police presence--the entertainment boom years quickly deflated. The city's redevelopment agency spent most of its funds north of San Carlos Street and allowed nightclubs and restaurants to proliferate throughout the downtown, often in subsidized buildings. Further, because the pioneers of the SoFA district had made the area so popular, rent, consequently, began to rise, driving the pioneers out and paving the way for dotcoms, architectural and design firms, advertising agencies and the like--businesses that were not dependent on pedestrians.

Where SoFA once supported half a dozen lunch spots and three coffee shops over 1 1/2 blocks, the foot traffic no longer exists for that kind of cafe society. And the planning committee for the district's future wants it back. "One of the things we really pushed for was keeping it an entertainment district," says Maresca, who was part of a group that put together SoFA's development plan. "We need urban residents, not home buyers, but residents who'll live in apartments. People who are younger, unattached, have fewer responsibilities, have disposable incomes but want the urban lifestyle, which means small kitchens, small apartments and lots of time outside."

Some of the immediate plans to keep the district moving include the coming SoFA Bazaar and a free, outdoor concert series that Rosicki and Maresca are planning in Zoë's parking lot, an idea that's still in the initial planning stages.

And the stage is set for another redefinition. SoFA went from red-light to raw funk, and now the keywords are suave and stylish. "One thing about the neighborhood," Maresca says, "is that it's never been formal and elitist. It's always casual and comfortable. Just about everybody who came in would feel pretty cool about it."

In SoFA's new makeover, the clubs, however, will undoubtedly be more upscale. "The new clubs are nicer," Maresca says. "The audience is older, with more money in their pocket. Zoë will certainly reflect that and enhance that. In the early '90s, it was cool to go to dark, underground clubs. By the mid-to-late-'90s it wasn't that cool anymore."

Adds Rosicki: "We can't just do one thing these days. It's a tough economy. You gotta keep everybody happy. If you come in for appetizers, you're welcome. If you come in for cigars and martinis, you're welcome. If you come in for dancing, you're welcome. If people like hip-hop, it doesn't mean they're not gonna listen to some rock; if they like rock, it doesn't mean they won't like reggae. Everything is crossover these days. Am I right or am I wrong?"
---
Zoë celebrates its grand opening on Thursday, May 1. Invitations can be picked up at Agenda or at www.zoenightclub.com, and include drinks, appetizers, an open bar and Wonderbread 5 performing live. The club is located at 417 S. First St. at the corner of San Salvador in San Jose. (408.971.ZOES)
---
---
Send a letter to the editor about this story to letters@metronews.com.
---
[ Silicon Valley | Metroactive Home | Archives ]