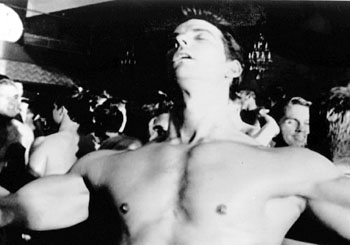 Photograph by Joaquin Sedillo

Lord Of The Dance: Jonathan Wade Drahos bares his pecs on the dance floor in 'Circuit.'

Bad Company

A kid from the sticks burns the candle at both ends in sordid, silly 'Circuit'

By Richard von Busack

IF YOU'RE going to see just one movie this year about the pleasure-seeking gay life in Los Angeles, where sex is cheap and life is cheaper--you should have gone to see The Fluffer, because Circuit never rises above the level of moralizing soft-core boy-porn, despite the presence of gagman Bruce Vilanch in a cameo as a master of ceremonies at a male strip club and Nancy Allen as the unhappy wife of the czar of the private-dance-club circuit, where only the most buffed and studly are allowed entry. The czar in question is William Katt, looking a bit worn since his days as TV's Greatest American Hero.

Circuit tells the old story: an innocent boy from the Illinois sticks, John (Jonathan Wade Drahos), an ex-cop who left town because of his sexuality, arrives in Hollywood and falls in with bad company, including Hector (Andre Khabbazi), a hustler, whose 30th birthday is approaching, and Bobby (Paul Lekakis), an HIV-positive porn star living on borrowed time and borrowed money. Don't look away from these sordid pictures, readers! Look hard, harder, as shower scenes, sex scenes and exotic-dance scenes illustrate the good old cracker-barrel motto that you can't burn the candle at both ends! A life of steroids, designer drugs and coke will eventually have a toll to pay, and rest assured it will be amortized in full if you stick to the end of this grossly overlong film.

Be sure to catch the instant were John calls a character by another character's name; I guess Drahos got confused by all of these eminently trimmable subplots, just as I did. Circuit could have been a gay Showgirls if only it had a little more velocity and some more quotable lines. Here are the best of the litter: "No fats, no femmes, no redheads!" "Man, I could play your nipples like CDs." "Maybe I'll just try one hit." "I bought your life insurance policy because I thought you were going to die!" "Selling yourself to the media is an art form, really."
---
Circuit (Unrated; 120 min.), directed by Dirk Shafer, written by Shafer and Gregory Hinton, photographed by Joaquin Sedillo and starring Jonathan Wade Drahos and Andre Khabbazi, opens Friday at the Towne Theater in San Jose.
---
---
Send a letter to the editor about this story .
---
[ Silicon Valley | Metroactive Home | Archives ]