It's the first law of rock & roll: What goes around, comes around; or, the more things change, the more they stay the same. How else to explain the profusion of sonic comebacks that have plagued the genre ever since its inception?
Perhaps it stems from the fact that Elvis Presley culled some of his best songs--"Hound Dog," "That's All Right," "Blue Moon"--from earlier musical sources. But whether one is referring to '50s-derived rockabilly acts like the Stray Cats and Huey Lewis or to the new slough of punk-rock acts like Green Day and the Offspring, there's no doubt that plundering the past for inspiration has become an almost respectable form of creativity.
Britpoppers Oasis, for example, take great pride in comparing themselves to the Beatles. In concert, they even like to call attention to their resemblance to the Fab Four by covering "Octopus's Garden" and "I Am the Walrus." And Oakland's Rancid does a Clash impersonation that beats the Clash's own solo projects all to hell.
Although, ecologically speaking, recycling is considered a good thing, because it conserves resources and retains the integrity of the planet, recycling ideas--in music, fashion, art and life--is not quite so effective. Witness the bad remakes of old films like Diabolique and Sabrina.
New ideas are always the best source for art to draw on, but, alas, new ideas are not always available, and at the moment, rock music is in its worst fit of nostalgia-madness ever. From psychedelically inspired hippie bands like Spin Doctors and Blues Traveler, to the Black Sabbath-derived metal of grunge acts like Alice in Chains and Soundgarden, a flip round the radio dial proves that there's really nothing new under the sun.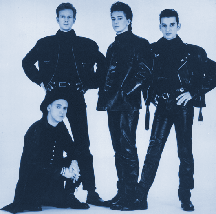 Currently, fashion boutiques are full of '70s-esque icons like platform shoes, bell-bottoms and polyester shirts with photorealist prints on them. But music is always one step ahead of fashion, and the radio has recently jumped from playing old hits from the '70s into playing old hits from the '80s--full speed ahead.
Hardly an hour goes by when the radio doesn't play a song by the Romantics, Clash or Devo, and even ultra-cutting-edge artists are dipping into the well of '80s New Wave for inspiration. Liz Phair recently covered the Vapors' old hit "Turning Japanese," while Nine Inch Nails protégés Marilyn Manson just scored with a remake of the Eurythmics' "Sweet Dreams (Are Made of This)."
In addition to Rhino Records' recent collection of New Wave hits, Columbia Records has just released a boxed set of the Cars, as well as a "Best of the '80s" series, which includes best-of retrospectives by bands like Men at Work, Wire Train, the Bangles and even Warrant.
Meanwhile, local nightclubs--including the Edge in Palo Alto and P.J. Mulligan's in Cupertino--often hold "New Wave '80s" nights, where patrons dance to songs by the Cure, Human League and Kajagoogoo. What they ought to be called, however, is just plain "'80s nights," since their creators have mistaken the definition of the term New Wave.
Taken from the early-'60s movement in French cinema (most memorably, Jean-Luc Godard's Breathless), the term originally referred to a set of postpunk bands like the Buzzcocks, Wire and the Fall, whose sound was cutting edge but whose attitude was not angry and politicized, like punk. Thus, the Clash were punk; the Cars were New Wave. The Sex Pistols were punk; Devo was New Wave. And so forth.
Real New Wave was not particularly popular on the radio in America, any more than punk rock was. American radio was stuck playing hits by Phil Collins and Dire Straits. But in recent years, the term has mutated to mean early-'80s bands with synthesizers: Depeche Mode, New Order, Scritti Politti, Eurythmics.
Either way you define it, however, an '80s or '80s/New Wave revival is particularly pathetic, since that period of time may well have provided the least intellectually stimulating rock music ever. The era's biggest hits--songs like "Cars" by Gary Numan, "Don't You Want Me, Baby" by the Human League and "Tainted Love" by Soft Cell were more than disposable--they were positively forgettable.

For those a who look back more fondly on the decade of MTV and yuppies, jump in your bitchin' camero and cruise on over to these hip-happenin' web spots:
The 80s Page
Ultimate 80s Song List
Early '80s Song of the Week
Cloy's New Wave 80s Page
Early 80s Flashback Page
New Wave City

Moreover, the genre certainly must have the highest percentage of one-hit wonders in rock history, a sad fact that may say something about the talent level of its practitioners. Where, now, are the main members of bands like Haircut 100, ABC, Nena, Kajagoogoo and that band that did "Always Something There to Remind Me"?
New Wave was also the whitest movement rock has ever seen, yet another cultural symptom of the horrifically segregated mentality of the Reagan era (a mentality that ended with gangsta rap, the Rodney King verdict and its corollary, the O.J. trial). As was the case with rap, New Wave took for its inspiration all the new sound technology that came in the late '70s. But unlike rap, New Wave was both unpoliticized and utterly soulless--like the very machines it was using to make music.
It may have been more tuneful, but it certainly wasn't influential. After all, which was more memorable, Depeche Mode's vacuous hit "People Are People" or Public Enemy's furious "911 Is a Joke"? And what can you say about a movement whose most soulful contributor was George Michael?
Of course, rock is always at its dumbest when the economy is booming. In 1984--the height of the Reagan era and also of New Wave--Americans as a whole felt pretty good about their roles, both privately and in society. So they celebrated this complacency by listening to cheesy, tinkly, synthesized pop.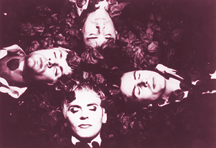 These days, America is no longer in an economic boom, and people don't feel great about things in general--which may be why New Wave, which recalls a time when they did--is so appealing all over again. Last year, in fact, the British music press began touting a new musical movement they called "The New Wave of the New Wave." Headed by bands like Supergrass and Elastica--both bands openly cull their best riffs from older New Wave bands--new New Wavers play music distinctly reminiscent of skinny ties, red tennies and synthesizers--tunes that go "dit-dit-dot-dash."
In America, it's called Geek Rock, and it's headed up by the Presidents of the United States of America. In Scotland, there's a band called Bis, which sounds like a cross between the B-52's and Beat Happening. And in Japan, bands like SuperSnazz, the 5-6-7-8s, Teen Generate and Angels in Heavy Syrup all do an '80s thing.
Perhaps this trend is inevitable, given society's propensity to look at its past for reassurance and inspiration. And granted, music that's merely inspired by the New Wave is less reprehensible than the barrage of oldies by Men at Work, Human League and Duran Duran currently making its way back to radio. But neither thing is really a desideratum. And the sense that one is always looking backward, never forward, is a bit disconcerting.
But we should be thankful we're still in the New Wave nostalgia era. Presently, we will have to suffer through a revival of icky pop-metal acts of the mid-'80s--Poison, Mötley Crüe and Guns n' Roses--and the fashions inspired by them: big bouffant hair, high heels and Spandex. Compared to that, songs like "Who Can It Be Now" and "Safety Dance" don't sound half so bad.
[ Metro | Metroactive Central | Archives ]