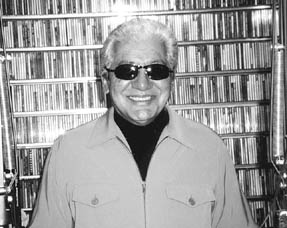 Shady Character: Percussion great Pete Escovedo prepares for the L.A. sunshine.

Pops Culture

After 50 years, Pete Escovedo leaves Northern California, but his legacy remains

By Chuy Varela

'NEVER IN MY MIND did I think I was going to move away from Oakland," said percussionist-bandleader Pete Escovedo in our interview in late February, a few days before he moved from Alameda to a Southern California suburb called Valley Glen.

"My wife, Juanita, was born here. We went to school and grew up together here, the whole bit. It's really hard for me to make this move, but the fact is that there is nothing really tying us here anymore." Pete Escovedo plays a farewell concert in San Jose with the Bermudez Triangle on Saturday, April 28, at Fuel.

The Escovedos leaving Oakland is like the Fillmore leaving San Francisco. They're regional icons intimately linked with Nothern California, long producing a quality product that, in the case of Pete and his family, is a unique musical hybridization of jazz, Latin, funk and rock. The Escovedos are heroes to generations who saw them come up as part of a largely immigrant Mexican and Latino community that flourished in West Oakland during the war years.

For the last two years, the one-time side-musician with the Santana band has been running a nightclub, Mr. E's. He relocated last summer from downtown Berkeley to Spotlight on the Square in Alameda, a well-designed space with plenty of parking and potential, but the refurbishing of the Posey Tube and Alameda's relatively remote location didn't click with the public, and Escovedo, who is known lovingly as "pops" by his kids and close friends, sold his portion of the club late last year.

"We let that go," he says. "It was a bad marriage, and I had to get divorced. Life has been wonderful here, but in L.A. we'll be able to do some different things, hopefully get into some television stuff with the kids. Sheila and Peter Michael are there, and eventually my son Juan is going relocate, too."

FROM THEIR early days in the late 1940s and 1950s, when Oakland dance halls were bursting at the seams, to their climb to national prominence in the early 1970s with their band Azteca, which built on the Latin-rock movement spearheaded by the Santana band, the Escovedo brothers (Pete, Coke and Phil) developed a deep affection for Afro-Cuban music. The music coming out of New York City, innovated by mambo kings like Machito, Tito Rodriguez, and their biggest influence, Tito Puente, drove the brothers to play.

"Tito was young back then, and watching him play was a thrill," Escovedo says. "He was so on fire! This was just before he made the Dancemania album [1958]. It was top-notch, and he brought out people like Ray Barretto and Santos Colon. To see that as well as the Machito Band, Tito Rodriguez, Joe Loco and so many others in Oakland was incredible. We just kept filling our ears, and the sponge kept soaking it up."

In the late 1950s, after leaving the Chico Ochoa Orchestra at the Sands Ballroom, Escovedo decided to form his own dance group. The Escovedo Brothers Band patterned its sound after Puente but gravitated to the ensemble-size groups of Eddie Palmieri and Ray Barretto. Escovedo recruited pianist-arranger Carlos Federico, congero Willie Colon, trombonist Al Bent and his brothers, Coke (timbales) and Phil (bass). With Pete on lead vocals, they swung hard, playing throughout the West Coast but primarily in the Bay Area.

"Believe me," he says, "we played in every club ever built in the area. And we closed a lot of them too. We were kids just trying to sound better. Later on, we got more interested in jazz and formed the Escovedo Brothers Latin Sextet with Al Bent and Mel Martin [reeds]. It was a small group, and we played at Basin St., El Matador, Jazz Workshop and Keystone Korner with Todd Barken."

For Escovedo, the 1960s represented a time of progressive movement as he and his brothers embraced Latin jazz. They played throughout California and found a few spots in San Jose like Maria's Club, one of the most popular venues for Latin music at the time, and El Patio, where they did regular stints. Into the 1970s, when Pete and Coke began Azteca, they would participate at the benefits for Cesar Chavez's United Farm Workers Union at Spartan Stadium at San Jose State.

Since then, Pete always maintained his San Jose ties, performing at the San Jose Jazz Festival numerous times and at Fuel 44. He also helped promote dance bands like Mystique by joining them as a special guest on several occasions.

PETE ESCOVEDO glows when he talks about those early days and remembers a largely Mexican-American post-WWII teen generation that embraced jazz and Afro-Caribbean music. The Escovedos felt the vibe of the West Oakland blues scene and the hip San Francisco jazz scene. They heard vibraphonist Cal Tjader's first Latin-jazz experiments in the mid-1950s and whenever somebody new came through town they introduced themselves and got taken under the wing of greats like Armando Peraza and Mongo Santamaria.

"I felt very fortunate that an early age I started listening to music. The scene was incredible--Sweet's Ballroom, Sands, the Ali Baba--great places. The bands would also play the Sunday afternoon tardeadas like the Mambo Sessions with Carlos Federico, Benny Velarde and Willie Vargas at the California Hotel. The caliber of the music was so high in those days!"

The heyday may not be finished here, but settling down with family becomes of greater importance as time passes. "It was my son Peter Michael who convinced me to move," Escovedo explains. "He said, 'Pops, you've had three nightclubs, you've played everywhere, you've done everything; the only thing you haven't done is run for mayor, and you don't want to do that 'cause they'll dog you everyday. The next thing they'll do is make a statue of you in downtown Oakland, and the pigeons will come and doo-doo all over you. You don't want that, so you better move!' "

Escovedo is upbeat talking about his move, strategizing about the future. He's not disbanding his local group and hopes to have two bands: one in the Bay Area and another in L.A. He wants to reopen a nightclub someday, but a bitter taste remains from his last experience. From the countless benefits for a multitude of worthy causes to his presence at every major Latino event in the Bay Area, Pete and his family have been woven into the cultural fabric of the Bay Area.

"I always felt I would accomplish something. It's not every kid that dreams that has those dreams come true. For me they've all come true. I've been very blessed. I look back on the life I had here and the people I've met over the years--friends, musicians--and it's been wonderful. Our fans have been so supportive all these years. They come to see us play, buy our CDs and listen to us. When me and my brothers got started playing, we had no idea how it was all going to turn out. The lord blessed us with some talent and we used it to help the community."
---
The Bermudez Triangle presents a goodbye party for Pete Escovedo Saturday (April 28) at 9:30pm at Fuel, 44 S. Almaden Blvd., San Jose. Call 408.295.7374 for ticket information.
---
[ San Jose | Metroactive Central | Archives ]