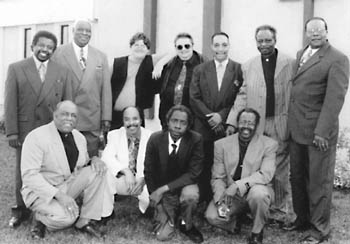 Vocal Supporters: Oakland's Gospel QC choir is among the Bay Area gospel choirs and musicians performing at a festival to benefit scholarships for at-risk youth.

The Gospel Youth

Bay Area choirs share their inspiration with youths at the All Faiths Gospel Festival

By Marianne Messina

STEWART WOBBER hears stories all the time about young people with every reason to drop out of school: they're living in cars, shelters, group homes. As president of the Interfaith Network for Community Help (INCH), Wobber has a chance to turn some of these situations around. Working closely with social workers and support groups, Wobber learns about community needs, and through INCH's 50 Bay Area churches he coordinates solutions. "We're kind of a bridge between people who have and people who need," Wobber says.

One of INCH's projects is a youth incentive program solely funded by an annual two-day music event, the All Faiths Gospel Festival. Some of the best gospel choirs and jazz bands in the area donate their time to the festival so that the proceeds can go entirely toward $1,000 scholarships for eighth-graders who face adverse living situations. The students receive their award only upon completing high school and being accepted into post-secondary school. And in the program's eight years, almost every student selected has successfully gone on to gain the scholarship.

The participating jazz choirs, gospel singers, a cappella octets and swing orchestras might command as much as $3,500 a night at paying venues, but the festival appeals to their common commitment to music's inspirational power. If you talk to choir director David Wells of San Jose's Maranatha Hope of Glory Gospel Choir, he'll tell you, "Music gives people hope. It is also like a medicine. By teaching music, I stay happy, I stay alive in spite of what goes on around me."

As Wells directs a rehearsal for the tight, 25-voice Maranatha unit--"one voice!" he coaches, "sound like one voice!"--he embodies that sense of vitality. He goes practically airborne as one song hits its climactic "Rejoice!" But Wells also has a demanding ear. He'll dash from altos to sopranos, singing the nuances he wants to hear, gesticulating for emphasis.

The Maranatha choir does its share of ministry, or as Wells puts it, "It just doesn't stay within the church's four walls, it goes out into the streets." And similarly, the Oakland Jazz Choir, also appearing at the festival, may play Yoshi's one night and a prison or old-age home the next. Stacey Hoffman founded the Jazz Choir as a "spin-off" of her company's (Rhythmic Concepts) first project, the Oakland Interfaith Gospel Choir. "We chose gospel purely because people were so moved by it. We thought it would be a wonderful opportunity for people not only to sing but to have a spiritual experience--not religious, but it's moving, it's very inspiring."

Both the scholarship fund and the musicians involved seek to communicate optimism where language has failed. "If you or I could talk to somebody, it may not reach them as much as music would," Wells says. "It has a magic all by itself--the right type of music and the right song."

Each year, Wobber canvasses the Bay Area, sitting in on choir rehearsals if need be, to ensure that the All Faiths Gospel Festival is as much about good music as inspiration. But according to the contributors, it's also about passing one's gifts and joys along. If you ask Wobber where he gets the energy for this huge annual undertaking, he simply says, "I've been well blessed."
---
The Eighth Annual All Faiths Gospel Festival takes place Saturday and Sunday (April 27-28) starting at 7pm each night at Grace Lutheran Church, Loma Verde and Waverley streets, Palo Alto. $10 donation. Call 650.494.1212 for more info.
---
[ San Jose | Metroactive Central | Archives ]