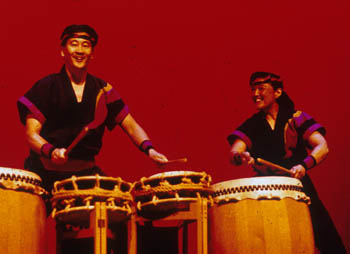 Skin Game: Two of San Jose Taiko's dummers set up a beat.

Drum As You Will

San Jose Taiko artists drum to a different beat at 'Rhythm Spirit 2001'

By Marianne Messina

CHANTING A UNISON DRONE and perambulating like lost ghosts, members of San Jose Taiko rehearse a drumless number for their upcoming show, "Rhythm Spirit 2001." An eerie wooden flute melody climbs over the drone; an urgent, primitive vocal chant joins the flute, overrides it, melts back into the field of unison voices. It's enough to make you wax metaphysical, to consider how a human life is one such desperate voice emerging for its brief span from the hum of eternity.

Each pod, or grouping of drums, is arranged in its own formation, plays its own rhythm pattern, synchronizes its own stylized, often exaggerated drum strokes, follows its own migration across the stage. "Different pieces have [different] setups on stage," explains artistic director P.J. Hirabayashi, "Each song gets very busy trying to reset drums, on and off stage, so it's kind of like a seamless presentation."

This year with the introduction of her new piece, "Do-kan Ondo," Hirabayashi has been trying to bring in even more dance elements. "Do-kan Ondo" grew out of a Japanese folk dance called Kokiriko. It begins with two dancers playing the percussive sasara--a traditional, crescent-shaped instrument, similar to a washboard, with wooden slats--that sounds like a bamboo slinky. As the Taiko drummers come in, the piece grows more interpretive, "almost like a variation on a theme," Hirabayashi says.

Once part of a thanksgiving celebration, the Kokiriko song had a lullaby flavor and instructive lyrics ending with "dance the dance as you will." "Just in that little phrase alone," Hirabayashi explains, "that's kind of giving me permission to dance the dance as I would hope to see it danced, which encouraged me to do something stylized from the tradition."

Permission to explore individual responses to music is part of the San Jose Taiko philosophy. "Most of our composers are very open to outside input," Hirabayashi says. "That's how I like to operate, too. Just to kind of see what's with our players. Do they feel comfortable with the movement? Do they get off on a rhythm pattern and embellish it? You know, feel like they're also putting in some creative juice? So that's how they kind of interpret what you're putting out there for them, giving them the opportunity and the permission to input."

Two other members of the ensemble, Adam Weiner and Franco Imperial, have composed creative/integrative pieces for the upcoming "Rhythm Spirit 2001" concert. Imperial's piece, "Pandala," took inspiration from the Philippines' kulintang music, a regional form centered around gongs. Weiner's "Rhythmus" started as an image he had "of a Taiko group as a large machine." Imperial's "Iruka" came from a dream in which he was skimming across the surface of the ocean on a dolphin. In this piece, Imperial tried to re-create "the feel of the journey" from that dream by asking himself, "If there were a soundtrack to this movement, would it sound like this?"

Honoring images and visions, the individual as well as the communal, San Jose Taiko is powerful to watch. And it's not just the power of fierce, low-frequency drumming such as warriors once used to intimidate their foes; it's also the power of synchronicity and of stillness, like a quiet wood or a prayer, making you hold your breath lest you break the spell.
---
San Jose Taiko's Rhythm Spirit 2001 takes place Friday and Saturday (April 27-28) at 8pm and Sunday (April 28) at 2pm at the San José Repertory Theater, 101 Paseo de San Antonio, San Jose. Tickets are $20 general, $15 students and seniors, $18 groups of 10 or more. (408.367.7255)
---
[ San Jose | Metroactive Central | Archives ]