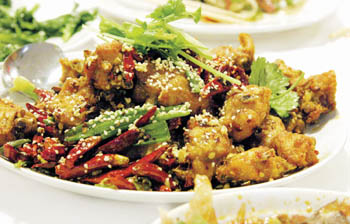 Photograph by Felipe Buitrago

Legend of Szechuan: South Legend is one of the few Bay Area restaurants with an all-Szechuan menu.

Eating on The Edge

Milpitas' South Legend Sichuan Restaurant is hot in more ways than one

By Stett Holbrook

LIFE ON the edge is exciting. In the natural world, edges are dynamic environments teeming with life. Think of the edge of a lake. At dusk, animals come to drink. Juvenile fish take shelter in the calm, shallow water while predators lurk about looking to scoop them up for dinner. Insect larvae hatch on the water's edge, often becoming food for fish and hopping frogs. Rising and falling water levels constantly alter the muddy shoreline, creating new habitat for some creatures while destroying it for others.

The periphery is a lively place because it's a transitional zone that supports a wide variety of life. And because there's more edge than center, competition for survival is less fierce and diversity is greater. The center of the action isn't what it's cracked up to be. It's the ragged edges that really have it going on.

The same holds true for cities and counties. Some of the liveliest parts of town are on the fringes, invisible borders where the suburban meets the urban, where the commercial abuts the residential. Not for nothing is mixed-use development the buzzword among "new urbanist" city planners. It's these evolving borderlands that attract new businesses because of cheap rents and new opportunities. For the same reason, edge communities also attract immigrants and artists, bellwethers of social changes that get their start outside the bright lights of more established areas.

In the South Bay, it's the same for food. If you're hungry for a taste of the real thing, food that hasn't been filtered and watered down for the masses, to the edge you must go. Some of the region's most exciting eating is found on the periphery in places like Fremont, Newark and Milpitas.

Especially Milpitas.

This city on the eastern edge of Silicon Valley has undergone dramatic demographic changes in the past two decades. What was once a majority white population is now 51 percent Asian. Many residents are new immigrants from China, India and the Philippines. As a result, Milpitas' culinary scene is one of most remarkable in the Bay Area. Because many restaurants here cater to the city's newly arrived residents, you get true, unadulterated tastes and regional flavors. You get places like South Legend Sichuan Restaurant.

All Szechuan, All The Time

The restaurant is in a shopping center on North Milpitas Boulevard dominated by Asian restaurants, bakeries, video rental stores and hair salons. Inside, the restaurant's striking black-and-white photographs of Chinese street scenes and rural life contrast with red paper lanterns and crimson chile peppers hanging like strands of firecrackers.

The menu offers an encyclopedic list of Szechuan dishes that would take several visits to dent. The owners and chef are from Chengdu, the capital of Szechuan cooking, so they know their stuff. In China, Szechuan food is revered for its complexity and diverse flavors and ingredients. While primarily known for its prodigious use of chile peppers and Szechuan peppercorns, Szechuan food is also prized for its complex tastes and contrasting textures. Although Szechuan dishes are common on Chinese food menus in the United States, all-Szechuan restaurants are a rarity in the Bay Area.

I started each of my meals at South Legend with an order of the special pickles ($1.95), a bowl of radishes, carrots, celery and Chinese cabbage. The vegetables are bathed in the signature spicy Szechuan roasted chile oil, but the vinegary, salty bite of the pickles tempers the heat. It's a great way to fire up your appetite for what's to come.

Many Szechuan dishes have fanciful names with stories behind them. Couple beef ($5.95), also known as "husband and wife beef," is a cold meat dish that began as a Chengdu street snack in the 1930s. It takes its name from the couple who invented it. It consists of tender, slow-cooked slices of beef brisket and delicate slices of tripe. (Yes, tripe. It's good. Eat it.) It's all bathed in more fiery chile oil and topped with ground peanuts and cilantro. The contrasting flavors and textures of the meat are also said to represent the yin and yang of man and woman.

Kung pao chicken ($6.95), known as gong bao on the menu, is one of the most common Chinese restaurant dishes, but few people realize its Szechuan origin. At South Legend, the dish of diced chicken, bright chiles and crunchy peanuts is finer than other versions I've had. The light sauce is spicy, sweet and sour, contrasting but complementary flavors that are classically Szechuan.

The house special dan dan noodles ($5.50) are another great dish born on the streets of Chengdu. As the story goes, street vendors carried bowls of noodles and broth from bamboo shoulder poles. The Chinese word for the pole is dan, and the word later became associated with the noodles. South Legend's version of the noodles arrives in a deeply flavorful broth topped with a sprinkling of ground pork and cilantro drizzled with bright red garlic-chile sauce. Stir it all together and eat. It's wonderful.

Another not-to-miss dish is the Chen ma po tofu ($5.50). The dish translates as "pock-mocked mother Chen's tofu" and is named after the smallpox-scarred woman who popularized the dish. It's a beautiful dish to look at even if its originator wasn't. Silky cubes of tofu float in a gorgeous red broth spiked with crushed roasted chiles. Ground pork and sliced green onions are scattered on top. It's an exotic yet comforting dish.

As good and spicy as many dishes are, it's easy to drown yourself in chile oil. The seasoning haunts many dishes so it's best to mix it up with some vegetable like the clean-tasting spinach in ginger sauce ($3.95) or one of South Legend's many soups. And on weekends, there's a special menu that showcases Chengdu-style dim sum, lighter fare like dumplings, cold noodles and vegetable cakes.

Over the course of three visits to South Legend, I spotted only one or two non-Asian diners. The restaurant does brisk business and English is definitely a second language among the staff and diners alike. Co-owner Bill He says his expatriate customers tell him the restaurant's food reminds them of the food they ate growing up.

"It reminds them of home," he says.

South Legend reminds me of what of what great food we have here. But sometimes you have to be willing to travel to the edges of Silicon Valley to get it.
---
South Legend Sichuan Restaurant
Address: 1720 N. Milpitas Blvd., Milpitas.
Phone: 408.934.3970.
Hours: 11am-2:30pm and 5:30-9:30pm Mon-Fri, 11am-9:30pm Sat-Sun.
Price Range: $5-$20.
---
---
Send a letter to the editor about this story to letters@metronews.com.
---
[ Silicon Valley | Metroactive Home | Archives ]