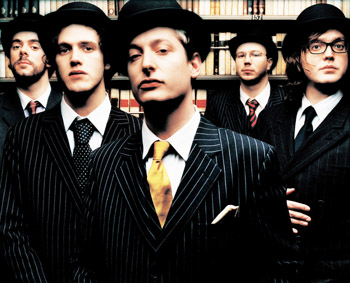 We Will, We Will Audit You: Gomez wants to check your financial statements.

I Will Survive

Gomez goes live, splits with Virgin

By Greg Cahill

CONSIDERING THAT his band has just lost its major-label contract, Gomez vocalist Tom Gray sounds pleased with the way things are shaping up, at least in a low-key British sort of way. "We've been through the ups and downs of watching the major-label record industry collapse in on itself," says Gray calling from the Ohio University campus. "It's been all about the art of survival for the past few years."

If its recent live shows and the advance copy of the upcoming live album, Gomez Out West, are any indication, the band has come through its ordeal. The double-CD captures Gomez's eclectic Manchester-meets-the Rolling Stones sound in all its blues-inflected glory. It features 18 live versions of songs from the band's four studio albums, as well as a cover of the obscure Tom Waits song "Going Out West" (first recorded in 1998 by British pub rockers Dr. Feelgood) and Nick Drake's "Black-Eyed Dog." Gomez recorded the album in January during three sold-out nights at the Fillmore in San Francisco and it is due for a June 7 release.

"We wanted to draw a line between that stuff we did with Virgin and what is to follow," Gray explains. "It was a good way to tie up all the loose ends. The band had never done a live album, despite our reputation as a good live band, because Virgin would never let us do one. We were up against the wall all the time with them. They just didn't understand."

Gomez has endured its share of ups and downs. The band members grew up in the suburbs and emerged from Liverpool and Manchester bored with the retro sounds of Oasis and the trip-hop of Portishead and other trendy bands riding high on the 1990s music scene. Its 1998 debut, Bring It On, was full of catchy bluesy rock that earned a prestigious Mercury Music Prize.

After 2002's experimental In Our Gun, last year's somewhat laid-back Split the Difference marked a return to the straight-ahead sound of their acclaimed debut. The blues-tinged, slightly psychedelic waltz-time ballad "Sweet Virginia" alone was worth the price of admission.

"It was a fun record," Gray says. "We had fun making it. In Our Gun was a grand, pretentious record. With Split the Difference we said, let's make a rock & roll record and enjoy ourselves—get a few good tunes together and record them as simply as possible."

The search for a place to record Gomez Out West led the band back to San Francisco, its unofficial U.S. base. "It's quite a strange and beautiful thing that San Francisco has become this American home for us," Gray muses. "I think that what we do just connects with people there—they just understand it. There's a whole eclecticism and psychedelic aspect. They're just ready for what we do.

"I mean we're saying, fuck musical styles, fuck all of that formula stuff, let's just enjoy music for what it is. And somehow that makes sense to people in San Francisco."

Gomez already is laying plans for a new studio album. "We have a lot of new material written and ready to go," Gray says. "We're just waiting for someone to press the button and say, 'Go for it!' This is the moment for us. We've done the groundwork. We've played in every small town in America, we've been around the block. And a lot of people have a lot of faith in us. For various reasons, in the past, we never quite connected in a big way, but it seems that it would be quite easy to connect with people, if they could just get to hear it on record."

So is Split the Difference a road map for the future?

"No, we've done that now," Gray says. "I'm feeling a more mellow, lyrical vibe coming along."
---
Gomez performs at the SJSU Event Center on Friday, May 6, with Cake and Robbers on High Street. Tickets are $25, and the show starts at 8pm. (408.998.TIXS)
---
---
Send a letter to the editor about this story to letters@metronews.com.
---
[ Silicon Valley | Metroactive Home | Archives ]