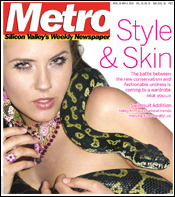 For the Week of
April 28-May 4, 2004
Cover Story: Style & Skin:
The battle between the new conservatism and fashionable undress is coming to a wardrobe near you.
Wade in the USA: Small local companies like Ujena Swimwear and X-Treme Wear Company tread the choppy waters of indie sportswear and defy globalization by manufacturing locally.
News: Saving Nancy
The plight of an autistic woman to find her home.
The Fly: This week's political bites.
A House Call: The Assembly wants to crack down on services pushing low-cost doctor visits.



Biter: Free speech's flip side: What to call the call for political transformation.
Techsploits: Annalee Newitz sings jubilantly about spam.



Studio Studies: Three weeks of Silicon Valley Open Studios reveal the tense coexistence of art and technology.



Floating World: 'Young Adam' takes a sexy barge holiday with Tilda Swinton and Ewan McGregor.
El Punisher: Denzel Washington goes to Mexico City to give the criminals what for in 'Man on Fire.'
Austen Powers: This updated version of 'Pride and Prejudice' unfolds in Mormon country.
Taking Flight: 'Broken Wings' explores the hard road of an Israeli teen.



The Return of the Kings: Orchestra Baobab are the undisputed Afropop kings of Senegal.
Aural Fixation: Kid Rock brought some old-time rock & roll to fans at the HP Pavilion.



On the Bush Beat: Kevin Phillips and Arianna Huffington have their eyes on the president in two new books.



Fairy Tale Beginning: Los Gatos' Transilvania Restaurant proves to have a real stake in Romanian delicacies.



Throne for a Loss: Toil and trouble pay off for Renegade Theatre Company's 'Macbeth' at City Lights.



Please don't forget to write! Metro welcomes letters. Like any great work of art, they should be originals -- not copies of letters sent elsewhere. Include address and daytime phone (for verification purposes only). Letters may be edited for length and clarity or to correct factual inaccuracies known to us. Postal: Metro Letters, 550 S. First. St., San Jose, CA 95111. Fax: 408/298-0602. . Emailers, please include name, city of residence and phone number. Letters printed will list email address unless otherwise specified. Letters to the editor are not currently published in the online version of this paper.