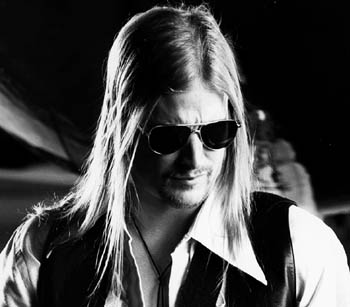 The Son of Detroit hit San Jose.

Classic Rock

Kid Rock brought some old-time rock & roll to fans at the HP Pavilion

By Sarah Quelland

WHAT DOES IT TAKE to turn the cavernous HP Pavilion into an intimate venue? A low turnout and two performers who don't take it personally. Last Friday (April 23), the number of people who arrived early enough to catch opener Jerry Cantrell probably wouldn't have sold out the Warfield. By the time Kid Rock and his Twisted Brown Trucker band hit the stage, it seemed the Event Center at San Jose State University would have been a better location for this show--much as it would have when Rock last headlined the Shark Tank in 2002.

Following a cool and laid-back set by Cantrell that included the singer/guitarist's solo material, highlights from the Alice in Chains catalog and a closing cover of Pink Floyd's "Dark Side of the Moon," the many members of Twisted Brown Trucker came out for a long introductory prelude while jamming the music of "Bawitdaba." Before long, Kid Rock emerged like a tornado, announcing his arrival with "Son of Detroit," his appropriation of country outlaw David Allan Coe's "Son of the South." The spectacular opening set the scene for the entire night as pyrotechnics exploded and erupted and red, white and blue confetti rained down on the crowd.

If the concert was a party, Rock was an excellent host. He played the role of just one of the guys convincingly and came across as a good ol' boy with an insatiable jones for rock & roll. Live, he and his band broke down and reassembled his songs until they barely resembled the recorded versions. His sense of spontaneity and extended Southern jams made him hard to keep up with. His set mingled and flowed together as recurring themes and ideas surfaced and resurfaced throughout. Frequently, one song incorporated many songs before it folded back into itself and reached its conclusion. "You Never Met a Motherfucker Quite Like Me" yielded to Lynyrd Skynyrd's "Free Bird" before giving in to some questionable Confederate Dixie pride and jumping back into the original song. It was like that all night as Rock casually tossed pieces from Queen's "We Will Rock You," Hank Williams Jr.'s "If Heaven Ain't a Lot Like Dixie," Deep Purple's "Smoke on the Water" and more into his own material.

Some of Rock's more rehearsed bits--like when he raps with the audience before the bluesy "If I Were President" or when he takes a turn playing every instrument on the stage--are recycled from past tours, but the Rock and Roll Pain Train tour gave him a chance to share new tunes like "Jackson, Mississippi" off his more classic-rock and country-influenced new record Kid Rock.

"This next one is for my man right here in the Bad Company shirt," Rock announced, pointing to some guy in the front, before sliding into his cover of "Feel Like Makin' Love." For "Picture," Rock's duet with Sheryl Crow and the single off Cocky that was uniquely embraced by the country music community, Rock was joined by TBT drummer Stefanie Eulinberg whose soulful vocals complemented Rock's nicely.

For his first encore, Rock rose up from the stage floor seated at a white grand piano for his lonely Southern ballad "Cold and Empty." He brought the energy back up as he donned a cowboy hat and grabbed his guitar for the spur-jangling "Cowboy," which included part of Waylon Jennings' theme to The Dukes of Hazzard. Returning a final time, Rock appeared alone with his guitar to perform his cover of Bob Seger's "Night Moves" before concluding the show with "Only God Knows Why" and the explosive "Bawitdaba" which brought the concert full circle with even more fireballs, spinning sparklers and confetti. If he was disappointed by the low attendance, it never showed. Rock played like the place was packed.

BILL KILLS: R2Cents broadcasts a taping of a live music performance by David Carradine and Soul Dogs this Wednesday (April 28) at 10:30pm and again Thursday (April 29) around 10:30pm on local cable channel 15. Visit www.r2cents.org.

TIDAL WAVE: Resurrected by original frontman and bass player Salvador Max, old-school Bay Area metal band Tsunami returns with a new lineup and a new album titled Stand Against the Wickedness. The band has rented out the Edge in Palo Alto for a CD-release party featuring Borderwars, Arsinic, Bloodsol, Striknyne and Vengince. Originally scheduled for Saturday (May 1), the show has been moved up a day and is now taking place this Friday (April 30) at 6:30pm. Tickets to the all-ages show are $15.
---
Send a letter to the editor about this story to letters@metronews.com.
---
[ Silicon Valley | Metroactive Home | Archives ]