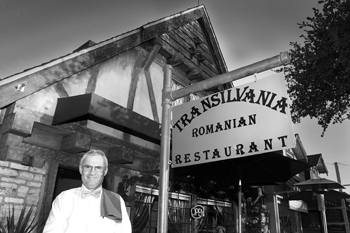 Photograph by Charlie Nucci

Fangs for the Pork Sausage: Eddie, one of the waiters at Transilvania Restaurant, will gladly guide guests through the Romanian specialties and wine list.

Fairy Tale Beginning

Los Gatos' Transilvania Restaurant proves to have a real stake in Romanian delicacies

By Aaron Robinson

IT WAS a cold, dark night on rain-drenched Highway 9. My friends and I, assailed by a wolflike hunger, found ourselves led by the howling winds to the doorstep of a mysterious Romanian cottage in the strangely desolate old town of Los Gatos. If not for the freak springtime storm, we may never have stumbled across the frightening charm of the old world restaurant known as ... Transilvania.

"Velcome to Transilvania" said a voice from the far right side of the entryway. I turned and looked, but nobody was there. Suddenly, a round face rose from behind the host podium, murmuring, "How many, sir?"

We were slowly guided past the castle-portrait-lined hallway to our table in the back. Ceiling fans and white walls softened the mood, making it seem a little more bed-and-breakfast than haunted house.

Our hostess asked in a Romanian accent, "Vhat do you drink?" I opened the menu to the wine list, where I was happy to find only obscure Romanian labels. I was not surprised when she also added, "I recommend the red," as her pointer finger fixed toward my jugular vein then changed paths to perch on the Feteasca Neagra Dealul Mare ($28, the most expensive red on the list).

I'm a big fan of good bad wine--the kind of wine that is soft enough to drink like water, but flavorful enough to still be distinguishable from water, with no funky aftertaste. Best described as a slightly sweet pinot/chianti hybrid, this was one of the best "cheap wines" I've had.

The complimentary whip of salmon roe, olive oil and lemon juice delivered with the bread would have been a perfect appetizer alone, but being famished, we added the eggplant salad ($6.95), an unusual presentation of baked eggplant and onions puréed and placed atop tomato slices, and a pair of grilled portobello mushrooms ($6.95), which came sliced and modestly bathed in a very light marinara sauce and blue cheese crumbles. These were simple dishes with simple presentations and great flavors.

The soup de jour ($4.95) has become a permanent menu item at Transilvania as demanded by regular diners. This home-cooked potion tasted of broth, tomato, herbs and cabbage. It conjured sighs and warmth as we imagined it being spooned by a wooden ladle from a black kettle hanging over open flames on some medieval hearth.

A young boy of about 12 or so, in a little tuxedo vest and bow tie, came out of the back to clear the table and ready us for the monstrous entrees: sarmale ($16.95), fresh ground beef, pork and rice rolled in pickled cabbage leaves with polenta and sour cream; Pasta Brashoveana ($16.95), homemade sausages tossed with penne, fresh tomatoes and garlic; Transilvania Kebabs ($17.95), grilled pork, chicken and vegetables with mashed potatoes; and, of course, Dracula's Mititei ($14.95), traditional beef and pork sausages with a strong garlic flair served with mustard, French fries and assorted grilled vegetables.

The kebabs were a little too burned at the stake, and both sausage dishes were a little tough. Perhaps chef Frankenfurter wasn't using the proper voltage when bringing them to life. Other than that, the sarmale was very tasty with its intense combination of tangy and rich flavors, which bore a strong resemblance to Greek dolmas. The mashed potatoes were great, and the quill-less penne soft and fresh tasting. Overall, the entrees equaled what I'd expect from very fine pub food--a lot of very fresh and basic flavors.

Transilvania also caters to those who have a sweet fang. Crepes ($5.50) with Nutella, whipped cream and strawberries, and profiterole ($5.95), four heaping scoops of ice cream over cream puffs, covered in whipped cream. Simple and perfect.

My guests and I agreed that the most exceptional aspect of the Transilvania experience was that we felt transported to another realm--we felt we got to experience another culture. The "igorness" to please, and the gracious hospitality of the chef/owner/hostess/waitresses Simona Todoran made the whole experience a true stake through the heart!
---
Transilvania Romanian Restaurant
Address: 330 N. Santa Cruz Ave., Los Gatos
Phone: 408.395.2424
Hours: Lunch 11am-2pm, dinner 5-9pm Tue-Sun
Cuisine: Romanian
Beer and wine only
---
---
Send a letter to the editor about this story to letters@metronews.com.
---
[ Silicon Valley | Metroactive Home | Archives ]