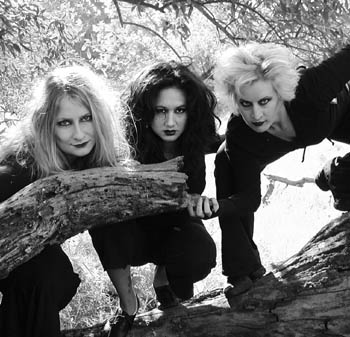 Weird Eyes for the Straight King: Weird Sisters Whitney Quinn Stebbins, Sarah Almazol and Evangeline Maynard claim to know what's best for Macbeth.

Throne for A Loss

Toil and trouble pay off for Renegade Theatre Company's 'Macbeth' at City Lights

By Marianne Messina

WELL BEFORE SHOWTIME, City Lights had to start turning people away from a recent Saturday-night performance of Macbeth. And the "general admission" seating had members of the Renegade Theatre Experiment's delightfully young audience jockeying for seats until the lights dimmed. From the beginning, the Weird Sisters (Whitney Quinn Stebbins, Sarah Almazol, Evangeline Maynard) steal the show. They enter in puffs of fog accompanied by a wonderfully nasty hissing sound, loud as a fire hose (Derek Baton's sound design). They move in sync (choreographer Nicole Nastari's dance background is an asset), like underwater plants dressed in goth clothing--black lipstick, black über-eye shadow (alas, sans infamous beards).

Director Russell Marcel leans heavily on the witches' connection to Fate by insinuating them into the plot wherever possible. When the guilty Macbeth (who has murdered a couple of folks so as to become king) sees apparitions of bloody knives, the witches enter displaying actual knives. In another creative deviation, the witches become the murderers who kill all of Macduff's "pretty chickens"--his wife and children. One scene spells out the lustful overtones of the witches' concern for Macbeth. And instead of ending the play with Malcolm's speech and order restored, Marcel has given the witches the last word.

As for the principals, Tom Gough's Macbeth waxes stentorian (not always in the best places) but Gough has a fix on a nicely nuanced Macbeth in the scene where he readies himself for battle. Sarcastic and overconfident with the doctor, short-tempered and commanding with his servant, Gough's timing is dead-on, and his sense of character has a long-awaited clarity (which unfortunately doesn't make it into the "Tomorrow" speech).

Leah Herman's Lady Macbeth is elegant and seductive. In some of the more chilling scenes, as when Lady Macbeth prays "unsex me here" to unsavory forces, she doesn't cool her warm tones down enough to appall. But this commanding warmth plays well as subterfuge--the good hostess reassuring her dinner guests that Macbeth is fine, even as he's hemorrhaging guilt by shouting at hallucinations.

This production is quite a coup, right down to well-oiled exits and entrances aided by a neat, tripartite set--woods and witches to the right, banquets to the left, battles and castles front and center. Aside from the usual Shakespearean conundrum--what to do with the body while the head's tangled in these words--most of the 15 pro bono actors tackle Shakespeare's language admirably. The choice to cast Jan Carty Marsh in male roles was a solid one. Marsh's cool presence as Lenox holds down the Scottish noblemen scenes. Also, there's unexpected good humor in both Peter Canavese's Malcolm and Rob Viola's Banquo. The play's coup de grâce comes in a boldly drawn-out broadsword fight between Macbeth and Macduff (Ron Talbot). Only lacking a few sound cues, this all-out effort by Gough and Talbot offers a rare theater moment in the form of one hair-raising cross slice that makes you wonder, "Is he OK?" That's good action.
---
Macbeth, a Renegade Theatre Experiment production in collaboration with City Lights Theatre Company, plays Thursday-Saturday at 8pm through May 1 at City Lights, 529 S. Second St., San Jose. Tickets are $10-$18. (408.295.4200)
---
---
Send a letter to the editor about this story to letters@metronews.com.
---
[ Silicon Valley | Metroactive Home | Archives ]