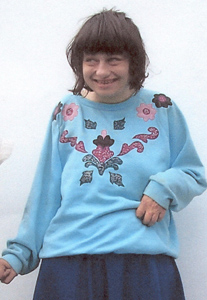 Separation Anxiety: Nancy Golin seemed content in the custody of her parents, more defensive and anxious once removed from them.

Saving Nancy

The plight of an autistic woman to find her home

By Najeeb Hasan

NANCY GOLIN is 33 years old, and has soft, round features, sad blue eyes and an ever-present smile that lights up the room.

Also, as an autistic, she has the mental capacity of a toddler.

And so, it was hardly surprising to her parents, Jeffrey and Elsie Golin, both 63, when Nancy wandered away from a parked van she had been sitting in with her mother two years ago. Raising an autistic daughter for three decades had taught the Golins, if nothing else, to expect that Nancy would wander away in a moment of inattention, would cut down their shop's Venetian blinds while they were napping, would pick up a stray lighter and start trying to light candles just like her mother, but, unlike Elsie Golin, burn herself in the process.

What was surprising to the Golins was that when Nancy disappeared, as she had done so many times before, was that they, her parents, would not get Nancy back. Instead, what seemed a routine case of a missing child has turned into a raging battle between the Golins and regional authorities for the right to keep Nancy.

Worse yet, after being separated from her parents, Nancy spent two unnecessary weeks in a Stanford psychiatric ward, seen her signature allegedly forged on medical consent forms, adopted a protective pose that suggested to the Golins that their daughter had been sexually abused after being taken from them and was finally transferred to a San Jose residential-care facility retained by the San Andreas Regional Center (a nonprofit corporation under the contract of the California Department of Developmental Services).

And so, while the Golins and the authorities have thrown mud at each other in a desperate attempt to retain their rights to keep Nancy, the question of Nancy's rights, it seems, has become lost in the process.

Imperfection

Jeffrey and Elsie Golin have never been the perfect couple, and in past years, things have looked even dimmer for them. Both suffer health problems, and the toll of an often-difficult life reflects immediately in their bearing--their clothes are unkempt and even filthy, they can't resist snapping and nagging at each other in public, they completely mistrust authority and their finances are suffering.

Jeffrey Golin, who has a master's degree in physics from M.I.T., also has somewhat of a criminal record, though he is close to the truth when he insists it's not as bad as it sounds: his rap sheet includes assault with a deadly weapon (a man who was threatening Golin blocked Golin from driving away; the car was the "deadly weapon"; the man was eventually convicted for murder), disturbing the peace, domestic violence and a bad-check charge.

Despite their shortcomings, their tenderness toward Nancy has never been in dispute--to the point where people, first put off by their ragged appearance and argumentative demeanor, later come to appreciate the Golins' interaction with their daughter.

"Nancy was always happy, always busy," relates one person who knows the family. "What can Nancy do? She can always walk, so they took her to Disneyland, to the theater, hiking in the Pinnacles, to parks. She would be out all day with Mom, and at night, her dad would take her for ice cream. They had great patience with her. They paid a high price to keep her at home."

On Nov. 14, 2001, while in the parked family van with Elsie Golin, Nancy disappeared. Elsie Golin, thinking Nancy was asleep, had slipped out of the van to use the restroom. When she returned, her daughter was gone. The Golins called the police, something they had done several times when Nancy had wandered off in the past. Fourteen hours later, Nancy returned on her own, and Jeffrey Golin immediately took her out for a burrito and some soda.

Police officers at the scene, however, apparently alerted by the Santa Clara County Adult Protective Services that the Golins had a long record of similar incidents with Nancy, took Nancy to Stanford Hospital. While there was no immediate reason for Nancy to be taken away from her parents, records from Adult Protective Services indicate that law enforcement agencies and social service agencies were frantically trying to figure out a way to hold her.

Nancy was subsequently transported to Stanford Hospital's psychiatric ward "for her safety"; the Golins were slapped with 10-day restraining orders so they couldn't visit her; and after the restraining orders expired, they were served with felony arrest warrants for endangering their daughter. Bail was set at $50,000 each.

Their crime was described by the Palo Alto Daily News a week later as follows: "A Palo Alto police report says that a mentally disabled 31-year-old woman taken from her homeless parents had burn scars over much of her body, an infected foot, head lice, extreme body odor, was overdosed with anti-seizure medication and lived in squalor."

But the Golins were not homeless. Nancy's foot was not infected, rather she had suffered a surgical burn at the hands of a Stanford physician, not by the Golins' neglect. She was taking the proper dosage of her anti-seizure medication. About all the police had on the Golins was that Nancy smelled bad and that the Golins weren't the cleanest of people. Charges were, of course, dropped.

Nancy, meanwhile, would remain in Stanford's psychiatric ward for almost two weeks while officials from the San Andreas Regional Center and Adult Protective Services figured out what to do with her. Records from Stanford indicate that Nancy would climb in bed with other patients--as she was accustomed to doing with her mother for the last three decades--when she was ready to sleep. Her seizure medication was quickly restored to the level to the level that was administered by Elsie Golin.

Still not officially conserved, Nancy was taken into the custody of the regional center and transported from the psychiatric ward at the end of November. That next January, Tucker Liske, a district manager at the regional center, wrote a letter asking for medical records. The letter read, in part, "[The Department of Developmental Services] is strongly in need of any records on Nancy. She is able to sign her name, though it is somewhat illegible. I have included a consent to release form with her signature on it. To my knowledge, there are no known relatives that can be found to sign for Nancy."

In the attached consent form, Nancy's signature does appear on the form, just barely readable. In fact, in other forms submitted by the regional center, Nancy's signature is even more readable.

The problem, of course, is that, according to the Golins and others that know Nancy well, Nancy has not been able to write a single letter, much less a word, for three decades. Even the regional center's records indicate that she has the mental capacity of a 1-year-old.

(The Department of Developmental Services, San Andreas Regional Center and Nancy's Santa Clara County­appointed public defender, Malorie Street, all declined to comment on the specifics of the story, citing ongoing litigation.)

Meanwhile, Nancy was not allowed to meet her parents until that March--a full four months after she was taken away. When the Golins were finally granted visitation rights, they noticed a disturbing change in Nancy. Their daughter had picked up a habit of walking in a crouch and using her hands to guard her private parts, as if she was protecting them. Nancy would keep this protective pose for the next six months. The Golins believe Nancy was sexually molested under the care of the authorities, authorities that were, ironically, trying to keep Nancy safe from the Golins.

"Nancy's a handful, really a handful," says a care-giver who handled for a home contracted by the San Andreas Regional Center. The care-giver will only speak on the condition of anonymity. "It's totally 24 hours. They [the regional center's contracted care-givers] would lock and brace her door with a wooden brace at night so she wouldn't escape. They had no activities for her; they would just sit there and watch TV." Indeed, the care-giver's account raises troubling questions about whether the regional center's oversight could actually be described as "safe" for Nancy. "Once they called me because Nancy was having a seizure," the care-giver continues. "They told the administrator of the home, and she told them to just keep Nancy on her side and not take her to the hospital. When they told me that, I said Nancy is your responsibility; if the administrator doesn't want to take Nancy to the hospital call 911 before something bad happens to her. Finally, they took her to the hospital."

Meanwhile, the regional center won conservatorship of Nancy last October, and the Golins, representing themselves, sued in federal court. Their federal lawsuit was dismissed as frivolous two months ago.

The Golins plan to appeal.
---
Send a letter to the editor about this story to letters@metronews.com.
---
[ Silicon Valley | Metroactive Home | Archives ]