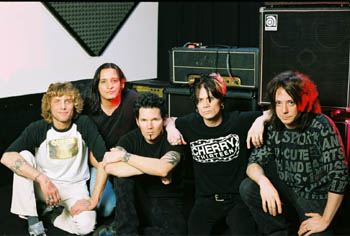 Suki Jones rides at the Edge.

Guns Blazing

Guns n' Roses' original drummer Steven Adler is back with new band Suki Jones

By Sarah Quelland

"THEY DIDN'T HAVE Behind the Music when I was growing up," Steven Adler tells me. "All we had were rock magazines. And when you read the rock magazines, it sounds like the bands are having the greatest party. And all my idols, Steven Tyler and all them, were doing drugs, so when we were growing up, that's what rock stars did. But you didn't hear about them throwing up blood and being dope sick and not being able to play. So I was so naive to the drugs."

It's been 13 years since Adler's been in the spotlight. The drummer with brilliant blue eyes, golden locks and a tremendous smile played on Guns n' Roses' Appetite for Destruction--one of the greatest rock albums of all time--as well as Use Your Illusion I and II. In 1990, he was kicked out by his band mates, who cited an out-of-control substance-abuse problem. Adler spent the next 10 years trying to kill himself with drugs. "I couldn't stand being up when the sun came up," he says, "'cause I knew I had nothing to do. My phone didn't ring for years. Except for the drug dealer callin' me back."

Three years ago, after suffering a heart attack and a stroke caused by shooting up cocaine that's left his speech slurred, Adler decided it was time to take his life back. He went on methadone and says, "I've been getting my body and my mind and my playing back in shape, and it's wonderful."

At 38, Adler comes across as a sweet, gentle, almost childlike man. Few people sound so happy to be alive. He's bright and chatty. He tries hard not to curse; he excuses himself when his Coca-Cola makes him belch; and he delights in the company of his Chinese pug, Shadow. His story is a remarkable cautionary tale. Adler began his affair with rock & roll early. "I got into music 'cause it soothed my soul. It made me feel so wonderful and took all the depression away from a 10-year-old boy." He grew up listening to his brother's eight-tracks of the Doobie Brothers, Boston and Led Zeppelin. Working concessions at parades, he scrounged enough money to buy a crappy drumset and worked multiple jobs around the clock until he could afford a real kit. He says, "I saw the movies The Song Remains the Same, and The Last Waltz, from the Band; I saw pictures from Aerosmith; and I said, 'That's what I wanna be.'"

The seeds for Gn'R were planted when Adler and Slash became friends in junior high. They bonded because they both lived with their grandmothers and got into trouble at school. He and Slash became blood brothers and ditched school together. "We would walk up and down Santa Monica and Sunset and Hollywood Boulevard, and all we would do is talk about putting a rock band together, making a record, traveling around the world, screwing every girl we could--and our dream came true. And then, right when we were about to be as big as you can possibly be, they kick me in the head and tell me that the dream is over. Which really hurt me." His voice breaks with emotion when he talks about recently rekindling his friendship with Slash. "I've been so happy getting my friend back," he says, choking back tears. "I missed him so much."

Now Adler has a new band called Suki Jones fronted by Ratt and Love/Hate vet Jizzy Pearl (and featuring guitarists Brent Muscat and Keri Kelli and bassist Robbie Crane), which plays its fourth show Thursday (May 1) at the Edge in Palo Alto armed with classic Gn'R tunes. "This is 'Adler's Appetite Tour,'" the drummer says proudly. "I'm doing the same thing Axl was doing except it's more fun. I'm giving fans one original member and playing every song the people want."

Thirteen years ago, every door closed on Adler. Today, he and his mother are writing a joint autobiography together, tentatively titled Life's No Bed of Roses; he's setting up a website where fans can buy autographed drumheads and sticks; Suki Jones has dates on Metal Sludge's Xtravaganza summer tour; and Adler's angling for a full-scale reunion of all five original members of Gn'R.

"Thirteen years later, there's new doors and they're not closed. Life is funny. I haven't been happier in years."
---
Send a letter to the editor about this story to letters@metronews.com.
---
[ Silicon Valley | Metroactive Home | Archives ]