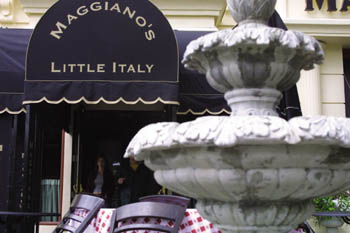 Photograph by Traci Vogel

Where the Love Flows: Inside and out, 'Italian' means hospitality at Maggiano's.

Ciao Down

Anchoring the designer oasis that is Santana Row, Maggiano's sends a big fat Italian kiss to San Jose

By Christina Waters

THE WORD "big" really needs to be expanded in order to do justice to Maggiano's Little Italy's supersize concept. Oblivious to the fact that not every dining group measures up to wedding-party proportions, this national chain embraces patrons with a hearty southern Italian menu showcasing lavish portions. Heaven for groups, Maggiano's indulges large parties who come to enjoy festive platters served family style. For lunch, $11.95 per person gets you salad, pasta and a main dish.

Santana Row's version of Maggiano's carries "big" over to its interior. The 16,000-square-foot dining arena seats hundreds of paisans. Acres of expensively framed photos of somebody's family gaze approvingly over ubiquitous magnums of wine. A high noise level ensures that everybody has to shout, Italian-style, and the sound of laughter bounces off the lofty ceilings.

To say that a few bucks were poured into this gargantuan dining space would be like saying that Mother Teresa was a good girl. Let's just note that the bathrooms are palatial, from the tiny black and white Euro tile work and antique linen cabinets to the all-wood stalls, bronze sconces and expensively framed Italian posters--and this is just the loo!

An octet of ladies in celebratory red hats fluttered into the enormous padded booth opposite our table last week, as we began working our way through some of the finest breads in the Bay Area. Maggiano's tables come equipped with loads of red and white linens, excellent olive oil and balsamic, little note pads, sensational fresh breads and crisp cheesy bruschetta. The whole idea is Old World pleasure foods updated with New World chic.

The house Ecco Domani Merlot ($6.50/glass) was exactly what the pasta ordered. A small order of the house Maggiano's salad ($6.95) turned out to be way too much iceberg lettuce, whose pallid crispness was relieved by a central trough of red onions and dots of crisp prosciutto and blue cheese.

Frank Sinatra was swinging his way through a few amorous insights when we dug into great slabs of roast chicken that had been marinated in ample garlic and rosemary ($10.95). The chicken arrived with the side order I'd requested: a huge thicket of spaghetti (not al dente) slathered with really wonderful, earthy meat sauce.

Another lunch special of rigatoni al forno with veal meatballs ($11.95) was deeply comforting. Arriving in a deep dish, hot from the oven, the huge pillow of fat rigatoni was drenched in a tomato sauce and topped with melted cheese and, rather mysteriously, some béchamel just for good measure. The light veal meatballs buried deep inside this enormous pasta entree were fine. Another entree of tender veal Marsala came in a lovely light wine and veal demi-glace sauce covered generously with onions and fat mushrooms ($13.95). Size and simple seasonings, amici, seem to be the winners here, leaving designer finesse to other venues. You come to join your friends, share some food, get full and carry out to eat another day.

But whatever you do, struggle to save room for something sweet. Maggiano's takes dessert seriously. We could only manage to share an order of Toasted Nonna's Pound Cake ($5.95), a truly satisfying and old-fashioned combination of all-star flavors and textures. The cool of vanilla bean ice cream hits a bed of sensuous, homemade pound cake that has been toasted and then topped with dark chocolate fudge sauce and hot caramelized bananas. Extra bits of shaved chocolate generously decorated this wonderful layering of comfort ingredients that had us singing, "Volare!"

Santana Row, in case you've been in a coma, looks for all the world like Rodeo Drive North, and you might find yourself on sensory overload just wandering through its spare-no-expense boulevards. But if you can haul your expense out of Tommy Bahamas, Gucci, Anthropologie and BCBG for a minute, cool your Prada-clad heels at the very warm and appealing Maggiano's.
---
Maggiano's Little Italy
Address: 3055 Olin Ave., Suite 1000, San Jose
Phone: 408.423.8973
Hours: 11:30am-10pm Mon-Thu; 11:30am-11pm Fri-Sat; noon-9pm Sun
Cuisine: Big fat Italian wedding
Extras: Full bar; major banquet rooms
---
Send a letter to the editor about this story to letters@metronews.com.
---
[ Silicon Valley | Metroactive Home | Archives ]