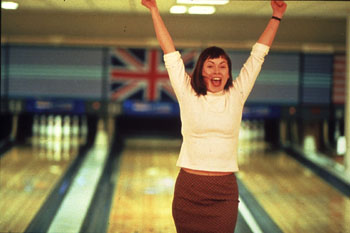 Golden Bowler: Josephine Butler bowls them over in 'Lawless Heart.'

Touch of Regret

Furtive love and loose lives balance 'Lawless Hearts'

By Richard von Busack

A TRIPLE-DECKER ESSAY on the British way of romance, Lawless Heart is told in a minor key. Three separate men come to terms with the people they aren't, in the wake of a young man's unexpected death. An old husband Dan (Bill Nighy), father of the dead young man Stuart, exemplifies the terminally reserved Englishman. He finds himself tempted by a saucy French florist, a woman of a certain age (Clémentine Célarié). Nick (Tom Hollander), live-in lover of the deceased and as gay as they come, falls for someone named Charlie. She happens to be a girl (Sukie Smith plays her; she's akin to the jolly working-class women Ruth Sheen plays in Mike Leigh's movies). Finally, Tim (Douglas Henshall), previously uncommitted to anything, discovers an alarming urge to stay in one place. The reason: a temporarily at loose ends shopgirl named Leah (Josephine Butler).

This isn't a three-part drama, like Personal Velocity. Directors Neil Hunter and Tom Hunsinger nest the stories within each other, retelling them from different angles. The sections are divided with three separate scenes of the tide rising and falling. The sea, with its constant changes, is an element of this story--as well as the backdrop of the modestly appealing summer-resort town where the action unfolds. In each of the film's three sections, the directors re-emphasis certain scenes, revisit certain puzzling arrivals and departures. One argument that we first thought was between two people who were alone turns out to have been witnessed by a third party. It's a clever premise. Better still, it works.

Hunter and Hunsinger oppose constricted and loose lives, giving Lawless Heart shape and balance. Dan's repression is highly comic, especially when he's grilling Nick about whether gay couples have more open relationships than their straight counterparts. Nick, though gay, is hardly a free soul; the two men's shivering embarrassment over this man-to-man conversation is excruciating. Charlie, who barges her way into Nick's life, is like a dog in human form. She follows the grieving man despite his efforts to shoo her away. She's a big girl, tall and heavy in the chest, and there's the implication that she physically challenges Nick.

Our cinema never has enough characters who slouch through life. Henshall's Tim is something of a black sheep. He's been gone for years, doing the Lonely Planet tour of Earth, capping his wanderings with several years spent lagering in Prague. Washing up in the small town where he grew up, trying to sponge money and couch space, he's still a likable figure. (Is the scene where he goes bowling a reference to The Big Lebowski?) Henshall, who played a vastly different character, the incestuous brother, in Angels and Insects, reminds me of the young Michael Caine. He and Caine share the same light-footed affability, the same ability to tune the moral demands of life in England. The bittersweet touches of regret in Lawless Heart ground this comedy, just as the comedy of furtive love lightens it.
---
Lawless Heart (R; 86 min.), directed and written by Neil Hunter and Tom Hunsinger, photographed by Sean Bobbitt and starring Bill Nighy, Josephine Butler, Clémentine Célarié and Tom Hollander, opens Friday at the Camera 3 in San Jose.
---
---
Send a letter to the editor about this story to letters@metronews.com.
---
[ Silicon Valley | Metroactive Home | Archives ]