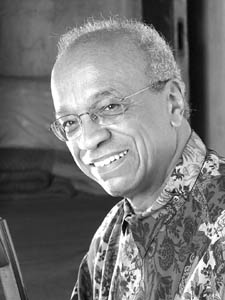 Movement Maker: Donald McKayle choreographs with an inner fire.

The Inner Furnace

Choreographer Donald McKayle's dance fire burns bright at Ballet San Jose Silicon Valley

By Marianne Messina

YES, THAT WAS ME in the lineup at a recent master class taught by choreographer Donald McKayle. I was the Lucy character all those ballerinas with the elegant arabesques nearly stumbled over. That's how I learned that McKayle meets each dancer on her own level. "It's in the energy, not the position," he says. "Imagine you're the source of the energy rather than something's manipulating you." Despite his 50-plus years of choreography, credits that include Broadway, TV and film, and collaborations with historic dance greats and pop stars alike, what you feel in McKayle's presence is his inner furnace. "He has an energy," says dance instructor Raissa Simpson, who attended the master class. "I was feeling it."

Likewise, McKayle works off and seeks out his dancers' depth. For Death and Eros, one of his pieces featured at this weekend's performances at San Jose Ballet Silicon Valley, he trained two casts, and he was excited, rather than frustrated, by the unique way each cast expressed the moves. "You see a texture in a dancer," he says, and you go with it.

Yoga-flavored opening warm-ups brought the class into a series of East Indian hand movements, or Mudras. McKayle narrated the movements with a poem by India's Nobel laureate Rabindranath Tagore. McKayle, however, is no bandwagon muliculturalist. Back when purist snobbery ruled the ballet world (a time when dancers like McKayle knitted their own tights), he was ever a syncretist, as easily inspired by Hindu as by Russian dance, by a street performer as by the many dance celebrities he worked with.

Death and Eros is set in the Inuit culture. McKayle's choreography draws life from a custom among Inuit women--sound competitions, in which each woman shouts out a discrete rhythmical figure, building a cacophonous rhythmical weave. McKayle gave the master class a taste of this rhythmic interplay, although he banged out a solid four-count reference all the way. The company dancers performing Death and Eros to Jon Magnussen's intricate rhythmical score haven't had it so easy. "I don't like counts," McKayle says when asked how he trained the dancers. "Counts can keep you into a pattern that doesn't allow the fluidity that this kind of music needs."

McKayle must have noticed that rhythm was not this class's forte, for the abundance of rhythm work McKayle had threatened at the beginning of class eased instead into familiar ballet-oriented moves. That's when I truly appreciated Donald McKayle's fluidity, his lust to adapt to new and unexpected human materials, his ability to reinvent his program on a dime.
---
Ballet San Jose Silicon Valley presents a tribute to Donald McKayle, featuring 'District Storyville,' set to an early-20th-century New Orleans jazz score; 'Death and Eros,' with music by Jon Magnussen; and 'House of Tears,' a work about the disappeared in Argentina. The ballet performs May 1 at 7:30pm, May 2-3 at 8pm and May 4 at 1:30 and 7:30pm at the San Jose Center for the Performing Arts, 255 Almaden Blvd., San Jose. Tickets are $22-$68. (408.998.TIXS)
---
---
Send a letter to the editor about this story to letters@metronews.com.
---
[ Silicon Valley | Metroactive Home | Archives ]