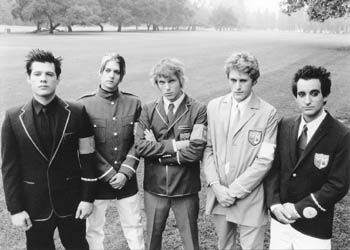 Deadsy's 'Commencement' was well worth the wait.

Dawn of the Deadsy

After years of delay, Deadsy's long-overdue debut album finally hits stores

By Sarah Quelland

TALK ABOUT an amazing band getting lost in the Hollywood shuffle. For years now, I've been hearing murmurs drifting up from L.A. about Deadsy, an enigmatic band fronted by Elijah Blue Allman (or rather, his band alter-ego P Exeter Blue I), son of Cher and Gregg Allman. Back in 1997, Deadsy was all set to release its first album on Sire/Elektra. That never happened. When Sire and Elektra split, the recording got lost in label limbo. Now, after nearly five years of ridiculous delay, this gothic New Wave doom-metal band is finally releasing its debut album, Commencement (Elementree/DreamWorks), on May 14.

It's unfortunate that we had to wait so long to hear this record. It may be too late for some people to appreciate the scope of this album. Undoubtedly, it will generate comparisons to Orgy, but that's not fair. Jay Gordon used to play bass for Deadsy, and he beat Blue to the punch when Orgy released Candyass in 1998. Deadsy is darker, deeper and more consistent than Orgy. Like Gary Numan meets Type O Negative, Deadsy's authentic retro sound is purposefully charged with dramatic synthesizers and thick, bristling synth guitars. Blue's rich, seductive voice is a blast of fresh air, full of strength and sexy masculinity. This well-read band explores some pretty cerebral terrain in its profound, poetic lyrics, culling symbolism and metaphor from the pages of literature and history, with repeated references to Urantia. Just imagine if this album had come out when it was supposed to.

The first single, "The Key to Gramercy Park," provides an excellent introduction to Deadsy's esoteric and provocative oeuvre, but it doesn't stop there. The atmospheric Commencement is a fascinating listen from start to finish, with the morbid, dirgelike "Flowing Glower," the stormy, turbulent creep show "Le Cirque en Rose (Obsolescence)" and the eerie "Cruella," a song inspired by Cruella De Vil: "Tearing through the snow as she makes her darling coat / Hoarding all the shawls, now her evil highness rose / Kind of like Shakespearean prose without the rose." The unabashedly '80s settings of "She Likes Big Words" and "Mansion World" are captivating, and the sinister-sounding title track offers a subtle thrill for fans of '80s slasher films.

Because the group's original material is so complex and compelling, its covers of Sebadoh's "Brand New Love" and Rush's "Tom Sawyer" seem unnecessary. This album has seen multiple track listings since 1997, and there's a whole catalog of unreleased Deadsy songs--some of which are perhaps lost to us forever and some of which are already slated for the follow-up to Commencement, which I hope won't take another five years to come out.

Like a prep-school art project that took on a life of its own, Deadsy is a concept as much as it is a band--a mysterious entity unto itself. It has its own agenda with a full manifesto, its own dogma and its own unique cosmology where each member represents some greater force. Deadsy is composed of the children of privilege and the heirs of fortune, and presumably because their financial futures don't hinge on the success of the band, they have the balls to speak their mind. In the January 2001 issue of the Alternative Press, Blue delivered one of the boldest quotes I've read: "Everything coming out is complete horse shit that is completely unacceptable and has nothing to do with a commitment to excellence. Human beings have an obligation to further human plight. If nobody's gonna do it, then I'm gonna step up to the fuckin' plate." I'm over the moon for this band.

ALL THE NEWS: Celebrate Cinco de Mayo Sunday (May 5) at the Cactus Club with Firmé, Monkey and Lifted, plus an acoustic performance by Orixa, an appearance by spoken-word artist Roberto Tinoco Duran and a digital film festival. Tickets are $10, and proceeds benefit the Bay Area Alternative Entertainment Association. Doors open at 8:30pm. ... Insolence has a big show coming up at the Cactus on May 18.

PLAN AHEAD: Clearing Autumn Skies, SORA, Two Steps Behind, Depths of Depression and Still Life, May 3 at the Cactus; Lavabone, SECURITY, Return of the Woodshed, Jada Morning and Spoon Dog, May 4 at the Cactus.
---
Send a letter to the editor about this story .
---
[ Silicon Valley | Metroactive Home | Archives ]