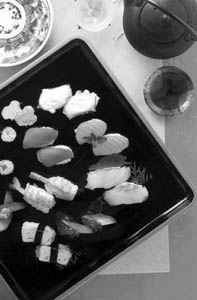 Photograph by Erika Pino

Model Food

The Art Of Faking It

By Loren Stein

PITY Japanese restaurant owners who cater to Westerners who don't know their hamachi from their hamaguri. What can be done to bring the culinarily confused up to speed? Invest large sums of cash in plastic sushi models--colorful replicas of sushi that are showcased in the fronts of restaurants to entice and educate would-be sushi lovers. Sushi mokei, as the models are called in Japanese, are realistic works of art ranging in price from $18 for an individual sushi roll to $150 for a ramen noodle dish or a whole raw fish.

"They're handmade and hand-painted--the rice grains are individually made," says Michiko Shibano of Sanko Cooking Supplies in San Francisco. Using photographs of their dishes, restaurants can custom-order sushi look-alikes from Japan, where food modeling is big business--either from Tokyo's Kappabashi district (kitchen town, as some call it, where some 200 wholesale kitchen-supply stores line eight city blocks) or Doguyasuji in Osaka.

On the other hand, some restaurateurs bypass pricey plastic models and display fresh fish in their sushi cases, says Tomomi Yamamoto of N.A. Sales in South San Francisco. Kazuyo Matsumoto, owner of San Jose's Kazoo Sushi Boat, opted for the facsimiles, shelling out $5,000 for two elaborate cases of sushi that grace the entrance of her restaurant (brought over little by little by friends and relatives from Japan).

"American people don't know sushi," she explains (although Californians, as usual, are ahead of the curve). "The [models] catch your eye. In Japan, they use a very nice technique." Adds Matsumoto, "If I knew how, I'd make them myself--it'd be so much cheaper!"
---
Send a letter to the editor about this story .
---
[ Silicon Valley | Metroactive Home | Archives ]