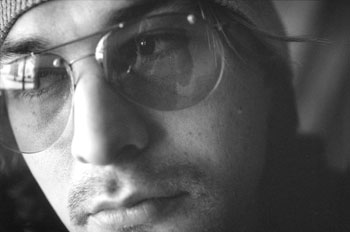 Erotic Rhythums: Shane O'Madden mixes sexy beats and sultry soundscapes.

Govinda the Light

Musician Shane O'Madden draws on both earthy and spiritual inspirations

By Marianne Messina

ONE DAY, while violinist Shane O'Madden was chanting the "Hare Govinda," his career path took a detour. "I'd been playing classical music for 20 years," O'Madden says, "went to college, studied classical composition, and then, I don't know what happened. I had this spiritual revelation, this experience, and busted out of school. Best thing I ever did."

It took O'Madden three years to transition from classical violinist to the mesmeric amalgam of influences that became Govinda (not to be confused with Indian movie star Govinda, whose adoring teenage fan mail O'Madden often receives). Written, performed and produced by O'Madden, Govinda's debut CD, O Earthly Gods, had hip-hoppy beats, sultry violin, languorous note-bending, and mournful Eastern scales. Some songs borrowed from Gypsy and Celtic music, others sampled Middle Eastern chants, others featured guest vocalists that dusted the already hybrid sound with pop. O'Madden was liberated.

"In school, with classical music, it was all about limits and boundaries. What I wanted to express had to be boxed up in certain rules, and I'm not about rules; I'm about busting through boundaries."

On the next Govinda CD, Entwined and Entranced, O'Madden allowed himself more freedom to indulge in the sounds that enticed him, Middle Eastern sounds, the voices from his half-Lebanese heritage.

"I like the darkness of it," he says. "Like, the scale systems really resonate with me--that's what people respond to mostly, the dark, sexy quality of it."

It was a young, counterculture crowd responding to Govinda's live shows, and they didn't hesitate to dance to the music. O'Madden drew from their energy and cinched his shift from the "cerebral" and "heady" focus of classical music to something that fed off biorhythms, unmediated.

"[I want to] take people to a place with the music that allows them to open up to infinity and lovingness and just moving their body and getting tranced out to the beat," O'Madden says.

Erotic Rhythms from Earth, the latest Govinda incarnation, addresses the body directly. O'Madden's collaboration with 8 1/2 Souvenirs singer Chrysta Bell is clicking; the production is hot; the erotic element is in full bloom. And Govinda's stage show, which hits San Jose the same day Erotic Rhythms hits the stores, comes complete with belly dancer Amy Priest.

"The music is totally about erotica," O'Madden says, "and sexy beats that make people want to get down. It's just sensual music. It makes you want to make love. That's what it's all about."
---
Govinda plays Tuesday, May 8, at 9:30pm at Fuel, 44 Almaden Ave., San Jose. Tickets are $7. (408.295.7374).
---
[ San Jose | Metroactive Central | Archives ]