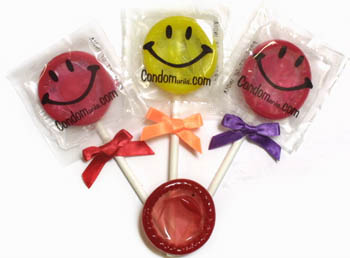 Tastes Like Teen Spirit
New Planned Parenthood condoms get a licking
By Kelly Luker
WHEN CONDOMS arrive unrequested in the mail, it is a clue that zeitgeist-change is in the air. This particular quarter-sized foil package was courtesy of Planned Parenthood Federation of America, letting us know that they now have their very own brand of prophylactics available for the phallic fashionista.
Leave it to Planned Parenthood to create a press packet that makes a sex item seem as sensuous as a root canal, but beneath the dry stats and politically correct verbiage are wrapped a few tantalizing tidbits. Like the fact that a cave painting in France more than 12,000 years old portrays condom use. And that many, many styles, flavors and colors are now available to the discriminating consumer.
Somewhere between the French caveman and the French tickler, a fascinating history is waiting to be tenderly explored.
Planned Parenthood's public information director, Jon Knowles, gives us the scoop on the rubber's ancient history, which was anything but rubber. "Sheepskin, intestines, fish," Knowles recounts of the various products that have found their way between man and woman, or perhaps man and man, over the ages.
"Japanese ones were made out of tortoise shells," he adds, as we both wince involuntarily. When asked which century that might have been, Knowles isn't sure.
"It must have been a period in history when women's comfort wasn't the objective," he muses, perhaps forgetting that is an era that encompasses the beginning of time.
"Okra pods," Knowles continues, "Hmm, I didn't know okra could be big enough."
A distinct chafing sensation inhibits any desire to continue social intercourse with Knowles. Perhaps it is time to to check in on more recent history, so we turn to the man behind Condomania. As founder and CEO of a website (www.condomania.com) and retail store that specializes in condom sales and advice, Adam Glickman has made the little sheath of protection his bread and butter for the last 14 years.
"I tell people to think of us as the Walt Disney of safer sex," chuckles Glickman of his G-rated safer sex products (nope, no "adult toys" here). When he did his thesis on condoms while a student at Tufts University in the mid-1980s, the condom as a form of contraception had become all but obsolete, thanks to the Pill.
"It was a lonely, desperate little product," remembers Glickman, "sold behind counters and found on bathroom walls of truck stops."
But the AIDS crisis forced the condom out of obscurity and into becoming a necessary, if unwelcome partner in the bedroom. If necessity is indeed the mother of invention, then thank millions of miserable couples for the many "bells and whistles," as Glickman calls them, that now lavish the once desperate little product.
The Japanese came first, as it were, shaking up the market with ultrathin condoms. Then U.S. manufacturers jumped in with different sizes, from "Magnum" (bigger) to "snugger fit" (tinier).
It was in 1998 that lucky lovers were treated to an "explosion" of flavored condoms, notes Glickman--"a veritable fruit salad."
Well, yes and no. Glickman was kind enough to send out a basket full of condoms to Metro, and three co-workers volunteered to lick their way through almost a dozen flavors of prophylactics.
While banana was roundly booed and chocolate was rejected as "basically slimy," the taste-testers gave a big thumbs-up to Cola (as Glickman says, "Gives a whole new meaning to 'have a Coke and a smile,' huh?"), vanilla--"Mmm, ice creamy!"--and mint.
Knowles promises that Planned Parenthood will also be treating its customers to lip-smacking flavors--honeydew and raspberry--but they won't be released until the fall.
While flavors, colors and even a glow-in-the-dark model made famous in the movie Skin Deep offer cosmetic enhancements, the biggest innovation, says Glickman, was when a scientist aptly named Dr. Reddy designed condoms that could also be pleasure-producing devices. Incorporating a looser fitting tip, the extra latex was designed to wash over the skin and nerve endings, creating even more sensation. Reddy's latest invention, Inspiral, is one of Condomania's top three sellers, reports Glickman.
The latest model to roll out is the Trojan Extended Pleasure, coated inside with a gentle desensitizing lubricant which allows those prone to premature ejaculation to last a little longer.
"You can imagine the excitement of a 17-year- old guy," says the condom CEO.
[ San Jose | Metroactive Central | Archives ]