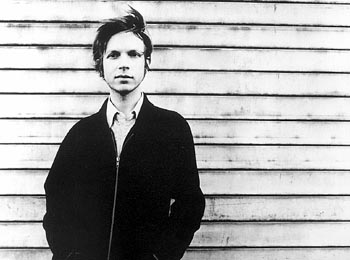 Beck and Call
Beck plays pop-culture diplomat at May 2 Shoreline concert
By David Espinoza
If Beck has ever been a loser, he certainly isn't one these days. Even when the adored boy wonder tore into his first major hit, singing, "I'm a loser baby, so why don't you kill me?" Tuesday (May 2) at the Bill Graham Civic Auditorium, you could have choked from the irony in the air.
For more than two hours, Beck worked the sold-out crowd like the half serious, half prankster flamboyant rock star he is, striking poses and dancing for the whole world to see. It was the type of show that only an artist like Beck could get away with and still be respected in the morning, full of colorful fluorescent props, band members dressed in wigs and sunglasses, and a giant disco ball--total kitsch.
Leave it to Beck to reintroduce the beauties of late-'70s cheeseball funk, not the jazzed-up high-roller kind but the freaky, nasty know-no-shame kind that Bootsy and Rick James played. His latest effort, Midnight Vultures--a juicy neo-funk-and-soul masterpiece again proves that there's nothing he can't do, whether it be somber folk tunes, trashy rock & roll, or groove-heavy hip-hop.
Right from the start Beck was his usual playful self, dancing like a aerobics instructor and tweaking songs like "Mixed Bizness" into David Bowie's "Let's Dance" for a brief moment before moving on. A far cry from the days when he looked the part of a slovenly dressed grunge poster boy, Tuesday performance had Beck decked out in a variety of outfits, from a glittery jumpsuit to a muscle T that showed off his toned biceps (maybe Courtney Love had a long talk with him).
While Midnight Vultures provided the majority of material for the concert, there were plenty of songs from older albums like Mellow Gold, One Foot in the Grave, Odelay (which he saved till the end) and a whole lot more.
With a stage that could be mistaken for a Soul Train episode and a huge posse that featured a turntablist, full horn section, two female backup singers, as well as the standard rock & roll bass-drums-guitar arrangement, Beck gave the audience plenty of memories to take home.
During a slow R&B jam that just read Warren G all over, a red-velvet queen-size bed was lowered from the ceiling allowing Beck to dramatically crash onto like some teeny-bopper artist.
His superb sense of humor aside, Beck remains an artist perpetually on the cutting edge, consistently challenging his fans to bigger and brighter ideas. In many ways, he is an American pop-culture diplomat: one moment he's Bob Dylan, strumming an acoustic guitar with a harmonica propped to his mouth, singing, "Give the middle finger to the rock & roll singer, as he's dancing upon your paycheck"; the next moment, he's Marvin Gaye, howling in a delicate falsetto about a lost love. And at yet another moment, Beck is the avant-garde noise experimentalist whose name no one remembers. But where some strictly stay within the parameters of the style they imitate (Mr. Lenny Kravitz), Beck innovates, pushing things to new territories and takes his listeners with him.
[ San Jose | Metroactive Central | Archives ]