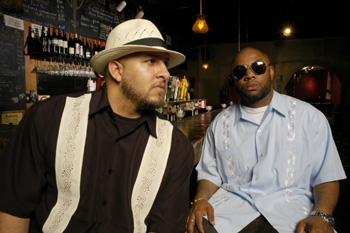 Photograph courtesy of Quannum

Forward as One: This is not Maroon 5. Lateef and Xcel are the Maroons.

Ready for Combat

Lateef the Truth Speaker shall set you free

By Christine Lee

LATEEF DAUMONT is discussing how to overcome fears and obstacles to see a burgeoning idea into existence. I ask him if he ever looks at the songs he has done and thought, "What was I thinking?" (The answer is yes.)

"My mother has all these sayings," says Lateef. "She always says there's strength and power in being bold and that an idea is more worthwhile if you bring it into reality, because you'll learn by going through the process and the finishing of it. So the doing can oftentimes be more beneficial than the actual idea."

It's a good thing he listened to his mom like a sensible boy. Released in 2004, Ambush is the long-awaited first album from the Maroons, affectionately known as "Lateef and the Chief." Lateef the Truth Speaker provides the vocals for Xavier "Chief Xcel" Mosley's production. Both are founding members of the Bay Area indie label Quannum, rounded out by DJ Shadow, Lyrics Born, author Jeff "DJ Zen" Chang and Chief Xcel's verbal Blackalicious counterpart Gift of Gab.

Both Lateef and Xcel have been in the ring for a couple of rounds. Lateef first stormed on the scene in 1996 as half of the duo Latryx (with Lyrics Born) with the sleeper hit Latryx, and Chief Xcel established his reputation with Blackalicious' Nia in 2000. They've added the Lifesavas, Joyo Velarde and the Poets of Rhythm to the Quannum fam.

Albert Einstein said it best: "Make everything as simple as possible, not simpler." Ambush follows this genius. Maroons explore outer regions with one foot firmly square in classic hip-hop—concise rhymes and vocals, funky traveling bass lines (think Sugar Hill Gang's "Rapper's Delight") and head-jerking, finger-snapping percussion. The Maroons mesh clean and organic production with cerebral, tell-it-like-it-is lyrics to share their story. Lateef describes the chemistry between him and Xcel as "regular cats having a conversation," and the music reflects that thought.

"The Maroons on a whole are a lot more straightforward because me and X were most like the regular cats in high school. I might be at a party and maybe get in a scuffle or two, while X played on the football team. We kind of come from the same place. If we sat down and had a conversation with each other, that's how it would be. Nothing mind discombobulating that you have to work to get your head around," Lateef admits.

Ever the wordsmith, he hammers away to Xcel's production bed, and the collaboration flows so effortlessly that one understands why sparks still fly after so many years. The synthy, eerie vibe sets the tone for "If," and you are plopped onto the front line, muddling along with them through the underbelly of U.S. politics, shaking your head at Clinton's "pimping" and questioning big business and oil's rule. A quick stop for self-reflection on the enchanting "Beautiful You," and you're back home, chopping it up and repping the 510 on "365," whose chorus was inspired by a cheer from his nephew's Pop Warner team. It all makes for a bird's-eye view of their struggles and passion as people and artists.

Lateef explains the Quannum chemistry and gives sound advice of his own. "We've been in it long enough where there were so many ups and downs. Everyone knows now what it takes to do it. The thing about Quannum now is that we're all at the most creative we've ever been. Everyone is working all the time. We're putting out records and working on new ones. Everybody is just doing it and is happy for everyone else and their success. We're just glad to be doing what we love for a living and count our blessings."
---
Lateef the Truth Speaker appears at Urban Momentum, a co-production by AS Special Events, Flavor Group and Sole Division. Also appearing are Lifesavas, DJs J. Boogie, Fuse One, Rascue and Nomadeeq. Dancers include Brian 'Footwork' Green, Zulu Gremlin and Bionic Man. There will be a 1-on-1 All Styles Dance Contest with a $500 prize. The show happens May 7 at 8pm at the Barrett Ballroom on the SJSU campus. Tickets are $15 door. (408.505.6260)
---
---
Send a letter to the editor about this story to letters@metronews.com.
---
[ Silicon Valley | Metroactive Home | Archives ]