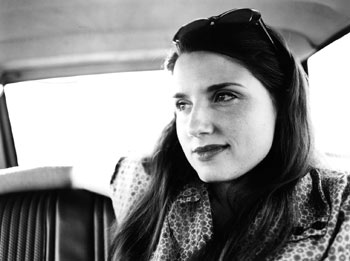 Jolie Holland channels Billie Holiday.

Folk Magic

Jolie Holland casts spells on her eerie new Appalachian gothic album, 'Escondida'

By Sarah Quelland

HER FIRST SOLO ALBUM was released by accident. Jolie Holland's Catalpa was a casual recording she passed along to friends, but word spread, interest was piqued and demand escalated. Catalpa soon went international and was met with overwhelming critical acclaim. The sometimes resident of San Francisco and co-founder of folk outfit the Be Good Tanyas recently followed up her remarkable debut with the equally remarkable Escondida (Spanish for "hidden"), which arrived April 27 on the Epitaph-distributed Anti- label, home to Tom Waits and Nick Cave.

Holland's music has Gypsy spirit, her voice an old soul. Her eerie gothic folk, jazz and blues songs suggest the ghost of Billie Holiday lost in the Appalachian Mountains. From Escondida's opening track, it's clear that, when it comes to music, Holland travels along roads less taken. "Tonight, my heart is full of a sad song / My lonesome lover has taken off," she shares on "Sascha," an old-fashioned smoky jazz number that sounds lifted from the 1930s. The lazy strum of an acoustic guitar and the sad cry of a trumpet enhance the melancholy mood of the song.

The bluegrass nuance and country pace of "Goodbye, California" suggest Willie Nelson's "I Couldn't Believe It Was True" as Holland reveals, "My heart is hurting / My spirit's burdened / I feel like a liar and a thief / For taking air, for being here / Unwanted, I look for my final release." The song soon kicks into high gear with on-the-road twang, and her voice takes on a defiant tone as she says her piece to the Golden State: "Goodbye, goodbye California / Goodbye, and I'll be moving on / I sang you my songs / I know I'm wrong / Fare-thee-well, and I'll be moving on."

Sorrowful vocals are quietly accompanied by acoustic guitar on the sad, simple "Do You?," which finds Holland questioning, "What did you do when I called? / Did you hear me at all?" Though her voice is soft and gentle, her disappointment becomes palpable when she stretches out the startling final line, "You motherfucker, I wanted you."

Holland has an edge. Underneath the song's lyrics inside the album cover, she calls "Old-Fashioned Morphine" a bastard hybrid of "Old-Time Religion" and Willie Johnson's version of "Wade in the Water." She adds, "I'm certainly not encouraging anyone to fuck up their life."

Holland's songs come across as feeling desolate and isolated. The ghostly sound of a whistle and the slow plunk of a guitar open the dark folk of the sleepy "Black Stars." Here Holland mythically observes, "The moon is wizened, and it is old as a toad in a Chinese story." A musical saw blows a haunting wind through the exotic world-music-tinged "Darlin' Ukelele," as the title instrument evokes the natural music of a slow rain faintly pitter-pattering down to the ground. "Damn Shame" captures the confused misery of a woman whose lover suddenly hops an international flight. Troubled by his departure, Holland's song observes, "The smell of burnt exhaust drifts into the bar / It's midnight in California / It's high noon where you are," and asks, "Tell me one more time why you went away / It makes a little sense in the light of day."

Despite the intrinsic loneliness of the album, there are uplifting moments of independence and freedom as well. With its late twilight setting, "Amen" is full of promise and romance as she speaks of a ring around the moon, a road drifting through the mountains and air that tastes like wine. On the vintage-sounding "Poor Girl's Blues," while singing about food stamps, wings in the gutter and lost halos, she declares, "Maybe I'm a poor girl, but it doesn't bother me at all / When this world comes crashing down, I know that I'll be standing tall."

"Tiny Idyll/Lil Missy," the traditional British song "Mad Tom of Bedlam" and the Civil War-era American traditional "Faded Coat of Blue" complete this truly magical album. Holland plays the Swedish American Hall upstairs from Cafe Du Nord in San Francisco next Friday (May 14). Visit www.JolieHolland.com.

FINGER LICKIN' GOOD: Buckethead gives a free performance Thursday (May 6) at 6pm at Streetlight Records in San Jose.

PLAN AHEAD: Death Angel CD-release, May 6 at the DNA Lounge in San Francisco; Black Cat Music CD-Release, May 7 at the Blank Club; Low Flying Owls, May 8 at the Blank Club; Hostility, May 9 at the Gaslighter Theater in Campbell.
---
Send a letter to the editor about this story to letters@metronews.com.
---
[ Silicon Valley | Metroactive Home | Archives ]