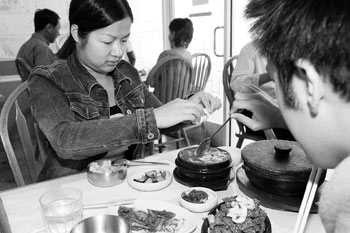 Photograph by Charlie Nucci

Egg Raid on Tofu: Raw egg cools the soup while adding texture.

Coming Through! Hot Soup!

Jim Hwang promises you'll have a good time at Tofu House

By Todd Inoue

I'M ALWAYS surprised when I go to Tofu House and see kids digging in--lots of 'em, mostly Korean, scraping every drippy red-flecked morsel out of their bowls. The main dish served here, Korean tofu soup at a roiling boil, is challenging enough for most adults to navigate, but kids love it. Cultural conditioning? Good parenting? Food as entertainment? The goofy-looking soybean mascot? Maybe. But after eating more than my share of tofu soups (six years' worth), I can definitively say that Tofu House is inexpensive, fun, nourishing, high-risk, filling, friendly and breaks the "Where do you want to go eat?" blahs.

For those unaware, Tofu House specializes in tofu soups spiced with Korean red pepper and filled with goodies. The velvety soybean block arrives at the table in a small cauldron bubbling with mushroom, pork, beef, seafood or kimchi. Mushroom is great, filled with stringy enoki, oyster and button mushrooms. Beef and pork come in strips and are just slightly heartier, while the seafood soup comes with shrimp, clams and oyster. Kimchi is for advanced Korean food fans and comes with a choice of beef or pork. You direct the heat level--mild is no spice, medium is plenty hot, and spicy is for those with asbestos tongues. (All soups are $8.11.)

Speaking of heat-resistant body parts, the servers must have sturdy hands to work at Tofu House. They exit the kitchen balancing trays of molten, spattering soups so hot that they require a brief napkin shield upon arrival. You hope the server isn't having a bad day, because one false move and you're living like the boy in Mask for eternity. Miraculously, I've yet to see one accident. A raw egg, on the side, can be cracked into the soup to cool it down and add luxurious texture. I do, but I fish out the yolk, because I'm weird like that.

The soup comes with a variety of Korean condiments that include tasty small plates: daikon, cabbage, English cucumber, bean sprouts, clam in chili pepper, a gelatinous block of something and a small bowl of radish in pickling broth. These little spicy side orders of kimchi--the national dish of Korea--are brought after the order is taken to mitigate the impending fire and provide sampling fun. We regularly finish off the cucumber and bean sprouts and ask for more, which are brought out with no complaint.

Rice is scooped at the table from a stone pot into metal bowls, and filtered water is poured into the spent cauldron to loosen the crusty bits and provide a refreshing post-meal digestif. The restaurant used to pour barley tea, but for some reason it was discontinued. Bring back the barley tea!

There are other menu items--a tofu salad ($3.75), bulgogi ($11.34) and, most recently, bibimbab ($11.34). Bulgogi is what it is--marinated slices of pork or beef layered on a sizzling platter. Eh. It has always come up short when I've ordered it. Save the bulgogi craving for another place, as there are many excellent Korean barbecue restaurants along Stevens Creek and El Camino. Bibimbab--the classic Korean rice, seafood and vegetable dish served in a stoneware bowl with a fried egg on top--suits Tofu House better.

Tofu House has a happy way of dealing with lines, which queue up on the sidewalk during busy nights. Someone will come out and take your order and tell you when a table is ready. During this time, check out the video store two doors down for the latest in Korean pop music. By the time you're done checking the posters of Korean boy bands with ridiculously tinted and sheared locks, your table is ready and everything arrives just as you ordered. Astounding.

Jim Hwang is the owner, but he's also the man. As the guests leave, he slings parting gifts: sticks of Haitai melon gum and Dum-Dums sprinkled with Sung's catchphrase, "Have a good time!" We will, Jim, we will.
---
Tofu House
Address: 3450 E. El Camino Real, No. 105, Santa Clara
Phone: 408.261.3030
Hours: 11am-9pm Mon-Thu, 11am-10pm Fri, 11am-9pm Sat, closed Sun
---
---
Send a letter to the editor about this story to letters@metronews.com.
---
[ Silicon Valley | Metroactive Home | Archives ]