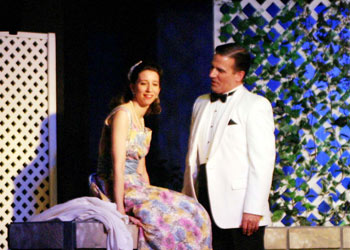 Photograph by Edmond Kwong

Fair Hearts: Sabrina (Kim Saunders) and Linus Larrabee Jr. (Tim Reynolds ) escape to the garden in 'Sabrina Fair.'

Life Loves

Joie de vivre connects Tabard's 'Sabrina Fair' and Pear's 'Approaching Zanzibar'

By Marianne Messina

OLD MONEY, gold diggers--oh, for the days when a woman made a life for herself by choosing a husband, hoping to hook "a fine burgundy" and not a cheap port. Trophy husbands and 160-foot yawls are the trappings of the Tabard Theatre Company's current play, Sabrina Fair, in which Sabrina struggles "to live life on my own terms." Despite the fact that it's basically an extended gossip party on an unchanging set, Sabrina Fair (which was the basis for two film versions) remains enjoyable and fleet, helped along by four brisk acts and two intermissions.

And the acting keeps the characters fresh. As the wealthy playboy whose cynicism won't let him admit he's in love with Sabrina ("Love is the measure of defeat; the one who loves is captured"), Tim Reynolds creates an unflappable and playful Linus Larrabee Jr. Good chemistry enlivens the relationship between Reynolds and Kim Saunders as Sabrina. Mostly for the better, Saunders' Sabrina is intense (hold the ingenue), smoothing out the textual shortcomings that make Sabrina's defining characteristic, her "love of life," almost unrecognizable to modern audiences--is that life as in "romance" or life as in the "high life"? It's hard to tell.

At a recent performance, Sharon Mahoney as the accomplished, sophisticated (therefore woefully single) Aunt Julia drew applause on her exit line to Linus' mother: "The whole trouble is you didn't beat him enough." Even more enthusiastic applause went to the exasperated Linus Sr. (Joe Kirk craftily paces his character's unfolding), when he stormed out after his what's-this-world-coming-to? monologue. Patricia Cross as the matriarch, Maude, injected enough kindness into her blue blood to warrant her conversion (or adaptation) at the end of the play.

Running concurrently with Sabrina Fair in a smaller venue, the Pear Theater's cuddly comedy Approaching Zanzibar takes up the "love of life" theme where Tabard leaves off. In contrast to Sabrina Fair's single set, Zanzibar's continuous set changes are a show in themselves. The actors dance out with set pieces to lively dance music. The backdrop is drawn before each scene on huge sheets of paper hung from a drawing board and torn off at the end of the scene. It is really a pleasure to watch this company invent new ways to activate their space. It's also refreshing to see adolescent actors in leading roles. This play about a family driving cross-country to visit a dying aunt creates a sort of split-screen image of two generations. In a father-and-son fly-fishing scene between Wally Blossom (played by Dan Roach) and son Turner (an intriguing Alexander Nee), the verbal disconnect is palpable. While Roach's Wally boisterously unloads his midlife angst, Nee's Turner takes lines that could be delivered with childish pouting and turns them into the calm, prodigious nurturance of the (all too familiar these days) child-parent.

The hyperactive and ever-fearful Pony Blossom is this play's Sabrina, 15 years younger and 50 years later. It's hard to take your eyes from Emma Steuer's lovable Pony. She makes it easy to see why the ailing Livy (read lively) instantly recognizes the girl as "the one" with whom she wants to exchange wisdoms--wisdom of age to wisdom of youth. Where Sabrina Fair tests the hungry love of life against cynicism, Approaching Zanzibar pits it against the changes of time, brutal as torn-off pages of scenery. The menopausal Charlotte Blossom (Pat Tyler) laments, "I'll never feel life growing inside me again." Taken together, these two very different plays set up a heady echo--the choices and the often petty concerns that cause us to compromise our healthy love of life--nicely tempered with gentle humor.
---
Sabrina Fair, a Tabard Theatre production, plays Friday at 8pm and Saturday at 3 and 8pm through May 8 at South Valley Christian Church, 590 Shawnee Lane, San Jose. Tickets are $10-$15. (408.979.0231). Approaching Zanzibar, a Pear Avenue Theatre production, plays Thursday-Saturday at 8pm and Sunday at 2pm at 1220 Pear Ave., Mountain View. Tickets are $10-$25. (650.254.1148)
---
---
Send a letter to the editor about this story to letters@metronews.com.
---
[ Silicon Valley | Metroactive Home | Archives ]