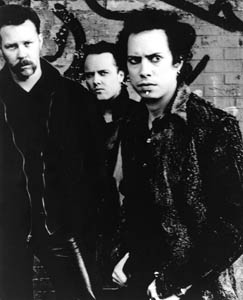 Metallica gears up for four free dates at the Fillmore.

Crazy Nights

The Edge rocked last week with Meshuggah and Suki Jones

By Sarah Quelland

IT WAS BACK-TO-BACK ROCK SHOWS at the Edge last week with Meshuggah, Strapping Young Lad and SECURITY on Wednesday (April 30) and Steven Adler's Suki Jones, the Golden Gods, the Substitutes and Electromotive on Thursday (May 1).

Meshuggah has elevated its cool status by showing zero regard for commercial appeal. In existence in some form since 1987, this Swedish metal band has become a new force on American turf, due in part to Jack Osbourne, who secured the band a spot on last year's OzzFest. This intense European metal band's music is defined by crazy time signatures that make it impossible to anticipate where the music is heading at any given moment. Live, frontman Jens Kidman is the focal point of the show, performing with a strange body language that resembles an orca repeatedly breaching, which is, perhaps, the only way to move to the band's atypical, polyrhythmic songs.

Borderwars' Vincent Graham and Frank Grengo were in the crowd and agree: "All around the world these people are trusted and respected for creating the most twisted rhythms, being faithful to their style and [being] perfect live players."

Divided vocalist Ryan Reynoso was also at the show and says, "I love the fact that everyone in the audience was in awe just watching them, trying to bob their heads to what they thought was a 4/4 time signature." Despite being disappointed that the band didn't play more material off Chaosphere, Reynoso understands: "They are pushing their new stuff, which is still crazy timings, but not as dramatic." Still, he concludes, "[The new stuff is] probably more well digested by the regular 'nonmusician' listener."

If Meshuggah is a band for musicians, then Suki Jones is a band for the fans. Former Guns n' Roses drummer Steven Adler is, of course, the star of Suki Jones. Sucking down Pixie Stix, waving at fans and taking a bow after every song, he looked to be having the time of his life behind his drumset, and the crowd cheered supportively at his return to the stage. Noting Adler's happy grin, one guy in the audience leaned over and commented, "He's the happiest guy I know."

While guitarist Brent Muscat and bassist Robbie Crane played with a laid-back cool, guitarist Keri Kelli ignited the fiery spirit of rock & roll, playing with a heat that's been missing in rock music for far too long. He's everything a good rock guitarist should be. Meanwhile, frontman Jizzy Pearl did his best to fill Axl Rose's shoes, wailing on the classic Guns n' Roses material.

Suki Jones' set list featured most of the Appetite for Destruction record ("Welcome to the Jungle," "It's So Easy," "Nightrain," "My Michelle," "Mr. Brownstone," "Rocket Queen" and the encore "Paradise City"), plus "Move to the City" (off Lies) Gn'R-styled covers of Aerosmith's Mama Kin (also off Lies) and Bob Dylan's "Knockin' on Heaven's Door" (off Use Your Illusion II), and covers of Thin Lizzy's "Hollywood" and AC/DC's "Sin City." After the show, Adler signed autographs for fans who'd brought all kinds of old Gn'R memorabilia, including the rare 1986 vinyl EP Live Like a Suicide, which was independently released on the band's own Uzi Suicide imprint.

FANDEMONIUM: Fresh from San Quentin, Metallica plays a whopping four free nights (May 18-19 and 21-22) at the Fillmore in San Francisco to warm up for the Summer Sanitarium 2003 outing and show off new bassist Robert Trujillo and new tunes from St. Anger, which is scheduled to drop June 10. Not so fast though. Tickets are only available to Metallica fan club members and radio contest winners. Visit www.metallica.com or listen to KSJO-FM (92) during Mandatory Metallica (weeknights at 10pm) or during The Mikey Show for more info. The Summer Sanitarium tour, featuring Metallica, Limp Bizkit, Linkin Park, Deftones and Mudvayne, hits San Francisco's Candlestick Park on Aug. 10.

HOT TOPIC: Robbie Williams will not be performing in San Jose on May 8 after all.

PLAN AHEAD: Tragedy Andy, the Trauma Queens, Moonlife, Silent Film Stars and Play Like You, May 10 at the Mitchell Park Center in Palo Alto; the Groovie Ghoulies, the Phenomenauts and the Secretions, May 10 at the Blank Club; My Rival Sun and Sweet Relief, May 10 at the Britannia Arms in Cupertino.
---
Send a letter to the editor about this story to letters@metronews.com.
---
[ Silicon Valley | Metroactive Home | Archives ]