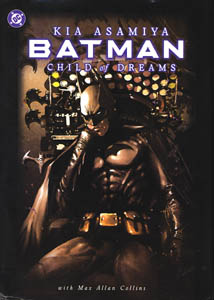 Bat Out of Hell

From bat kitsch to manga marvel, the legend of Batman still flies

By Richard von Busack

THE MYSTIQUE of Batman survives, despite the attempts to make it silly on TV with the recent Return to the Batcave: The Misadventures of Adam and Burt. Director Paul A. Kaufman's sometimes fond, often embarrassing TV movie is a memoir of the hit show that introduced most '60s kids to Expressionism. The shock of seeing Adam West and Burt Ward as they are in 2003 induces mild despair: the Boy Wonder looks as plump as an Illinois alderman. The show is stolen by a minor actor playing Cesar Romero, who has a less-than-a-minute-long scene fretting about his makeup. Can we agree to ditch the word "irony" forever when describing what Romero was like as the Joker? "There's nothing funny about a clown by moonlight," as Lon Chaney said.

And there's nothing ironic about the fans who collected some six decades' worth of Batcrap in Batman Collected (Watson-Guptill, $29.95). Here we find photos of the bat treasure chest of worldwide collectors--a hodgepodge of toys mistakenly saved from the garbage midden along with priceless relics. Dibs on Bob Powell and Norm Saunder's dramatic gouaches for the Topps company in 1966, made for bubble-gum cards depicting adventures too surreal even for the comics: one amazing painting had Batman and Robin vs. what seems to be the Giant Rat of Sumatra.

Call it synergy, but the villain in Kia Asamiya's new Batman: Child of Dreams (DC; $24.95) is also a renegade collector--but that's getting ahead of the story. Asayima's graphic novel contains the Japanese manga debut of Batman. It's adapted and translated for barbaric Westerners by artist Dan Nakrosis and writer Max Allan Collins (The Road to Perdition). The Bat heads to Tokyo to investigate the use of a fatal gene-splicing drug. Once there, he's helped by a typical manga heroine, an intrepid underdog girl reporter named Yuko. She's trying to get an interview with Batman but settles for some passionate glances during dinner with Bruce Wayne.

Asamiya's story, first published in the manga Magazine Z was well-drawn and well-told enough to cause a recurrent flair-up of the bat fever that's afflicted me ever since I first heard Romero's cackle and Julie Newmar's Catwoman purr. Preferring Batman as a sleuth to Batman as a soldier, I appreciated the way Asamiya had made our hero courtly and dashing. When Batman describes himself as "the darkness that makes the light possible," one could perceive the Asian philosophical interpretation of a deathless myth, which has crossed the ocean without a hint of jet lag.
---
Send a letter to the editor about this story to letters@metronews.com.
---
[ Silicon Valley | Metroactive Home | Archives ]