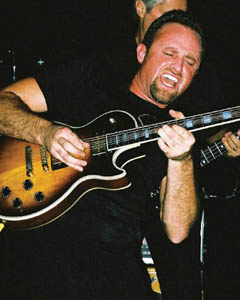 Photograph by Will Wallace

Weekend Warrior: Don't ask Shane Dwight to come over and mow your lawn; he gigs most weekends.

Blues You Can Use

Local guitarist Shane Dwight joins Bernard Allison, Sista Monica and Corby Yates at the Metro Fountain Blues Festival Saturday

By Todd Inoue

SHANE DWIGHT barely remembers the last weekend he had off. The 29-year old Gilroy-based blues guitarist scrolls through his mental organizer--oh yes, January 2003.

"We did seven nights straight at the Eldorado Hotel in Reno," Dwight remembers. "Then we took the next weekend off."

Shane Dwight and his three-piece blues band have seen a spike in musical growth and popularity lately. A year ago, their set list consisted of two original songs and eight cover songs. This year, those numbers are flipped. Dwight has eight originals that range from Delta blues to blues rock to funky R&B. This summer, he will enjoy his first full summer of work as his band is booked onto 20 different blues festivals up and down the West Coast, including the 23rd Annual Metro Fountain Blues Festival this Saturday.

It's quite an accomplishment; San Jose has produced lots of blues talent--Tommy Castro, Chris Cain, Andy Just and others--through a scant blues scene housed and hosted by one blues club on Stevens Creek Boulevard.

"It can give you the blues a little bit," says Dwight. "You don't fit in. It's easy to get discouraged. I'm not discouraged this year. I've been really lucky."

Shane Dwight's interest in music began with a turkey baster. His grandmother played Elvis and Beatles songs to the then 5-year-old. As "Teddy Bear" blasted from the stereo, Grandma handed Shane the poultry lubricator, and he'd pretend to sing away. The same year, his father showed the youngster how to play Jimmy Reed's "Baby What You Want Me to Do?" on guitar and he was introduced to the blues lexicon.

In high school, Dwight admired Led Zeppelin and Prince and sought out their Delta and Memphis blues inspirations. When he was a junior, Dwight heard Stevie Ray Vaughan's electrifying "Empty Arms" for the first time and was thunderstruck, but he had no interested parties. He played Metallica and Muddy Waters riffs and reticently joined rock bands that looked down on the blues. "I'd play all their songs, and they'd allow me one blues song, and that's when I got my buzz," Dwight says.

With no sustained blues outlet, Dwight considered quitting music altogether. He graduated from high school, landed a job at UPS and studied classical music at Gavilan College, eventually earning an associate degree.

"To see the perfection of classical music and the math of it, it was just ingenious," he recalls. "I got into it, then I just went the opposite direction into bent notes and the blues."

During Christmas rush, Dwight injured his back after lifting 80-pound loads for six hours straight. He spent a year on disability. During his rehab, he discovered JJ's Blues Club--and rediscovered his calling. Owner June Stanley introduced Dwight to some people and soon invited him to host his own jam night where he finally met kindred spirits like Tommy Castro, Rene Solis and John Lee Hooker sideman John Garcia.

Now Dwight has a full-time band (Robby Z, rhythm guitar; Chuck Fike, bass; Jerome Kinsey, drums), and it's garnering notices as a bona fide up-and-comer. It won the 2001 Monterey Blues Festival Battle of the Bands competition and headlined the next year. His 2002 CD, Boogie King, has sold 10,000 copies. The band plays venues up and down the West Coast every weekend. Dwight quit his day job to focus just on the music.

Dwight's guitar forte--a swamp boogie that compares favorably to Stevie Ray Vaughan and Muddy Waters--and his youthful good looks have some record producers pitching him toward the new adult contemporary market alongside Norah Jones, Dave Matthews and Ben Harper. He was approached by music producer Keith Forsey (Billy Idol, Beverly Hills Cop II, Simple Minds), who wants to score him a major-label deal. They didn't want a straight blues record but something along the lines of John Mayer or Harper. It's a tempting offer that Dwight is considering.

"They said, 'You can do the blues, sell 50,000 records and tour the world. Or you can try this [and] sell a million copies, tour the world and have a much better time.' At first, I was real affronted, but the more I thought of it, the more I hearken back to my roots. I like all kinds of music. I didn't grow up in Arkansas; I grew up in East Side listening to Prince, Muddy Waters, Led Zeppelin and Hank Williams."

Shane Dwight even had his own private American Idol moment. About four weeks ago, Forsey called up Dwight and told him to meet him in San Francisco so he could play in front of an assemblage of talent scouts, engineers and songwriters. Shane drove up from Gilroy, set up and nervously played Hank Williams' "Rambling Man," a couple of blues originals and nonblues ideas for the minicrowd of tastemakers.

Afterward, they offered Paula Abdul-like positive encouragement and requested more ideas. Dwight plans to work on these ideas once his band finishes recording its next album--a straight blues set recorded live at Fantasy Studio in Berkeley, due in June.

"It was interesting; they were throwing out the different molds I could fit into," Dwight says. "I'm keeping my options open, and it would be foolish not to try it. This guy's the real thing, I would be a fool not to give it a shot."

Dwight takes a breath, a split second enough for the spirit of his blues hero to donkey-punch some sense into him.

"Of course, I'm saying this after I stayed up late last night playing Muddy Waters riffs," he says. "I love the blues too much to stop."
---
The Shane Dwight Blues Band opens the 23rd Annual Metro Fountain Blues Festival Saturday (May 10) at the San Carlos Plaza on the San Jose State University Campus. The show is free and begins at 1pm. Also on the bill are headliner Bernard Allison, blues singer Sista Monica, guitar ace Corby Yates, Blue Monday (a local super group with Chris Cain, Clifford Coulter, Ron E. Beck and Danny Hull) and Rene Solis and the Persuaders collaborating with Gary Smith and Essra Mohawk. (www.as.sjsu.edu/events)
---
---
Send a letter to the editor about this story to letters@metronews.com.
---
[ Silicon Valley | Metroactive Home | Archives ]