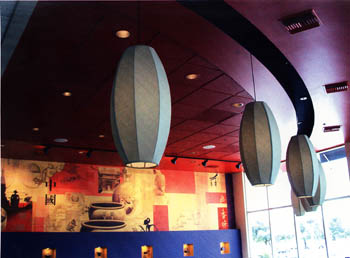 Photograph by Chris Revell

Pod Appeal: Look, up in the sky: it's a Yan Can lighting fixture!

Yan in Action

Yan Can, part of a new Asian fast food chain, offers fresh food in a hurry

By Joseph Izzo Jr.

THE FIRST time I saw Martin Yan in action he was putting on a cooking demonstration at a major supermarket chain. He minced and chopped and told jokes with a youthful enthusiasm that buzzed the aisles with electricity.

He was the first man to strip away the mystery from Chinese cooking, making difficult dishes easy to prepare in the comfort of your own home. From there, he went to television, where his humorous shows on Chinese cooking captured cook-show enthusiasts all over the country and can still be seen.

A few Years ago, the Yum Corporation (which brings us Taco Bell, KFC and Straw Hat Pizza) collaborated with Yan to create a new style of restaurant chain serving an assortment of Asian cuisine in a fast food format. Yan Can opened in Milpitas about five months ago and is among six that are now in operation in both Southern and Northern California.

A slick, cookie-cutter interior greets the eyes upon entrance. Contemporary Asian design and fashionable colors--reds and golds--create a décor that calms the spirit and invites the appetite. But make no mistake, Yan Can is a fast food restaurant first. Ordering is done at the counter; beverages are fetched from soda dispensers in the front. A television in the dining area glimmers perpetually with Yan's cooking shows. Business pumps during lunch and fades to a trickle during dinner.

The good news about the food is that it is very fresh. Dishes are cooked to order, and ingredients retain their individual flavors. The red peppers and onions are crunchy and sweet and full of natural taste. Oil is used sparingly. Nothing I sampled was greasy or served lukewarm.

Yan Can bills itself not as a Chinese restaurant but as an Asian restaurant serving dishes most popular today in Asian and Southeast Asian restaurants. When I dine at an Asian restaurant, I expect sizzle and pop; I expect rousing contrasts between hot and cool, rich sauces and deep smoky infusions. The food at Yan Can proved listless and stripped intentionally of flavor, or as the manager said, "tweaked down" for the American masses.

Large doses of sugar pummeled spices into submission, making the dishes we tasted sweet, not sassy, as they should have been. The sweetness did work, however, in the Tangerine Chicken ($6.95), full of zesty orange peel in a smooth dark sauce.

Yan's Chinese Chicken Salad ($6.75) assembled a crunchy mix of pickled red cabbage, oranges, peanuts and fresh chicken breast in a tame peanut dressing. The fire in the Singapore Firecracker ($7.95 with beef) sputtered on low heat in a sweet dark sauce that tasted almost exactly like the sauce glazing the Korean BBQ Beef ($8.25), a dish served in slices of charbroiled meat over gummy rice.

The menu claims that the Hong Kong Style Curry ($8.95 with shrimp) is hot, but it wasn't very. Though I did discern a distinct flavor of curry, the spices had little punch in a sauce surprisingly golden and rich. These fixings were served over more of that mundane gummy rice that came in bulk supply with almost every dish.

Yan Fried Rice reminded me of a dish I once had at O'Connor's Hospital cafeteria, so bland the fork contributed more taste than the seasonings, on furlough in another time and space. Our appetizer of Crispy Potstickers ($4.95 for 8) was fashioned in a wonderful half crescent around a bowl of traditional dipping sauce. The skins rang loud and crunchy, the best aspect of these forgettable dumplings. "A little pork would have given them more substance," complained my guest about the stuffing.

The manager of the Milpitas Yan Can filled the interior with inexhaustible good will. He took our orders, delivered our dishes and conversed honestly about the future of this restaurant chain. "It should do very well in places like Idaho," he said during our discussion. On those days when I'm in the neighborhood at lunchtime, I may stop in again for a bite. For dinner, I don't think so.
---
Yan Can
Address: 179 Ranch Dr., Milpitas
Phone: 408.945.1733
Hours: 11am-9:30pm Sun-Thu; 11am-10:30pm Fri-Sat
Price Range: $3-$8.95
Cuisine: Asian
---
---
Send a letter to the editor about this story to letters@metronews.com.
---
[ Silicon Valley | Metroactive Home | Archives ]