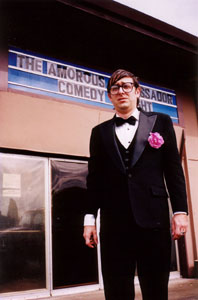 Photograph by Lizzy Kate Gray

Have It Your Way: Once a label mate of Anton LaVey, Neil Hamburger now records comedy records with indie Drag City.

Patty Melt

Neil Hamburger wears a powder blue suit and an ill-fitting haircut and tells bad jokes. So why is he so damn funny?

By Richard von Busack

I WONDER if this comedian Neil Hamburger is the same Neil Hamburger who used to go to Nathaniel Hawthorne Junior High? That was down in Harbor City, a part of L.A. that might as well be Tulsa. Neil's parents were from Hungary, and they changed their name to "Hamburger" because they thought it sounded Yankee.

Lord, I'll never forget the time Neil was passing me a pencil sketch of Mrs. Cathaway without any clothes and the word "tits" with an arrow pointing to where they were on the drawing. Mrs. Cathaway got the drop on him, and then Neil was frog-marched to the boys' vice principal's office. "Mr. Greif" his name was. He looked like a bridled hog with a butch haircut.

Neil called him out; he asked Greif if he got some kind of "queer pleasure" from disciplining boys. For that jest Neil ended up in juvie. I heard that a year or so later, Neil got a free ambulance ride after he tried to drink brake fluid. Neil heard you could get a buzz off of it, and it'd be safe if you filtered it through a loaf of Weber's Bread.

It turns out that the Neil Hamburger who appears at the Blank Club Friday is unrelated to this Neil Hamburger, even though they both apparently spent time in the troubled-children program down in L.A.'s South Bay. The standup comic Neil, who is to comedians what Crispin Glover is to actors, earned his start recording crank calls for an Amarillo Records compilation. Today, he puts out comedy albums on indie label Drag City (Stereolab, Shellac, Fucking Champs, Will Oldham), and last Tuesday he disgraced the stage of Jimmy Kimmel Live.

Hamburger supposedly has the same social security number as Gregg Turkington. About 15 years ago, Turkington put out an ace Haight Street fanzine called Breakfast Without Meat, dedicated to the worship of easy listening and celebrity-vocalist records. Richard Harris' musical career landed the extensive discography it deserved there--and thank you, BWM, for turning me on to Dora Hall, who made the kind of children's records that count as "musical abuse," to steal that joke from A Mighty Wind.

For his sins, Hamburger/Turkington now puts on the powder-blue tux and bowl haircut of the unsettling yukster--the kind whose career could be summed up by the title of the Sonny Bono song "Laugh at Me (but I'll Pray for You)."

Among fun Hamburger facts: Before landing on Drag City, he was an Amarillo label mate with Church of Satan mastermind Anton LaVey, who has to be the perfect subject for a celebrity record. Being the comedian from hell, Hamburger also boasts a regional link to LaVey. In fact, Neil's newest, Laugh Out Lord, is about religion, a subject everybody has a sense of humor about.

This recording follows his previous CDs, which include America's Funnyman, Raw Hamburger, Left for Dead in Malaysia and Inside Neil Hamburger, his exceedingly painful EP recorded in the far-off land of Australia. There, he regaled the natives with jokes like "Why are M&M's full of chocolate? Because it would be illegal to fill them full of shit."

Hamburger appears at the Blank Club with San Jose roots rocker the Legendary Stardust Cowboy and the full-frontal frivolity of eXtreme Elvis. Sadly, Hamburger's fan base is small, and he's forced to nourish himself on the food his name honors. His material is of the level of a joke the other Neil Hamburger used to tell: "I have a cousin in Maine! Now, you say, 'Bangor.' Say, 'Bangor,' OK?" "OK. Bangor?" "No, she lives in Augusta." Both Hamburgers agree: Why tickle an audience's funny bone when you can send a drill bit through it?
---
Neil Hamburger, the Legendary Stardust Cowboy and Extreme Elvis perform Friday (May 9) at the Blank Club, 44 S. Almaden Ave., San Jose. Tickets are $10, and doors open at 9pm. (408.29BLANK)
---
---
Send a letter to the editor about this story to letters@metronews.com.
---
[ Silicon Valley | Metroactive Home | Archives ]