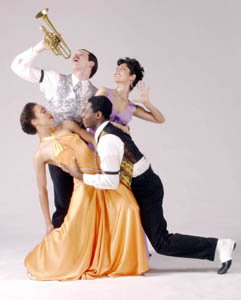 Photograph by John Gerbetz

Storied Tales: Maximo Califano (clockwise from upper left), Beth Ann Namey, Willie Anderson and Tiffany Glenn enjoy the sporting life in 'District Storyville.'

Giant Steps

Ballet San Jose Silicon Valley celebrates life and a life in 'Tribute to Donald McKayle'

By Marianne Messina

OFTEN WHEN viewed from the perspective of the individual, death seems to conquer all, while in the larger picture, life has a way of springing up from the ashes. This was the abiding vision of Ballet San Jose Silicon Valley's "Tribute to Donald McKayle."

Life pushed through in House of Tears, a split-stage montage of torture, romance and military abduction that only ended when the grieving Argentine women brought down Juan Domingo Perón's military junta (danced as smoothly as the inexorable second hand of a clock). The next dance, Death and Eros, focused on how a fisherman's tears of compassion turned the Skeleton Woman he'd pulled out of the sea into flesh and blood. In a nice synergy of costume and lighting, Beth Ann Namey 's sunken Skeleton Woman came across as a beautifully eerie bone frame, unsupported, water-tumbled, and loose. James Strong and Sayaka Tai as the fisherman and the Woman Reborn danced erotically amid flames (projected onto a scrim before them) that suggested both lust and tension. At first the dancers' chaotic pairing reflected the tug and pull of forces: lust, love, the woman's deathly roots, the living man. "She reaches into the fisherman and beats his heart like a drum," McKayle explained in his predance introduction. As the veil of flames vanished, the couples' illuminated moves became more fluid and synchronized, complementing each other, as if to say that man's internal forces--life, love, death, lust--find balance through the reflective processes of synchrony and organization.

Life--or joie de vivre--triumphed again in District Storyville. Set in early-20th-century New Orleans' red light district, the dancers mimed horn players, sweeping high and low in a jig that situated the music in their bodies, not just their embouchures. The playbill note for District Storyville's 1962 premiere read, "out to the graveyard the brass bands mourned death . . . coming back, they screamed life." Storyville celebrates this insistent demiurge from scene 1, in which a brass band makes this funereal transition before the wide-eyed admiration of "Little Lou" (Armstrong). Shingo Yoshimoto danced the role with charming exuberance and some agile slapstick. Although the bordello vixens were perhaps less voluptuous and vampish than their 1962 counterparts, the San Jose production recreated many of Storyville's original elements, from the bordello's beaded entranceway to the suggestive sash crisscrossing Madame Countess's (Jenni Chiarelli) crotch. Finally, valise-toting musicians and prostitutes filed off downstage to mark the 1917 demise of Storyville, while upstage young Louis wildly blasted his air trumpet, suggesting that he carried Storyville's lusty pulse forward through the generations.
---
Send a letter to the editor about this story to letters@metronews.com.
---
[ Silicon Valley | Metroactive Home | Archives ]