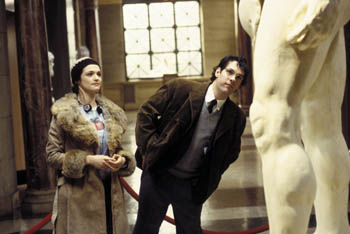 Statue of Limitations: Rachel Weisz and Paul Rudd contemplate an offending fig leaf in Neil LaBute's art-debate movie, 'The Shape of Things.'

Adam and Evil

Neil LaBute's 'The Shape of Things' is a shocker about life at a backward college

By Richard von Busack

THERE'S A SMALL, square college somewhere in the conservative part of Southern California. On its quad stands a not very good campus art museum. The Shape of Things begins when a radical young artist named Evelyn (Rachel Weisz) picks up a drab, virginal security guard named Adam (Paul Rudd, in a part made for Jason Biggs). The Adam and Eve(lyn) reference is nailed down when the girl prepares to vandalize the plaster fig leaf stuck on a colossal marble statue in the museum--a later addition by the curators, worried about the penis underneath. The custard-spined Adam abets Evelyn's plan, succumbing to her temptation. Evelyn and Adam's relationship deepens despite the uneasiness of Adam's friends--the cute but not very bright Jenny (Gretchen Mol as Sandra Dee) and her patronizing fiance, Adam's old pal Philip (Frederick Weller). When this Eve turns out to be more like Lilith, Adam has no place to turn.

In this story, which probes an artist's ruthless commitment to truth, to discover the "shape of things," we see evidence of a quaint sense of disgust in director/writer Neil LaBute, who based the film on his own play. Take Evelyn and Adam's debate about performance art that involves menstrual-blood painting--who cares, really? That's going to continue as long as there's a man left alive to be grossed out about it. At least it's not Norman Rockwell, boys. Mostly, The Shape of Things is a battle between men and women played out on a field of ideological melodrama. This male-female argument could also be understood as a dialogue between the humanitarian and the artist in LaBute--the part of that is a scalpel and the part that is a bandage.

LaBute has crafted a punch line shocking enough for a Roald Dahl story, and the atmosphere of intellectual stupor and prudery at Mercy College is savagely depicted. Moreover, Weisz does considerable acting here, utterly emptying herself of soul for the sake of the film, taking on a vacant drawl and sporting irritatingly boutiquey emblems of Mao and Che. Her Evelyn is a recognizable destructive type: the revolutionary who has forgotten that a revolution is more than an ego trip.

At her gallery exhibit, she's lined the walls with a quote from the Eurasian novelist Han Suyin: "Moralists have no place in an art gallery." In huge black on red widescreen letters, the motto is visually deafening. Whether LaBute buys this principle or not, he always moralizes in his films. His characters are always too pusillanimous to put up a fight against undisguised evil; they're as unwary as the people in Bible tracts. And why does no one go to Evelyn's reception? (Despite a nightmare performance piece guaranteed to stir up the curious, Evelyn's after-show reception is as unattended as that mournerless funeral we cynics are always being threatened with.) LaBute's heart isn't in an ice-cold woman like Evelyn, and the wrongness of what she does is plainly a lesson to us. You can't serve both God and Mamet, so to speak, and ultimately LaBute's softening at the end waters down a fierce finale that might have been unforgettable.
---
The Shape of Things (R; 97 min.), directed and written by Neil LaBute, photographed by James L. Carter and starring Rachel Weisz and Paul Rudd, opens Friday at Camera One in San Jose.
---
---
Send a letter to the editor about this story to letters@metronews.com.
---
[ Silicon Valley | Metroactive Home | Archives ]