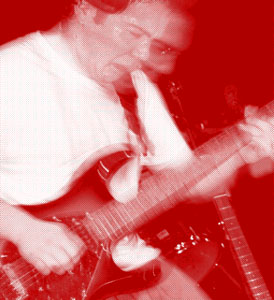 Photograph by George Sakkestad

Voodoo Child

Corby Yates says bye-bye-bye to the teen prodigy/ precocious blues guitarist tag and gets amped for world domination

By Beth Peerless

THE SPIRIT that moves blues/rock guitarist Corby Yates has not diminished as he turns 21. Instead, the heat is turned up a notch as summer approaches, and he continues to shred his way closer to his childhood dream of being the "best guitar player in the world."

The one-time teen prodigy chose two of the most recognizable guitar geniuses to base his sound on, and blew audiences away when he appeared on local stages seven years ago, seemingly channeling through his small frame the fire-and-brimstone playing of Jimi Hendrix and Stevie Ray Vaughan.

Yates is clearly much more than a capable student of classic blues guitar with his first CD out. Anyone who has seen him perform at clubs like JJ's Blues or Moe's Alley has likely experienced the otherworldy quality weaving through the screaming notes of his guitar solos. In moments when Yates appears possessed by a supernatural force, he unleashes that consciousness-bending quality that transports audiences, the audio nitrous that fans of Carlos Santana and Jerry Garcia crave, the ether that allows a young musician to be crowned a future guitar god like a young Tibetan lama.

People came like flocks of the faithful to watch him gyrate wildly with his guitar, producing near dead-on re-creations of the guitar heroes' songs. Today, his fans include not only baby boomers who long to recapture their youthful concert experiences but also young adults his age who crowd the stage in order to soak up a piece of history with a modern twist.

"Jimi and Stevie were my favorites from when I was a little boy," Yates says while seated in an easy chair in the living room of the La Selva Beach home he shares with his father, Jim, who also is the bass player in the power trio Yates fronts.

"Now I love [jazz saxophonist] John Coltrane, the music on albums like Meditations and Intersteller Space, and all that stuff. I like it because it's just crazy. I'd never heard anything like it. And John, he could just play so fast, but it's not all 'di doo ti doo.' It's like 'BOOM, BOOM.' Every note is, like, slamming."

Jazz pianist Thelonious Monk is also on the list of influences these days, his "cool, dirty vibe" a quality that draws the developing musician to the bebop innovator. "I just love Monk," he says. "He makes you want to play, you know?" He also cites Buddy Guy, Albert King, John Scofield and Robin Trower as guitarists he's studied.

Finding the inspiration to play never seemed a problem for the youngster while growing up in the mountain community of Shaver Lake, north of Fresno in the foothills of the Sierra Nevada. Born in Lake Tahoe, he always lived in an area where he was free to play the electric guitar as much and as loudly as he wanted.

His parents encouraged him to explore music from when he was a toddler, especially his father, who taught him his first chords and the blues scale when he was 6. The two of them would jam, trading off rhythm and lead roles.

Near the entrance inside the La Selva Beach house sits a photograph of a very small Corby, electric guitar strapped around his shoulders. He's standing in the forested backyard of his family's Lake Tahoe home, a big grin on his face. By the time he was in sixth grade, the die was cast.

"I knew I wanted to do it for my life," he says. "So then we started practicing instead of just playing together. We started to work on getting four sets' worth of songs. We got that accomplished by the time I was 14. It took us about three years. When we were ready, we'd go out and perform."

While his father was a major influence in his development as a young guitar whiz, Corby also took lessons for six months with Bob Bowden while in the sixth grade. He was the one to turn him on to Vaughan's Hendrix-influenced music, and he also taught him songs and licks by another of the major blues/rock stars, Johnny Winter.

In elementary school, Corby maintained a high grade-point average and explored various activities, but once he set his sights on becoming a guitarist like his idols, Corby made time for little else.

Even though he finished high school with average grades, he says he had lost interest in school studies and only remained in school for the social interaction. Otherwise, he was practicing and gigging and perfecting his performance persona by watching videos of his heroes and imitating their mannerisms.

"I think, in a way, it's like feeling the spirit of that player," he said about his ability to express emotion so intensely when he plays. "Once you concentrate on perfecting a certain player's style, you can tell what they're doing with less and less having to sit down and figure it out. I get into that, like what their whole vibe is when they play."

His success at channeling Hendrix is documented with a 1998 win of Seattle's Jimi Hendrix Electric Guitar Competition in the 17-and-under category. He won a rare prototype Fender Hendrix guitar and the Voodoo Chile award from Al Hendrix, Jimi's father.

Although he received a $25,000 scholarship to study music, instead he chooses to develop his talent the way he always has, by listening and performing. Another aspect of the award he cherishes most is the memory of jamming with Jimi's former Band of Gypsy's band mates Buddy Miles and Billy Cox.

His father said that Corby was once viewed as a novelty, but that's not the case now. His "mature" style has many elements beyond the Hendrix vibe--a funky groove, a turntablist-style scratching on his Ernie Ball Music Man Silhouette guitar, seasoned vocals and original songs co-written with his father. His debut self-titled album came out over a year ago, recorded with drummer Andy Doerschuk, who continues to perform with the father/son team today.

Despite having so much attention heaped upon him as he's grown up on the stage, the young Yates is completely cool and unaffected. Having his father with him has provided a balance, and in actuality, Jim says, they take care of each other. His mother is still in the Shaver Lake area, divorced from Jim, but still very supportive of their musical endeavors. Now closer to gigs and live concert opportunities, Corby is set to blow Marshall stacks worldwide.
---
Metro Fountain Blues Festival
San Jose State University, San Jose
Saturday, May 11, 1-8pm; Free

The 22nd year of free blues near the SJSU fountain features Tommy Castro, Magic Slim and The Teardrops, Corby Yates (pictured), E.C. Scott and Smoke, Mighty Mo Rodgers and The Cathy Lemons-Johnny Ace Band
---
---
Send a letter to the editor about this story .
---
[ Silicon Valley | Metroactive Home | Archives ]