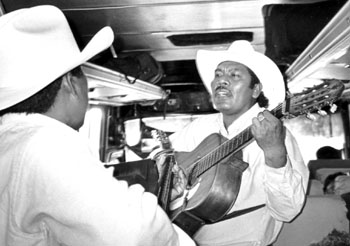 Gangsta Polka: Gabriel Villanueva sings his songs aboard buses.

Livin' La Vida Coca

Elijah Wald's new book uncovers the 'narcocorridos'--folksongs celebrating Mexico's fabled drug runners

By Jesse "Chuy" Varela

IN 1972, LOS TIGRES del Norte scored their first big hit with a corrido (folk ballad) titled "Contrabando y Traicion" ("Smuggling and Betrayal"). Little did the San Jose-based Hernandez brothers--Jorge, Raul, Hernan--know that the tune chronicling the drug-running saga of Emilio Varela and Camelia la Tejana would make their careers and create a new genre of Mexican regional pop music called narcocorridos.

Today, the underground world that these infamous Mexican drug-running songs reflect is a controversial matter. Critics say that, much like gangsta rap, they glorify a negative lifestyle of drug dealing and gangsterism that is counterproductive. But as Elijah Wald explains in his book Narcocorrido: A Journey Into the Music of Drugs, Guns and Guerrillas (Rayo/Harper Collins), these songs are a fascinating continuance of the corrido tradition that arose during the Mexican Revolution of 1910.

"What got me going on this book was being in Chiapas and finding out how much this music still meant to people," says Wald from his Cambridge, Mass., home. "It's telling their story, and that's exciting to them. There isn't a people in the world who have a better sense of their history than Mexicans. Having a corrido puts you immediately in the same category as [Pancho] Villa and [Emiliano] Zapata. For the Zapatistas, that's very important. But it's important in a similar way to the drug traffickers. A corrido says you really did something."

Wald, an award-winning journalist, sheds light on this phenomenon infatuating young Mexicans.

"I don't know why the revival of the corrido started in the 1970s, but crime is always a good story. The Tigres had the right song and with one hit turned it into a genre. That began dying down in the 1980s, and I think it was Chalino [Sanchez]--and what happened after Chalino--that really turned things around by putting the focus on Los Angeles."

"Two things happened in L.A.," elaborates Wald, referring to the simultaneous explosion of corridos and gangsta rap. "Both are very much driven by the words and coming out of the same kind of neighborhoods, but [corridos] was completely Mexican. Almost all the young guys were listening to rap before they turned to corridos. This was something that was just as tough but theirs."

The book is a travelogue featuring interviews with principal songwriters of these contraband folk ballads that traverse Mexico and the American Southwest. We get introduced to pivotal figures like Chalino Sanchez, the slain Sinaloan singer/songwriter; the Rivera family--Lupillo, Jenni, Juan--from Long Beach; Mario Quintero of Los Tucanes de Tijuana; the scribes for Los Tigres--Jesse Armenta and Teodoro Bello; and many others. With an accompanying CD--Corridos Y Narcocorridos (Fonovisa)--one gets a thumbnail sketch of the rich wit, prose and metaphor that these corrido composers create.

Locally, some Spanish-language radio stations, like the now-defunct "Z," fueled this trend in the 1990s by playing popular hits like "Mis Tres Animales" by Los Tucanes de Tijuana. It was Los Tucanes who earned the wrath of San Francisco Chronicle writer Robert Collier, who denounced them in the mid-'90s after a show in Salinas as somehow being complicit with the drug trade for singing narcocorridos. With the violence associated with the trade, the narco-songs drew condemnation and boycott from politicians and church groups.

"There was an article in the L.A. Times recently," continues Wald, "that said that the narcocorrido is dead and how all the narcocorrido guys are abandoning it because it's become repetitive and a disgrace. It said that Los Tigres, who were performing that night, used to do that but not anymore. You think Los Tigres can go onstage and not sing 'Camelia La Tejana'? Like hell they're not going to sing those songs!

Whether you agree, or disagree, the Mexican folk ballad is alive and well and fomenting a new cultural identity that shows the power of the new demographic.

"Going back to the pachuco days, being a Chicano urban outlaw always followed black models, but after Chalino, Lupillo Rivera and all the rest, it became, 'I don't have to act like anybody else to be a badass.'"
---
Elijah Wald appears on May 17 at 7pm at the Mexican Heritage Plaza, 1700 Alum Rock Ave., San Jose. (408.928.5500 or www.elijahwald.com)
---
---
Send a letter to the editor about this story .
---
[ Silicon Valley | Metroactive Home | Archives ]