David Lowery of Camper Van Beethoven fame doesn't just talk about his generation, he hates it on Cracker's 'The Golden Age'
By Gina Arnold
CRACKER LEAD SINGER and songwriter David Lowery has made a career out of shocking the musical bourgeoisie. From the day he started Camper Van Beethoven, the UC-Santa Cruz band whose first single, 1983's "Take the Skinheads Bowling," made fun of posey punkers, through 1992's sarcastic "Teen Angst," which told grunge-mad audiences that "what the world need now is a new folksinger/like I need a hole in my head," his self-imposed musical mission has been to poke holes in the fabric of rock & roll's pretensions.
You'd think Lowery, who has now fielded two successful rock bands across two decades, would have stopped being annoyed by trendy posers, but no. Cracker's new album, The Golden Age (Virgin), sports yet another irony-laden, antiwhiner anthem, this one titled "I Hate My Generation."
On the song, Lowery sings, "I hate my generation, and I offer no apologies," and although it is clearly another example of his warped sense of humor, it is also easily misinterpreted.
"Yeah," sighs Lowery resignedly. "At the time I wrote it, I was really tired of hearing these angry, cynical, self-loathing songs, so I wrote this song that's perceived by some people as an angry, cynical, self-loathing song."
But then, he adds, that's kind of the story of his life. Clarity is not exactly Lowery's forte; he's never taken the easy route to rock stardom. Along with peers in bands like Hüsker Dü and R.E.M., Lowery was one of the most successful of the first wave of indie-rockers, and the low
key, low-budget, low-maintenance ethic that drove many bands of that era has been Lowery's guiding spirit ever since.
A Southern California native, Lowery moved to Santa Cruz in 1980 after half a semester at San Francisco State University. He wound up majoring in music and Spanish and working part-time at a farm in Watsonville, as well as leading Camper Van Beethoven, a five-piece outfit that melded an immense number of disparate sources--folk music, klezmer music, polka, punk--into an unlikely blend of poppy and tuneful underground rock & roll.
At the time, Santa Cruz wouldn't have seemed like a good place to start a band. But Lowery always preferred it to the trendier, more club-ridden environs of San Francisco.
"There were always places to play; they just weren't official," he recalls now, speaking from a hotel room in Washington, D.C., where Cracker is now currently on tour. "People used to do shows at the arts center for a while, and there was a gay bar on the east side of town that had 'punk-rock night' on Sundays.
"And we went up to San Francisco and played shows; we went to Sacramento, Davis, Berkeley, Fresno. ... But we preferred Santa Cruz, because San Francisco was so much more trendy--only we didn't call it trendy. I forget what word we used at the time."
And what was--or rather is--wrong with trendy? "Well," says Lowery, "it's elitist, you know? Like a lot of rock music. ... pretentiousness has it place, but ... Santa Cruz bands were sort of a reaction to that. There was this thing in Santa Cruz where bands were superwacky and weird just for the sake of being weird and stuff. It wasn't like we were trying to play mainstream music, but we weren't trying to play underground music either. We were trying to make up our own pop music--pop music that made sense to us, and our friends."
Thanks to the increasing popularity of alternative rock, Camper Van Beethoven succeeded beyond its wildest dreams. But in 1990, four albums and a contract with Virgin Records later, the group broke up acrimoniously. Instead of dwelling on his beautiful youth or beginning a maudlin solo career, like so many others have, Lowery immediately reinvented himself, moving to Richmond, Va., with his girlfriend and starting a new band called Cracker--a band that, Lowery says now, made a conscious attempt not to be underground or alternative.
"We went, 'We like rock music; rock music is good.' That was our first premise: 'It's okay to do regular rock music.' At the time, doing roots-rock was slightly controversial," Lowery recalls. "And what I find really bizarre now is, if you think of the mainstream as the right and the underground as the left, we [Cracker] started out consciously moving right, and now we're way to the left of the stuff on alternative radio."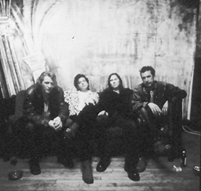 Andre Lansel
Big Dippers: David Lowery and Camper van Beethoven in the old days.
CRACKER'S THIRD album, The Golden Age, boasts a number of slow ballads, including the title cut, "Big Dipper" and "I Can't Forget You." Lyrically, it's not as young as most of the modern-rock bands you hear on the radio, nor is it as--well, trendy.
Although it still features Lowery's trademark flat, American surfer intonation and the occasional pretty countryish slide-guitar part by guitarist Johnny Hott, musically, Cracker is moving away from both country and novelty songs and moving toward a spacier and more processed sound.
"The thing with both Camper and Cracker," Lowery says, "is that we're not trying to do it authentically. We would take things and get it wrong, and then it became something new, and then it was our own, rather than somebody else's thing [we were] imitating."
Lowery thinks that "it was really good for me to move to Virginia, because I got to move to a place where I really didn't know anybody, and I kind of got to start over with people, where nobody had any preconceptions of me."
Richmond, he adds, "has this sensible sort of music scene. It's a small scene, but there isn't any infighting, and everybody is kind of good. So I made all these great friends, like the guys in Sparklehorse, and the guys in House of Freaks and Gutterball, and Bob Rube from the Silos."
Another friend Cracker has made over the years is Joan Osborne. She stopped by to lay tracks down on the song "Nothing to Believe In" on the new record, about two weeks before her single "One of Us" took off on the charts.
"Golden Age" has some lovely and romantic moments, like Lowery's beautiful "I Can't Forget You" and the heartbreaking title cut, a sad look at "the unbearable days I threw away/that I should have savored." It also has that typically sharp Camperish edge that Lowery just can't shake. "Useless Stuff" is about whining rock stars. "Nothing to Believe In" is a statement of complete apathy, while "How Can I Live Without You (If It Means I Have to Get a Job)" may well be the bluntest diss of overindulged rocker boys ever written.
And "I Hate My Generation"? "Well, to me, that's really liberating and really happy, and kind of funny," Lowery says. "I just hope it doesn't get misinterpreted, because it was just meant as total overstatement.
"Sometimes, lately, I've thought, 'God, is this a song that in five years, I'm going to regret putting out on a record?' Because everybody's taking the whole record and judging it by that song. But you know, what the fuck, I asked for it!"
At the moment, "I Hate My Generation" looks like it may be Cracker's third hit, after "Teen Angst" and 1994's "Low" (from Kerosene Hat), making Lowery, along with R.E.M., one of the most successful graduates of the indie-rock class of '83. Certainly, it says something profound about Cracker that it was able to discuss slots on both Lollapalooza and the HORDE tour, before turning down both.
Instead, Cracker has just begun a six-week tour of Canada and the United States (including the Fillmore on May 11). "We always do all right just going out and doing our own shows," Lowery says. "We can play for like 2,000 or 1,500 people on our own, and that's great; I love that size room. I love playing the Fillmore; you can make a good living doing clubs that size, and I'd be happy doing that for the next 10 years."
Another thing Lowery's happy doing is producing smaller bands. When he was in Camper Van Beethoven, he ran a record label called Pitch a Tent. Nowadays, he operates a recording studio in Richmond and plays in and produces numerous smaller bands, including Nashville's Sparklehorse, Germany's FNM and a singer-songwriter called Lauren Hoffman.
In short, for someone who claims to hate his generation, Lowery sounds incredibly happy these days--a fact that may be the key to his continuing success. Lowery says he hasn't been back to Northern California in quite a while, but he still recalls Santa Cruz fondly.
The Golden Age even contains a song that's set there, called "Big Dipper" after the roller coaster, about a local who smokes cigarettes, drinks carrot juice and dreads the approach of June because it means hordes of tourists coming to ride the Big Dipper.
"People keep telling me it's really called 'the Giant Dipper,' " Lowery admits, "But I remember it as 'Big Dipper,' which makes a better song title."
---
Cracker and Sparklehorse play Saturday (May 11) at 9pm at the Fillmore, 1805 Geary St., San Francisco. Tickets are $19.50, all ages. (BASS)

---
[ Metro | Metroactive Central | Archives ]