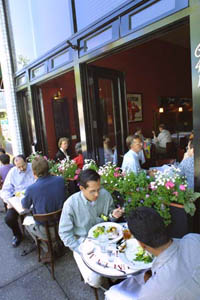 Vitality Plus: Peninsula hot spot for French bistro fare exudes energy.

Photograph by Goerge Sakkestad





Street Vida

Bistro cuisine hits Menlo's emerging food mecca

By Christina Waters

THE JOIE DE VIVRE threatens to expand the very walls of Vida, Menlo Park's current bistro of choice. And that was just what we came in search of last weekend, at the urging of friends who've made Vida their second home. Under the eye of energetic proprietor Ali Elsafy, Vida exudes atmosphere, from its smart bar and procession of enormous cylindrical chandeliers--very Brasilia 1965--to its blackboard menu of wines and specials. Mirrors line the long room, just like they do in Left Bank brasseries, so that there's never a bad seat in the house, and the sheer vitality of the watermelon-red walls is sensuously infectious.

Like everybody else, we wanted bistro fare spun through Bay Area culinary consciousness, and to fuel that mission we ordered a bottle of Tobin James Deep Purple Zinfandel 1998 ($29). Our waiter--charming, witty and knowledgeable about cuisine as well as serving diplomacy--lacked the surliness needed to be truly Parisian. But we forgave him. Especially when our starters arrived. (Note that like every popular peninsula dining room, Vida's kitchen can be taxed to the max on weekends--so nurse that cocktail and relax if there's a brief wait between courses.) Sharon's Caesar salad ($7) and Peter's potato leek potage du jour ($6) were impeccably authentic. The delicate, satiny soup quenched that Euro craving and the salad--composed of hearts of Romaine and topped with reggiano bread crumbs rather than croutons--was just an anchovy shy of perfection. Through the enormous French windows we watched the moon rise in the indigo sky just as I finished my starter of roasted quail ($8). I love the way the warm game wilts its bed of greens and poached pears, which had been drizzled with an excellent sherry vinaigrette. Vida's chalkboard motto is "regional homey French cuisine," and so far it had lived up to that philosophy.

Our main dishes showed off the kitchen's California spin on simple French cookery. Peter was transported by a plate of boudin noir sausage ($12.50), topped with sautéed pears and sided with green beans and broccoli. Rich, earthy, direct--it was, in his world-traveled opinion, as good as he'd had anywhere. Jack's grilled swordfish ($19), cut thin like an entrecote, was delicious, and it was joined by a mango salsa and a generous pool of Tuscan-style white beans--a culinary mixed metaphor that was a huge success. Sharon's plat du jour, which she dubbed "paella a la française," added tomato and green peppers to its otherwise authentic and moist saffron-perfumed rice, mussels, sausage and chicken ($19). Every bite disappeared. My coq au vin ($18) was a lovely creation of fine mashed potatoes and slow-simmered chicken leg and thigh. The sauce was laced, alas not with wine and mushrooms, but with tomato, peas and minced carrots, all reasonable but certainly not traditional choices. I missed the assertive depth of red wine--lots of coq, little vin. Quel dommage. However, with ambience so satisfying and a room so utterly confidant, we weren't complaining.

Along with decaf cappuccinos, we all split two of the house desserts, a tarte tatin and a peach rhubarb cobbler with crème fraîche ($6 each). Four forks moved deftly, managing to score bites of the luscious desserts through a forest of glasses that had sprung up in the center of our white-linened table. The warm tarte was deeply satisfying, all but levitating with the robust presence of the intensely flavored apples. The peach rhubarb cobbler proved to be less of a cobbler than a thin layer of fruit topped with addictively tangy crème fraiche. There is almost nothing on this planet that cannot be improved by a bit of crème fraîche, and we all decided that the perfect dessert would have been the superior tarte tatin plus crème fraîche, instead of its original scoop of vanilla ice cream. At Menlo Park's appealing Vida, fine bistro dishes and welcoming prices are enfolded into a vivacious crowd of real people.
---
Vida
Address: 641 Santa Cruz Ave., Menlo Park
Phone: 650.462.1686
Hours: Lunch 11:30am-2pm Tue-Sun; dinner 5:30-10pm Tue-Sun; brunch 9:30am3pm Sat-Sun
Cuisine: California bistro; full bar
Entrees: $12.50-$23.50
---
[ San Jose | Metroactive Central | Archives ]