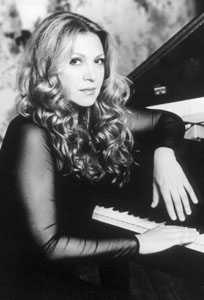 Everything She Loves

Chuy Varela talks to Latin-jazz sensation Eliane Elias

By Chuy Varela





FOR LATIN-JAZZ LOVERS, the recent Ken Burns Jazz series on PBS did little to show the diverse cross-pollination that embodies this vibrant musical hybrid. While Burns casually mentioned the Afro-Cuban synthesis between Dizzy Gillespie and Chano Pozo, as well as between Stan Getz and Antonio Carlos Jobim, he missed the boat by not digging deeper into this graft and the important Latino contribution to jazz.

Now, Spanish film maker Fernando Trueba presents an invigorating portrait of the international Latin jazz scene with his outstanding film Calle 54. What's refreshing is that Calle 54 doesn't deal with the past but with the present. With jazz fusionists like Paquito D'Rivera, Chano Dominguez, Jerry Gonzalez & the Fort Apache Band, Michel Camilo, Chico O'Farrill, Gato Barbieri, Chucho & Bebo Valdes, Tito Puente, Puntilla, Cachao and pianist Eliane Elias, it shows what a multidimensional music Latin jazz is.

"Fernando Trueba is a phenomenal director," says Elias, who performs May 15 in San Jose and May 16 in Santa Cruz, from her home in New York City.

"When he proposed the movie to me, he said' 'There's a tune I want you to record.' When somebody says that I just roll my eyes." The song was "Samba Triste."

Elias says she told Trueba no. "So he sent me some recordings to check out. I was taken by it immediately. I'm very particular about what I play. It's very personal. If I don't feel it, I won't do it! But giving me a tune that I went crazy about showed tremendous sensibility."

Eliane Elias transforms the piece into something all her own, with a piano style that encompasses Brazilian roots, classical and a diverse range of jazz influences.

Born in Sao Paulo, she was a child prodigy who was transcribing Bud Powell and Art Tatum solos in her teens as well as teaching master classes in the city's prestigious Free Center of Music Apprenticeship. The daughter of a classical pianist, she studied with Amilton Godoy, leader of the Zimbo Trio. At age 17, she was performing with Toquinho and Vinicius De Moraes.

In 1981, Elias headed for New York City and became a founding member of the group Steps Ahead. On her debut album, Amanda' with Randy Brecker, Elias clearly showed she was trying to enrich jazz with her cultural heritage. To date, it's been the thread of her more than a dozen albums with Blue Note.

A Grammy nomination in the Best Jazz Solo Performance category for her 1995 release Solos and Duets (a duet with Herbie Hancock) gave credence to a gifted musical personality also blessed with a beautiful voice.

"I still don't and never will consider myself a singer," she exclaims. "I started singing because I would write things that I found instruments couldn't phrase the way I phrased them. So I added vocalese here and there. In 1989, when I recorded Eliane Sings Jobim, I went to show Eddie Gomez and Jack De Johnette a tune and sang the song. They were so taken by it they made me do two versions on the record. An instrumental [version] and one I sang because they loved it!"

Currently, Elias is on leave from her teaching post at the Manhattan School of Music and preparing a new album. Her last--Impulsive (Da Capo Records)--was an orchestral masterpiece featuring arrangements of her music by Bob Brookmeyer.

On this upcoming effort she's returning to her Brazilian roots with a brassier more percussive sound. On the jazz side, she is embarking on an exploration of the quintet setting.

For her shows in this area, she will bring out a quintet that includes Rick Margitza (sax), David Stryker (guitar), Marc Johnson (bass) and Satoshi Takaishi drums. "I'm exploring the quintet in different ways. At moments, I play alone. There are trio moments with me singing without playing piano. Throughout, I explore a variety of combinations that allow me to bring the Brazilian element out as well the straight-ahead jazz element."
---
The Eliane Elias Quintet performs as part of the San Jose Jazz Society Jazz Piano Series May 15 at 7:30 and 9:30pm at Club Ibex, 55 S. Market St., San Jose. Tickets are $17 adv/$19 dr. (408.288.7557)

Also: May 16 at 7 and 9pm at Kuumbwa Jazz Center, 320-2 Cedar St., Santa Cruz. Tickets are $18/adv/$20 dr. (831.427.5100)
---
[ Santa Cruz | Metroactive Central | Archives ]