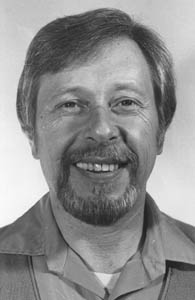 Magic Memories: Musicians throughout the valley still remember Herb Patnoe.





Jazz Artery

Herb Patnoe, musical pipeline, is honored at a jazz festival

By Marianne Messina

'I WAS 8 YEARS OLD when my dad died," says Geoff Patnoe. "I still get stopped by former students of his, [who] were touched at some level in their life by my dad." Geoff's father was Herb "Doc" Patnoe, a trumpeter and jazz educator who died suddenly in 1981, leaving a young family without its father and a vast Bay Area jazz organism without its heart.

Twenty years later, when Patnoe's former students talk about "the Patnoe years," their voices grow animated. Saxman Tim Wallace has played with Al Jarreau, Bill Withers and Leon Russell, yet his favorite memory is the time he and other Patnoe all-stars, like trombonist Steve Tyler and trumpeter Steve Campos, competed for De Anza College against L.A. Valley College. When De Anza won, according to Wallace, the Valley College music director "was pissed." Wallace explains: "[For] the other guys, it was kind of like a football environment; they were into winning--Herb knew that music was way more important than this other stuff."

From 1968 to 1981, Doc Patnoe started and directed a system of mutually supportive jazz programs at De Anza College and throughout the community. His well-known brainchild, the Daddios big band, welcomed professionals, college students and even high school students into what became a Bay Area jazz performance hub. One of the Daddios' prodigious high school players was Dan Gordon, the man behind the famous Gordon-Biersch garlic fries and manager of the company's bottling plant and brewery. As part of this year's Herb Patnoe Jazz Festival, Gordon joins a one-time convocation of "All-Stars" that include, Campos, Wallace, Tyler (Daddios' current leader), Fasmania trumpeter Louis Fasman and at least 10 others from all over the Bay Area and beyond.

Doc Patnoe's wife of 13 years, Shelley Patnoe, didn't realize the full power of her husband's network until she accompanied him to a jazz competition in L.A. "He was a judge and Henry Mancini was a judge, so I got to sit next to Henry Mancini. And I'm like, 'Woah, this is a new world!'" Shelley loves the Herb Patnoe Jazz Festival for what it gives her youngest children: glimpses of a man they never got to see through adult eyes. "What's been really great [is] they always talk about his personality," son Geoff says proudly. "He had one of those magnetic personalities; he was kind and cared about his students as individuals. That's really warming to hear."
---
Patnoe Festival: Thursday (May 10) at 7pm, Daddios plus the Herb Patnoe All-Star Band at Gordon-Biersch, 33 E. San Fernando St., San Jose; no cover, but donations will be accepted for the Herb Patnoe Scholarships. Friday (May 11) at 8:30am-5pm, jazz competitions at the A "Art" Quad, De Anza College, Cupertino Campus, featuring more than 400 high school and college students in jazz combos, big bands, vocal ensembles, etc. Friday (May 11) at 7:30pm, Vocal Flight, with Claudia Villela, plays at the De Anza Choral Hall. Call 408.864.8879 for details.
---
[ Santa Cruz | Metroactive Central | Archives ]