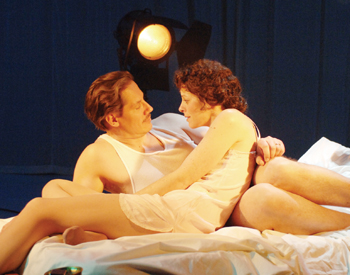 Photograph by Kevin Berne

High-Brow Love: Hannah Arendt (Stacy Ross) and Martin Heidegger (Robert Krakovski) do more than just philosophize in 'Hannah and Martin.'

Casualties of Word War

The head and the heart try to meet in SJ Rep's 'Hannah and Martin'

By Marianne Messina

IN SAN JOSE Repertory Theatre's production of Hannah and Martin, actress Stacy Ross makes the 20th-century thinker Hannah Arendt a pleasure to know. Feisty, but not cantankerous, strong but not domineering, quirky, sharp, mischievously wry—in short, fascinating—Ross' Arendt does much to carry the play. The story follows the relationship between the Jewish Arendt and her mentor/lover Martin Heidegger, who later joined the Nazi party.

The play grapples with intriguing questions—Martin has high regard for questions—without totally capturing the heart. For example, the bedroom scene, which should really give us some psychic underbelly to hold on to, is rendered in shorthand, with chain smoking and intellectual discourse. And Robert Krakovski's Martin is a bit inaccessible (or maybe that's the point). On the other hand, Reese Madigan plays a truly enjoyable Gunther Stern, Hannah's irreverent college friend and eventually aproned house-husband.

At times, the polemics are fascinating and the ethical explorations gripping as director David Schweizer's choices wring layers of implication out of the great debates. Schweizer went with a stage design (Alexander V. Nichols) that operates on a largely symbolic level. A rainy-day living room is a set of sparse furnishings flanked by two large window encasements. Though a dreamy touch of rain cascades down the windowpanes, the windows are representative—not set in a wall—and their clever sprinkler system is left visible.

In fact, the whole play is set so that the cozy places of a house are acorned into an encroaching perimeter of stage machinery—metallic scaffolding, high warehouse step ladders, a fracas of very visible lighting cans overhead and roving spotlight cans with production crew attached. As stagehands draw high-hung curtains with no regard to the clatter, the friction between the play's inner and outer worlds salutes Martin's thoughts on anxiety: "Anxiety is necessary ... there's anxiety or there's numbness." Also, this wearing of the theatrical skeleton on the outside reminds us of the play's death, so to speak. "That's where authenticity lies," Martin says, "to know that you will die."

His "authentic person" embraces the anxiety (which is compounded in the play by glimpses of the Nuremberg trials set in the skeletal scaffolding). In a postwar confrontation with Martin, Hannah tries to determine how the Martin she knew could have been the complicit Nazi sympathizer she has heard rumored. Martin admits to espousing "intellectual violence, a violence against rubbish." He claims only to have shared the party's "desire to see things at their finest, their sharpest." He offers us the picture of a participant who kept his focus on the party's "higher principles," deselecting the rest, which he calls a "deaf and dumb machine." And in deselecting, Heidegger betrays his own ideal to "embrace anxiety."

Do we fault him for this? The cunning Schweizer/Nichols staging says not so fast—we who must deselect the ugly scaffolding and intrusive stagehands to focus on the more interesting parlor conversations, the stimulating polemics over the table. The desire to deselect the unpretty parts (like, say, numbers of civilian casualties in an offshore war) is almost irresistible, and Schweizer's staging is a most ingenious device for forcing this realization. Yet like the play's Martin, it favors the conceptual and leaves the production chilled to its bone. While Hannah's charisma can make the Hannah/Martin relationship feel vital, it can't infuse it with chemistry or warmth. In contrast, the wonderful kitchen scene between Hannah and Gunther offers more than just comic relief. It is possible that the steely pall over this production is intentional, in which case finding ourselves fully satisfied by the intellectually fine and sharp caroming of ideas might be the most chilling realization of all.
---
Hannah and Martin, a San Jose Repertory Theatre production, plays Tuesday-Friday at 8pm, Saturday at 3 and 8pm and Sunday at 2 and 7pm (no 7pm show on May 29) through May 29 at the Rep. 101 Paseo de San Antonio, San Jose. Tickets are $22-$52. (408.367.7255)
---
---
Send a letter to the editor about this story to letters@metronews.com.
---
[ Silicon Valley | Metroactive Home | Archives ]