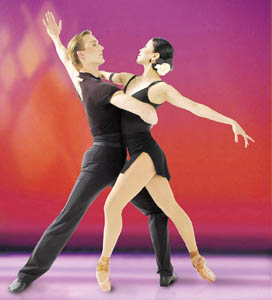 Photograph by John Gerbetz

Tango Team: Karen Gabay and James Strong paired off in Dennis Nahat's 'Go Daddy O!"

Spring Steps

Over the weekend, Ballet San Jose Silicon Valley offered glimpses of a year well danced

By Marianne Messina

ARTISTIC DIRECTOR Dennis Nahat introduced Ballet San Jose Silicon Valley's final program, "Swingin' Into Spring," on a note of endings by referring to the Dancer Transition Fund and reminding everyone that dancers have the same short-lived, arduous careers as pro athletes but without the megasalaries. The appeal seemed to release the phantom of shriveling arts funding into a program filled with salutes to the company's achievements and echoes of the season's productions.

Hallelujah Junction, the vibrant opener piece, began with the two pianists, Marja Mutru and Roy Bogus. Elevated and set deep in center stage, the pair faced each other, half ghost-lit in the dark, like mounted busts in a museum. Before that backdrop, in either black or white leotards with only pink ballet slippers for color, came a mélange of solos and duets. Three soloists, Sayaka Tai, Alex Lapshin and Stephane Dalle, danced various pairings that included an interesting Dalle/Lapshin duet, a pleasing trio of rigid moves and interlocking poses, and a beautiful duet between Lapshin and Tai that counterposed arms and legs in a series of instantaneous tableaux.

Choreographer Peter Martins fills the stage as if it were an expansive canvas and the dancers' appendages were a dialogue of painted lines. Each spotlight moment was as brief as the capricious mood swings of John Adams' score that sometimes sounded like leaves buffeted in a windstorm, and other times like a child stomping out a tantrum.

In the second piece, Dalia Rawson, a beneficiary of the visit last fall by Martha Graham protégé Yuriko, re-created Graham's solo role in Frontier. Rawson's rust-colored gown matched the rust-colored wood fence on which she started and ended the dance. Though the dance takes her away from the fence, the fence always remains the fulcrum, even as she drifts, away to the left, away to the right, in dreamy barefooted bourrées. Lew Christensen's Vivaldi Concerto Grosso followed the Graham piece, beginning with a youthful, lighthearted, female chorus reminiscent of the Venetian girls' school for which Vivaldi wrote much of his music. The adagio duet with Willie Anderson and Alexsandra Meijer was a masterpiece of coordination and timing. Anderson seizes Meijer's legs in midstep and places them in contrived positions like a Dr. Coppelius to her Coppelia doll. And Meijer creates a breathtaking filigree in space when she moves.

An equally impressive duet came in the final piece of the evening, Go Daddy O!, when Karen Gabay's unique charisma electrified a smooth tango (called "Feelin'") with James Strong. Gabay has the bright personality and easy theatricality of someone dancing for the pure joy of it, yet her technicality can be equally stunning, as when she pulls off a swift, swooping dip, en pointe, that drops so deep and remains so tight, it seems she should snap. Go Daddy O!, a piece choreographed by Nahat and premiered in Cleveland in 1998, featured the entire company, over a series of swing, boogie, rumba and other jazz numbers in a wild celebration of Americana (some mean recorded trumpet work by Walter White was irrepressible).

This piece with its various ensembles, solos and duets provided each of the company's talents a sort of year's-end encore. Out came the spats and suspenders, the dapper dandies, the leggy molls making quick transitions from sexy, toe-ing secretaries to sassy, flat-footed flappers--all set to the mood-altering presence of Kenneth Keith's lighting. Nahat knows how to take a good season out, with the heroes and heroines, dolls, magicians and gods of the season jitterbugging their way to a final éclat, one striking, multileveled line formation.
---
Send a letter to the editor about this story to letters@metronews.com.
---
[ Silicon Valley | Metroactive Home | Archives ]